Black Label Society w/special guests Obituary & Prong at The Plant in Dothan, AL on Saturday, October 23rd, 2021.
About this event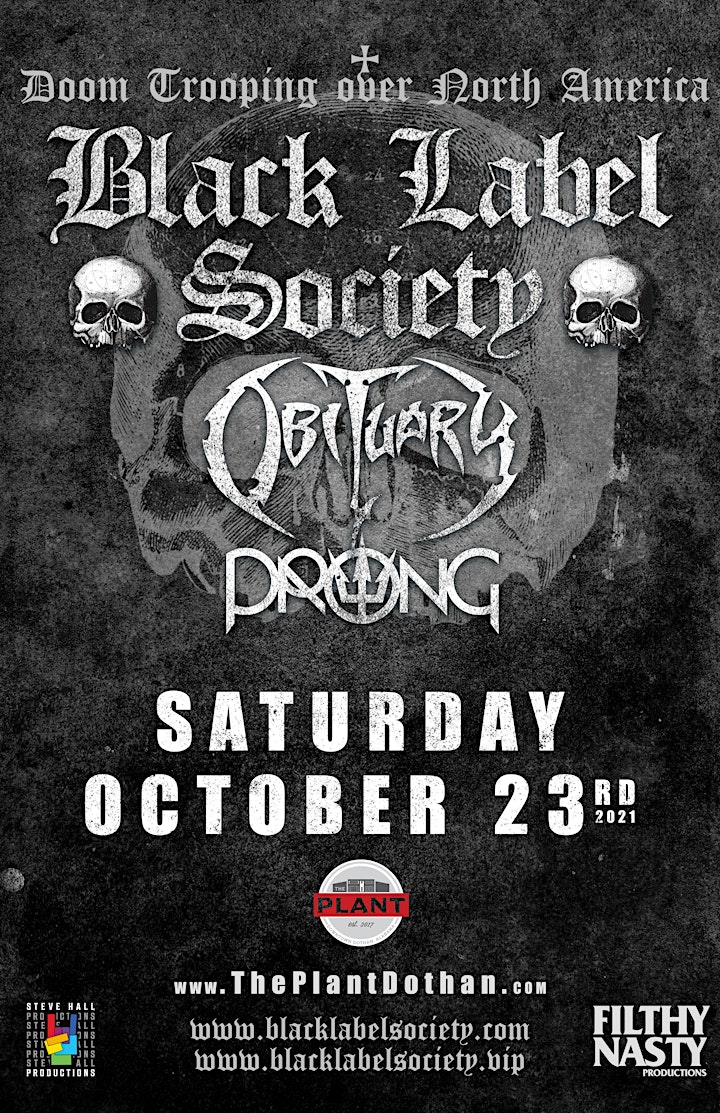 BLACK LABEL SOCIETY
Website | Facebook | Instagram | YouTube | Twitter | Spotify | Amazon Music | Apple Music
Zakk Wylde – Vocals/Guitar
John DeServio – Bass
Dario Lorina – Guitar
Jeff Fabb – Drums
Sonic Brew – 20th Anniversary Blend 5.99 – 5.19 is nothing like the infamously awful, failed experiment of New Coke. This is the original formula, like Coke Classic, but spiked with Viagra, the Captain America super soldier serum, and triple the caffeine.
It's less of a floor to ceiling remodel than it is a fresh coat of paint, in preparation for another crazy house party. Zakk Wylde and crew were careful not to mess with the magic captured on the long lost two-inch tape. Instead, they blessed the master with some note-for-note enhancement, spicing up Sonic Brew with a perfected recipe.
"I don't want to hear Led Zeppelin II redone, with the band just replaying the whole record," notes the charismatic frontman and gregarious guitar icon. "The performances and everything are a snapshot in time. We just added on top of what was already there on the original recordings. It's like we went in and did surgery on this thing. We took the original CD master and added things that made it stronger."
Two decades on from the band's inception, Black Label Society soared to Number 4 on the Billboard Current Albums chart with their tenth studio album, Grimmest Hits (2018). It was the third consecutive Top 5 debut for BLS, right behind Catacombs of the Black Vatican (2014) and Order of the Black (2010). Grimmest Hits opened at Number 1 on both the Hard Music Albums and Independent Albums charts, as well.
Equal parts adrenalized fury and earnest emotion the BLS songbook plays a unique role in the lives of the band's fans. The group cranks out anthems to turn up in revelry and tragedy, songs with which to celebrate and songs with which to mourn.
Mighty missives like "Stillborn," "Bleed for Me," "Funeral Bell," "In This River," "Concrete Jungle," "Parade of the Dead," "My Dying Time," and "Room of Nightmares" have amassed millions of downloads, streams, and video views. They are the soundtracks to jubilant evenings that descend into bewildering mornings.
While members of esteemed rock and metal institutions like Alice In Chains, Metallica, Type O Negative, Clutch, Danzig, and Megadeth have passed through the band's ranks, Black Label Society has consistently been defined by Wylde's unmistakable voice and signature guitar sound and the steady rumble of bassist John DeServio. Bluesy guitarist Dario Lorina and powerhouse drummer Jeff Fabb joined Wylde and DeServio in the BLS crusade back in 2013 and 2012, respectively.
An energized beast and consummate showman, Black Label Society's frontman bears his heart and soul with unchained passion, in both crushingly heavy blues-rock barnstormers and acoustic and/or piano-driven laments alike. The band are vigilant keepers of the flame. Zakk's signature Les Paul Bullseye guitar hangs in the Rock N' Roll Hall of Fame, his infamous leather bellbottoms in L.A.'s Grammy Museum, his handprints on Hollywood's Rock Walk of Fame. He wrote the 2013 Major League Baseball theme for ESPN. He's graced the cover of every guitar mag.
A lifelong disciple of Black Sabbath and the longest serving guitar-shredder for the Ozzman himself, Wylde co-wrote modern Ozzy Osbourne classics like "No More Tears," "Mama I'm Coming Home," "Road to Nowhere," and "Miracle Man." Together with Ozzy bassist Blasko and ex-Queens Of The Stone Age drummer Joey Castillo, Wylde pays faithful tribute to the forefathers of metal as frontman for Zakk Sabbath.
Wylde, who was still in his teens when he got his demo tape into Ozzy's hands, was part of No More Tears (the biggest selling album of the legendary singer's solo career), the double-platinum Ozzmosis, and a Best Metal Performance Grammy win.
A one-off record with Pride & Glory in 1994 was followed by Zakk's first solo album, Book of Shadows (1996). Sonic Brew introduced Black Label Society to the world, igniting a molten momentum that barely slowed for the arrival of Book of Shadows II (2016), 20 years after its predecessor. It's beautifully serendipitous that Sonic Brew – 20th Anniversary Blend 5.99 – 5.19 now marks a similar landmark anniversary.
"After the Book of Shadows record had its run, I was just like, 'Well, what am I going to do?'" Wylde remembers. "I wasn't playing with Oz at the time. I was playing with Guns N' Roses but that was in limbo. I had all of these riffs. So I was just like, 'I'll sing it myself!' [Ex-drummer] Phil [Ondich] and I had a blast making Sonic Brew. It was more rock than when I did the Pride and Glory thing, but there's tinges of that stuff in there with the riffs, and then there's always been mellow stuff on the records."
The Black Label Society studio discography is like an instruction manual on how to expertly craft heartfelt, no holds barred, heavy metal infused American hard rock. Sonic Brew (1999), Stronger Than Death (2000), 1919 Eternal (2002), The Blessed Hellride (2003), Hangover Music Vol. VI (2004), Mafia (2005), Shot to Hell (2006), Order of the Black (2010), Catacombs of the Black Vatican (2014), and Grimmest Hits (2018) should be required listening for all aspiring blues-based rock musicians.
"Sonic Brew was the beginning. I can't believe it's been 20 years," Zakk marvels.
Thanks to a new arrangement with Entertainment One (eOne), the BLS back catalog is now all in one place, uniting the band's earlier work with their more recent output. The "re-blended" version of their classic debut is resurrected bigger than ever without sacrificing its familiar kick. Plus, there are two bonus cuts: a full band/piano version of "Spoke in the Wheel" and an acoustic take on "Black Pearl."
Wylde's powerful pipes, mayhem-inducing charisma, mischievous humor, and instantly recognizable shredding have made him a beloved figure to rock audiences the world over. One part invading-horde, one part traveling carnival party, Black Label Society continues to engage and inspire, powered by caffeine and cacophony.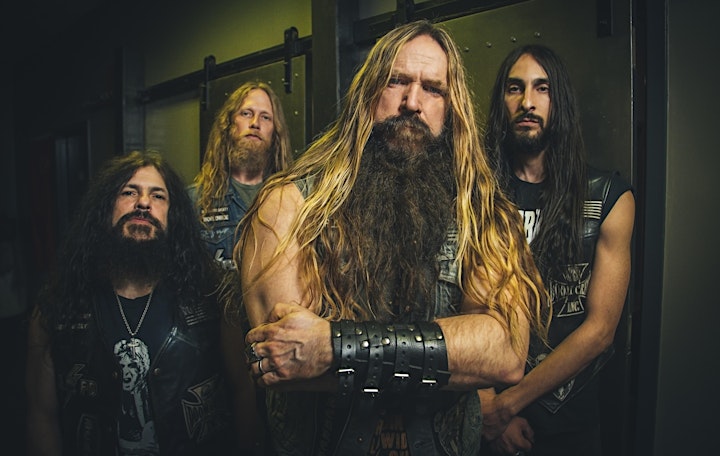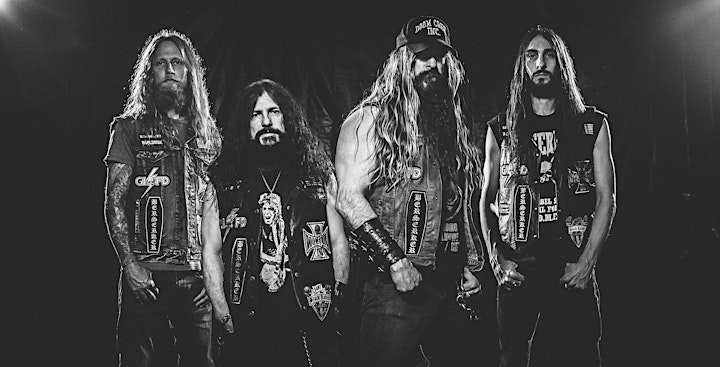 OBITUARY
Website | Facebook | Instagram | YouTube | Twitter | Spotify | Amazon Music
Upon switching their name from Xecutioner to Obituary, the career of one of the most successful and influential Death Metal bands began. Hailing from Florida and featuring John Tardy (vocals), brother Donald Tardy (drums), Trevor Peres (guitar), Allen West (guitar), and Daniel Tucker (bass), the band signed to Roadracer Records, a now defunct division of Roadrunner, for the recording of their debut album—the immense and immeasurably heavy "Slowly We Rot" (1989). The album was engineered by the legendary Scott Burns at Morrisound Studio, which would come to be the most sought after facility for production of albums during 1990's rise of the Death Metal genre. Unlike much death metal preceding it, the album had a sludgy feel and integrated devastatingly slow passages along with obliterating overtures that reached far beyond any point of mayhem that metal had yet to reach; the result was a carnal pleasure for doom, death and thrash fans alike coupling the adrenaline of a speedball with the slow, degrading measures of a sewer at dusk. Like them or not, Obituary was unlike anything anyone had heard before.
"Slowly We Rot" was chaotic, bass heavy mix of manic guitar solos and crashing drums, but it was undeniably characterized by vocalist John Tardy's disarmingly horrific, gargling style, that created guttural chasms of dread which though often strived for, to date have been paralleled by none. The ability to augment tempo so drastically became the band's trademark along with Tardy's unique vocal style, which distinguished them clearly from the rest of the emerging Florida Death Metal bands; nowhere is this more apparent than on the prophetic title track of their debut. The fact that Obituary refrained from printing lyric sheets with their albums led people to believe that they didn't actually write any lyrics. Some may question the verbosity or absence of documented lyrics, however, any true fan has each grunt, growl and howling grimace committed to memory like an utterance from God in painstaking form—what does not exist can not be remembered, and an Obituary show is testimony to the re-creation of what your ears couldn't believe in the first place. Once again bringing augmentation to irony, Live and Dead worked quite well for the quintet, dividing your conscience yet leaving much to the imagination; not since birth have your senses been so graphically assaulted yet pleased at the same time. While such differing sensations once seemed incongruous, Obituary have proven the ability to merge unlikely dichotomies, from their slow-as-hell-yet-fast-as-fuck style to the non-evil, homegrown approach to what would largely become the satanized, bastardized, make-up wearing movement known as Death Metal.
The maturation of the musicians into songwriters taking more visionary and complex forms would soon be heard world wide as Obituary took metal by storm in 1990. Despite their youth upon release of their sophomore offering, "Cause of Death" embodied the confident swagger of the most fearsome pack-leading hound. From the insidious growls of John's vocals to the barrage of Donald Tardy's thunderously-metered explosions of double bass, "Cause of Death" was the intention and method as promised by the early threat of "Slowly We Rot"; for Obituary, Death was just the beginning. Accordingly, the title track alone ("Cause of Death") would be heard, regurgitated, manipulated, complimented and collapsed—but never duplicated—on third and forth generation death metal albums for years to come. Lovecraftian imagery and aural morbidity aside, even a deaf man found fear when confronted by the formidable visage of guitarist Peres; entering Frank Watkins, the hulking henchman of a bassist from South Florida, finally provided long-needed and powerful rhythm stability to the line up. However, the grinding of the axes would not be complete until the return of Xecutioner veteran Allen West, who, along with Peres and Tardy, crafted the foundation for most of Obituary's most primordial and historic moments. Attack now whole, Obituary had given birth—sight, sound and feel—to a true horror greater than metal had ever known.
The paradox herein lies that Obituary was anything but a summation to and end, but more an exploratory journey into the infinite dehumanization of all that is known, as confronted brazenly by their best selling release yet, "The End Complete" and later followed by the cynical and dark expedition of "World Demise". Reunited with songwriter West, the band was conjoined like quintuplets sharing life and a name. Though finality was possibly inferred by these titles, Obituary was anything but finished. Ironically, the images conjured by songs such as "Don't Care", "Platonic Disease" and "World Demise" seemingly foretold of the millennium as can now be seen daily, displayed plainly across the screens of CNN and reality TV programs world wide; not bad for a bunch of rednecks from Florida with Budweiser dreams and bongwater nightmares.
2004 brings reason for Obituary fans to rejoice, the sunken eyes and heaving cries have all but abated. Obituary has only aspired to live up to the standard they have set for themselves, one that numerous bands have strived to duplicate, but never attained, falling short both creatively and in lack of the unique talent that each member contributes to the near indescribable Obituary sound. Like a forgotten corpse in the basement, Obituary are back to haunt, taunt and fully pollute your senses. Fermenting like waste in the hot Florida sun, Obituary return from hiatus with the voracity of a starven wretch. The forfeiture of time brings blessings of brutality, and assurance that the Dead shall indeed rise again. Such aural abrasion can only be heard on an Obituary album or the live circumcision of a thirty-year-old man, the choice is yours...
Obituary photo credit: Ester Segarra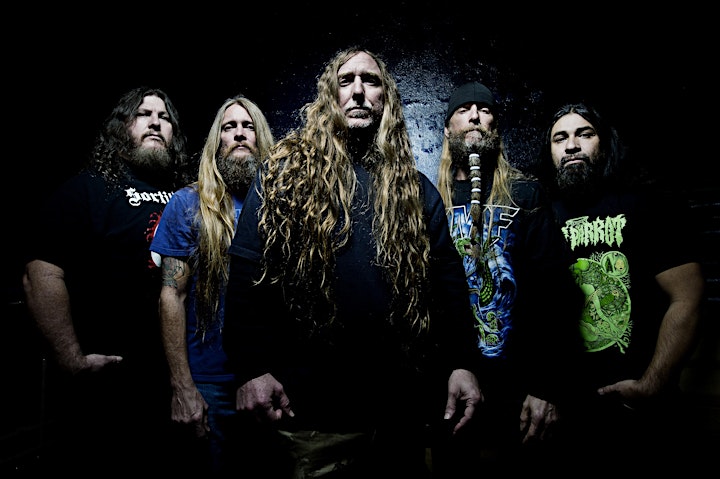 PRONG
Website | Facebook | Instagram | YouTube | Twitter | Spotify | Amazon Music | Apple Music
Prong was formed in 1986 on the lower east side of New York City by singer/guitarist Tommy Victor (then a sound engineer at CBGB's), bassist Mike Kirkland (doorman at CBGB), and drummer Ted Parsons (formerly of Swans). Despite several lineup changes over the years, Tommy Victor remains the sole constant member. The current lineup consists of Victor, bassist Jason Christopher (Corey Taylor Band) and drummer Aaron Rossi (formerly of Ministry). From 1986 until present day, Prong has toured with Soundgarden, Pantera, White Zombie, Faith No More, Danzig, Corrosion of Conformity, Testament, Obituary, Exodus, Helmet, and many many others.
Photo credit: PRONG © Tim Tronckoe 2019
Performers
Date and time
Location
Refund policy
Organizer of Black Label Society - Doom Trooping over North America