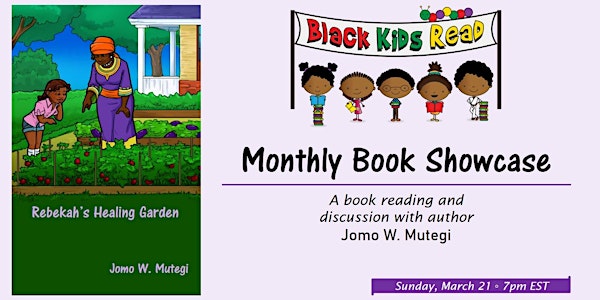 Black Kids Read: Monthly Book Showcase
Rebekah's Healing Garden is the story of a little girl's quest to transform her community from a food desert to a garden oasis.
About this event
Join the Black Kids Read Family for a reading of Rebekah's Healing Garden. The author, Jomo Mutegi will answer questions and discuss how the book can be used to support children's learning. Bring your little ones!
Black Kids Read website
About the Book: Rebekah's Healing Garden is a story about a young girl who learns that her family lives in a food desert. In response she decides to start a garden. Grandma and Granddad show her how.
About the Author: Jomo W. Mutegi is an educator and the founder of Black Kids Read and the author of 9 children's books, including Tale of the Vanishing Buffalo. Through Black Kids Read, Jomo produces science-related, children's books featuring positive, uplifting images of Black children and families as protagonists. The books also tackle challenging, social and STEM-related topics, making these topics easy for children to understand and for parents to explain.
*After registering, you will receive a zoom link in a separate email.