Black Joy Market as an act of resistance, support and love for our Community.
About this Event
For the last 9 months, we've been fighting a global pandemic that overwhelmingly impacted Black communities across the Country.
For the last 5 months, we sacrificed our physical bodies to protest, march and demand change.
Our social feeds are constantly inundated with inhumane acts of violence towards Black people and the blatant disregard for Black life.
The constant access to our trauma slowly etched away at our peace.
This Holiday, in Nubian Square, we are taking a moment to bask in the beauty of what it means to be Black — both the pain and the celebration.
The act of Black joy as resistance.
We deserve justice. We deserve joy.
We know that Joy and resistance are one and the same.
Please join us as a guest during our Black Joy Market.
____________________________________________________________________
Joyous. Safe. Holiday. Gifting.
Saturday, November 28th; 1pm-5pm (Small Business Saturday)
Saturday, December 5th; 1pm-5pm
Saturday, December 12th; 1pm-5pm
Saturday, December 19th; 1pm-5pm
Black Market
2136 Washington Street; Roxbury, MA 02119
Patrons and Supporters:
RSVP to blackmarketnubian@gmail.com. We will only allow 25 bodies in the building at one time.
Vendors/Artists/Artisans: This market cost no money to Vend. It's free. Link in the bio to register. Email blackmarketnubian@gmail.com
This is a Covid-19 free space. Free masks, gloves and shields will be given out upon entry in addition to temperature checks. Vendors will be spaced for physical distancing purposes.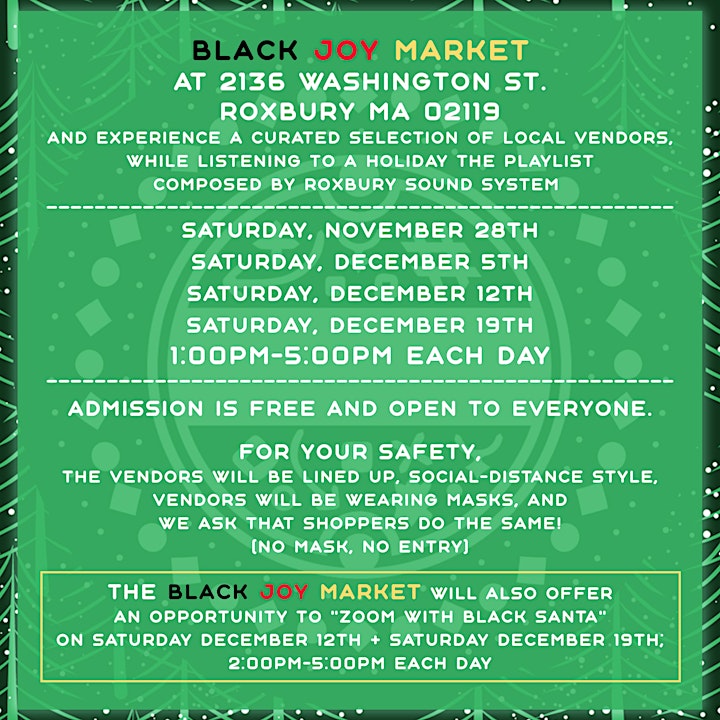 Vendors Register here:
https://docs.google.com/forms/d/e/1FAIpQLSdwaSr2KBUsUku-nm9RDnAFavidSLCShr2NcTITuJlfGaKtLw/viewform
Email: blackmarketnubian@gmail.com