Black Ivy Alumni League Trailblazers Panels & January 6th Orientation

Friday, February 10, 2017 from 12:00 PM to 1:00 PM (EST)
Event Details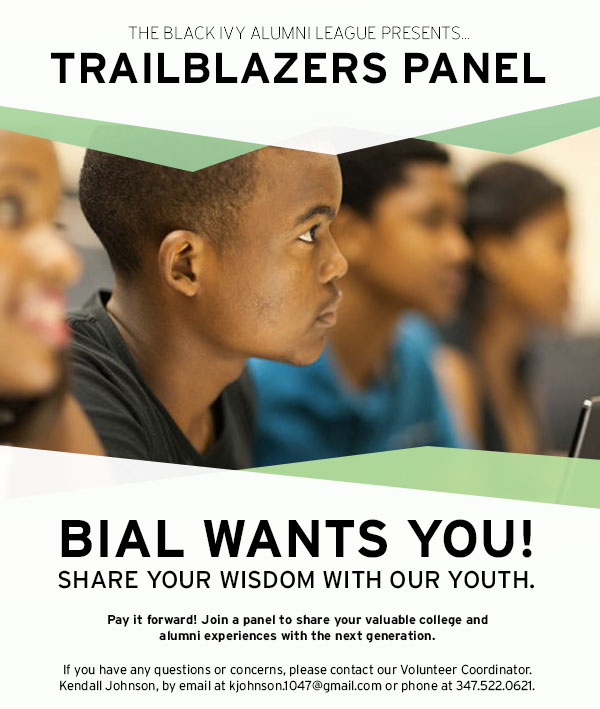 REGISTER ABOVE TODAY for one of these panels:
Friday, 1/27 @ 12:00 to 1:00 PM
Friday, 2/3 @ 12:00 to 1:00 PM
Friday, 2/10 @ 12:00 to 1:00 PM
Friday, 3/3 @ 12:00 to 1:00 PM

Actions speak louder than LIKES!
 It's time to blaze more trails!
Join us as we engage, inspire, and empower!
Register today!
Registration deadline, December 20, 2016
Orientation, January 6, 2017
Share your valuable college and alumni experience with the next generation of scholars.
Some of NYC's most effective and respected youth education programs are excited to host our BIAL alumni panels.
 
You and your fellow panelists will have the opportunity to share your college application experiences and answer such questions as: What prompted your college search? Why did you choose the school or schools you applied to and attended? How did you approach financial aid and ultimately pay for school? What were some of the challenges you faced? What were some of the most rewarding aspects of your college experience? How has your college experience impacted your life after college?

Share your inspirational stories and help encourage students to strive for excellence in their entrepreneurial, professional, and scholarly pursuits.
 
Volunteering with BIAL is fun and rewarding.  You not only serve in a much-needed capacity as role models, but it is also a great opportunity to make a positive difference in the lives of young New Yorkers. 
********************************************************
VOLUNTEER REQUIREMENTS
(For volunteers who receive a 'Welcome' message via email)

1)   Send a bio (preferably no more than 150 words) and headshot (as a .jpg file) to  bialtrailblazerspanel@gmail.com by December 20, 2016.

2)   Attend a mandatory 45-minute training orientation session. Volunteers will be able to attend in-person (in Manhattan) or via conference call. Mandatory orientation Session: Friday, January 6, 2017 at 6pm. Additional orientation details will be provided prior to January 6th.

********************************************************

SELECTION PROCESS

BIAL Members will register for a volunteer event and will receive an acknowledgement upon receipt. Volunteers who have been selected to attend the event will receive a "Welcome" email message acknowledging their selection.

The Welcome message will include:  the location of the training site, the location of the panel event, and other event related details.

Registrants who do not receive a Welcome message are alternates and will be given priority consideration for other volunteer opportunities.
HOST ORGANIZATION

The Early College Initiative (ECI) at The City University of New York (CUNY) supports seventeen public schools in New York City that blend a rigorous college-prep curriculum with the opportunity to earn up to two years of college credit while in high school – at no cost to students and their families.
We will work with three of the seventeen schools. The three ECI schools that we have scheduled a panel discussion with are ECI Hero, ECI Energy Tech, and ECI BTech.
These innovative schools make a college education more accessible, affordable and attractive to New York City students by offering programs that blur the lines between middle school, high school and college.
CONTACT PERSON

If you have any questions or concerns, please contact our Volunteer Coordinator, Kendall Johnson, by email at bialtrailblazerspanel@gmail.com or phone at 347.522.0621.
When & Where

Mid-town Manhattan
(full address will be provided to volunteers)
New York, NY


Friday, February 10, 2017 from 12:00 PM to 1:00 PM (EST)
Add to my calendar
Organizer
The Black Ivy Alumni League is a premiere advocacy organization representing alumni of the eight Ivy League institutions: Brown, Columbia, Cornell, Dartmouth, Harvard, Princeton, University of Pennsylvania, and Yale.  We promote civic engagement and a cultivation of our community.