Description
At the dawn of a new political era and in the face of a submissive, fearful narrative given to us by fake black leadership, thousands of black people from throughout the U.S. will join the Black is Back Coalition for Social Justice, Peace and Reparations on the weekend before the inauguration of Donald J. Trump as president of the U.S. We will descend upon Washington D.C. to celebrate the commencement of our "National Black Political Agenda for Self-Determination" with a "Rally for Black Self-determination" in the tradition of the fierce struggle and resistance of black people.
"History will not permit our hesitation."
-Chairman Omali Yeshitela
This Rally is not simply a reaction to the election of Donald J. Trump but rather a call for black people to unite against the centuries long oppression and genocide that continues today in the form of mass incarceration, police terror etc. that has been perpetuated by both democrats and republicans as well as the recent rise of a racist and white nationalist political voice that found its prominence during the 2016 U.S. Presidential Election. Our movement was re-energized by the August 9, 2014 uprising of poor, working class young people on Canfield Drive in Ferguson, MO after the brutal murder of 18-year-old Michael Brown.
"We recognize that the apparent social peace within the U.S. over the past 35 years or so has been illusory, a product of the successful brutal assault by the U.S. government on the struggle of black people for justice and power in the 1960s."
-Black Is Back Coalition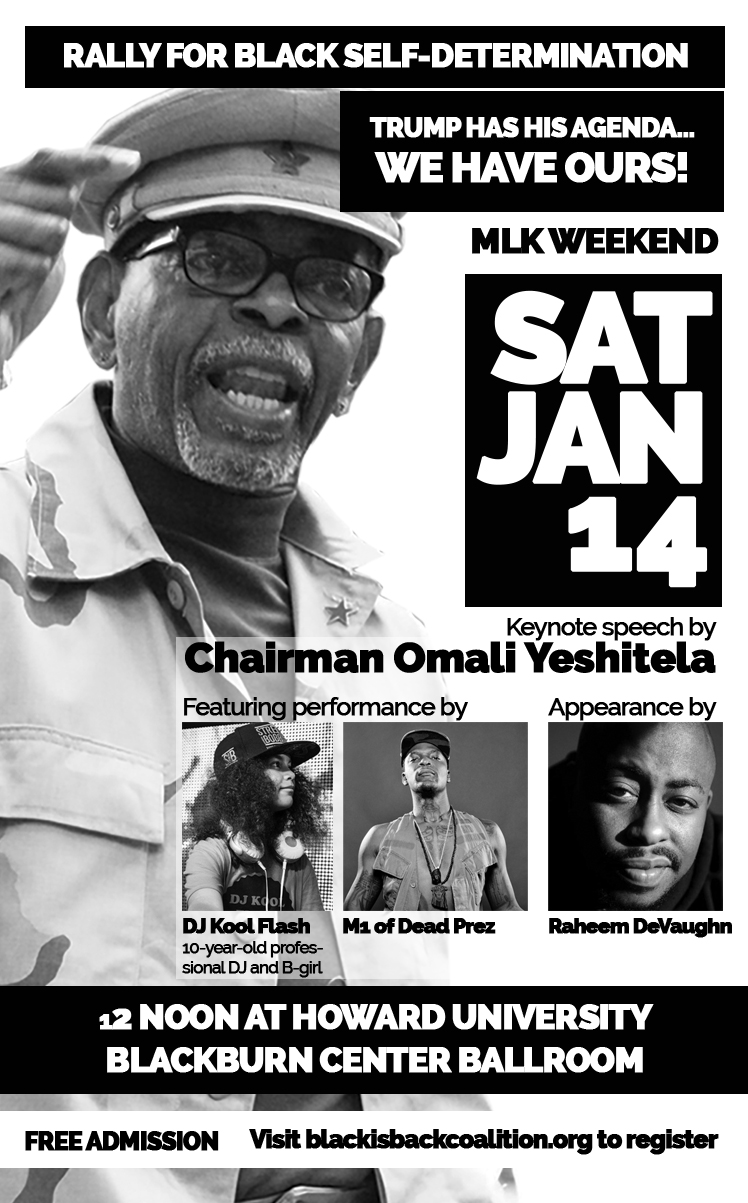 Black people will Rally around the "19 Point Agenda" that the Coalition declared at our National Convention on November 5th and 6th, 2016. There will performances by M-1 of Dead Prez, 10-year-old Hip Hop prodigy DJ Kool Flash and an appearance by Raheem Davaughn. Freedom is not negotiable, therefore we are no longer asking for it. The election of Donald J. Trump has only made the white nationalist sentiment that has always existed within the U.S. government and the white population more obvious for black people to see and mobilize against. Trump has his agenda. We have ours.
For more information call 917-818-0466 or email info@blackisbackcoalition.org
Speakers and Performers include:
• Omali Yeshitela, Chairman of the Black is Back Coalition
• M1 of hip hop group Dead Prez
• Raheem Devaughn - R & B Soul Singer (appearance)
• Lisa Davis – Vice Chair, Black is Back Coalition
• Glen Ford – Black Agenda Report
• Nellie Bailey – Harlem Tenants Council
• Kam Howard – National Coalition of Blacks for Reparations in America
• Khalid Raheem – New Afrikan Independence Party
• Zaki Baruti – President General, Universal African People's Organization
• DJ Kool Flash - 10 year old professional DJ and B-girl
• Margaret Kimberly - Black Agenda Report
• Marsha Coleman-Adebayo
• Toni Taylor - Cary on the Ball Foundation
• Kunde Mwamvita - 3 Drowned Black Girls Campaign
• Kalambayi Andenet - International People's Democratic Uhuru Movement

Forward to D.C.!