Description
REGISTER HERE to attend the third annual Black Intersections Conference: Ignite, Imagine, Invest
Southern California's only conference exploring Black identities and experiences!
JOIN US ON SATURDAY, FEBRUARY 23, 2019 from 11am-9pm
FREE for students at the seven Claremont Colleges
$20 for Claremont Colleges Faculty and Staff
$50 for alumni and guests (those not employed or enrolled at The Claremont Colleges).
$35/per person group rate for groups of 4 or more.
Hosted by The Office of Black Student Affairs and The Claremont Colleges.
ABOUT:
The Office of Black Student Affairs at The Claremont Colleges is excited to announce the third annual Black Intersections Conference, a forum to discuss pertinent issues and events impacting Black communities locally and globally in a supportive, culturally engaging environment. The one-day conference is a space for students, faculty, staff, alumni and community members of African descent to share their scholarship and converse around the factors that shape and impact Black identities and lived experiences.

CONFERENCE SCHEDULE AT-A-GLANCE: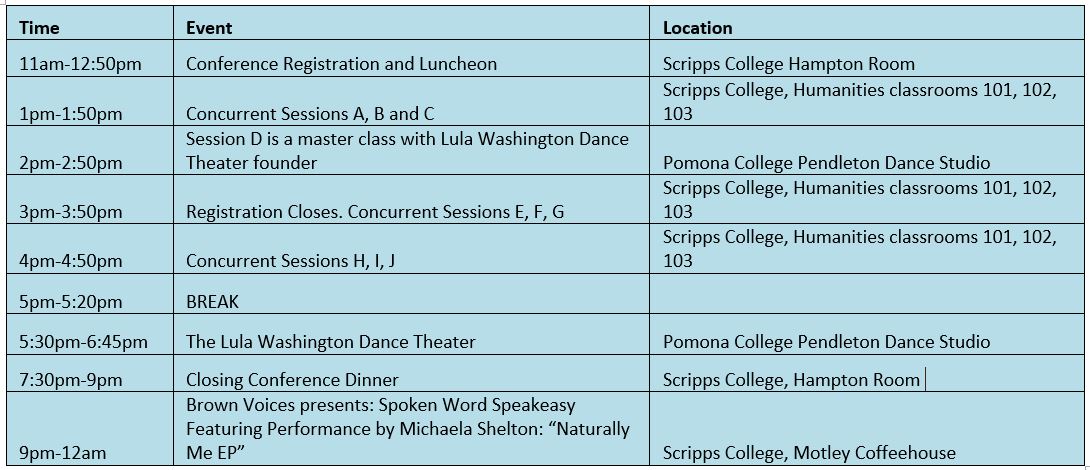 Conference main events include a registration kickoff lunch, concurrent presentation sessions, master class and keynote performance with the Lula Washington Dance Theatre, closing dinner and spoken word social event. Meals and events are included with admission.
WANT TO PRESENT YOUR WORK? SUBMISSION DEADLINE FEBRUARY 9, 2019
Visit https://tccs.info/2DVvu6d to access the submission form.
We invite paper sessions, poster presentations, panels and workshops that speak to this year's conference subthemes, Ignite. Imagine. Invest in education, history, media, love and sexuality, (dis)abilities studies, self-care, the sciences, solidarity and all other engaging areas. All those who submit work to present must also complete this eventbrite registration form.