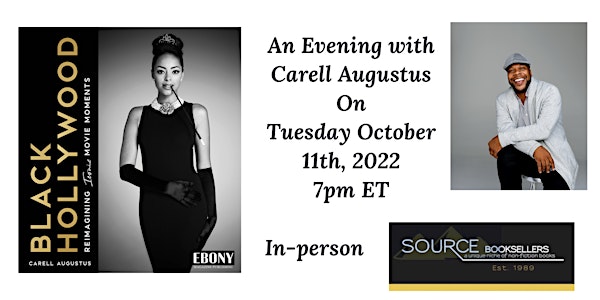 Black Hollywood: An Evening with Carell Augustus
Join us a conversation with Mr. Augustus about his new book Black Hollywood. The book to give and get this season.
When and where
Location
Source Booksellers 4240 Cass Avenue #105 Detroit, MI 48201
About this event
Calling film buffs , Photographers and Black Hollywood fans . Please join for an inspiring event
SAVE YOUR SPOT!
About this event
Who is this event for? Anyone who feels called to attend. Everyone is welcome!!!!
What is the event about? The event is to celebrate the October 4th release of Black Hollywood. It's about is More than a book about pop culture, film history, or race, Black Hollywood is truly an inspirational artistic homage to our greatest blockbuster movies and the actors who brought them to life.
This event will be part conversation and part book signing. In addition to there will be space for questions.
What's included in the Book ticket price?
• A copy of my book, Black Hollywood .Access to the event held at the Source Booksellers 4240 Cass at Canfield .Extra: We will be offering the 2023 Black Hollywood wall Calendar at event as well.
What's included in a Free Ticket?
• .Access to the event and book signing held at Source Booksellers
When is the event? Tuesday October 11th, 2022
About the Book:
See Hollywood again for the first time
In Black Hollywood, photographer Carell Augustus has enlisted Black celebrities and performers from all areas of entertainment to recreate iconic scenes from classic Hollywood movies, television, and other media. The images illuminate the role of race in Hollywood history by re-imagining classic films with Black actors, renewing readers' appreciation of the past while celebrating the hottest Black stars of today and inspiring the artists of the future.
CARELL AUGUSTUS is a Los Angeles-based photographer whose career has taken him around the world to shoot some of the biggest stars on the planet. His celebrity clients have included Viola Davis, Beverly Johnson, Mariah Carey, Elizabeth Banks, Pierce Bronson, Meghan Markle, Serena Williams, Snoop Dogg, and more.
Make sure to save a spot with a ticket because tickets are limited.
Vaccination Requirements: You may be asked to show proof that you are fully vaccinated against COVID-19 or a COVID Free Test Result for entrance to this event. We will accept either a physical vaccination card, digital card, or a photo of the card on your phone. We are masked in store. We want to make a safe environment for the author and for the community.
Getting to the event: There is a parking lot on the Cass and Canfield that is open for parking in the evening and weekend days and the street parking is available through the kiosk or mobile app Park Detroit until 10pm and free on Saturday and Sunday. If you are riding Q line transit , we are the canfield stop at canfield and Woodward avenue. If you can please park in the Traffic Jam & Snug parking lot on Canfield. We know it costs but it may be only source of income because the restaurant recently burned in a fire. Show some them some love if you can.