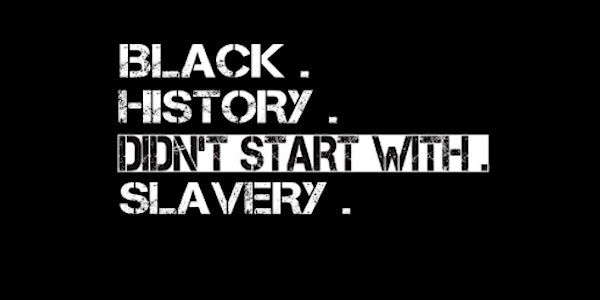 Black History Monthly Series
A monthly class on the journey of Africans & African Americans through history. This class consists of 12 monthly lessons on Black History.
Refund Policy
Contact the organizer to request a refund.
Eventbrite's fee is nonrefundable.
About this event
Many schools, including K-12 districts, private schools, community colleges and universities have taken steps to attack, remove and ban so-called "critical race theory."
But what they are really opposed to is the teaching of Black History and the history of racism in America.
Some have targeted the "1619 Project" and other lessons and curricula that discuss slavery, Jim Crow, white supremacy and racial equality. Others have tried to block any lessons dealing with police violence against African Americans, such as the police murder of George Floyd in 2020.
The state of Arizona outright banned "ethnic studies." They made it ILLEGAL to teach "Black history, Latinx history, Native American history, etc."
Even before this backlash, most schools and universities have never done a good job teaching African & African American history, or the history of Black people throughout the diaspora.
Therefore, historian and educator Jamon Jordan of Black Scroll Network History & Tours has started a monthly virtual class on African & American History. The class consists of 12 monthly lessons that will take us from the African origin of humanity to the election of Barack Obama, and how all of this history is connected.
The first lecture is Monday, February 14th from 6-8pm. Every presentation after that is scheduled for the second Monday of the month from 6-8pm (Except the July and September lectures, which will take place on the 3rd Monday of those months).
Two days prior to the lecture, a Zoom link will be sent you via email. Please check the email you gave when you registered for the event.
If a lecture is cancelled due to unforeseen reasons, it will be rescheduled, and you will receive a notice via email. If you cannot make the RESCHEDULED lecture, you can request to receive a recorded lecture via email, or you can receive a refund.
Refunds are only available if the lecture is cancelled or rescheduled.
Refunds take about 10-14 days to process.
All live lectures will conclude with a Q&A for 15-20 minutes.
Fee: $500 for the 12-part series!
These are the Topics and Dates:
1.) OUT OF AFRICA: The African Origin of Humanity & Civilization - February 14th, 2022, 6pm-8pm
2.) GREAT BLACK KINGDOMS & EMPIRES - March 14, 2022, 6-8pm
3.) THE MAAFA: The African Holocaust of Slavery - April 11th, 2022, 6-8pm
4.) NOT FIT FOR SLAVERY: The Black Resistance to Slavery & The Slave Trade - May 9th, 2022, 6pm-8pm
5.) BEFORE THE STATES WERE UNITED: Slavery in the 13 Colonies - June 13th, 2022, 6-8pm
6.) DIGGING UNDERGROUND: Removing the Myths and Teaching the Truth About the Underground Railroad - July 18, 2022, 6-8pm
7.) NO STRUGGLE, NO PROGRESS: The Black History of the Civil War - August 8th, 2022, 6pm-8pm
8.) FREEDOM DENIED: The Hope and Disappointment of Reconstruction - September 19th, 2022, 6pm-8pm
9.) SEPARATE & UNEQUAL: The Rise of Jim Crow, October 10th, 2022
10.) A MIGHTY LONG WAY: The Great Black Migration Out of The South - November 14th, 2022, 6pm-8pm
11.) THE FREEDOM MOVEMENT; The Civil Rights Movement from the 1900-1965 - December 5th, 2022, 6pm-8pm
12.) CLAIMING POWER: Black Power from SNCC to Obama - January 2nd, 2023, 6pm-8pm
Each class is $50.
If you want to join all of the classes, you can save by registering for the entire series here:
https://www.eventbrite.com/e/from-africa-to-black-power-a-series-on-black-history-tickets-254031714697