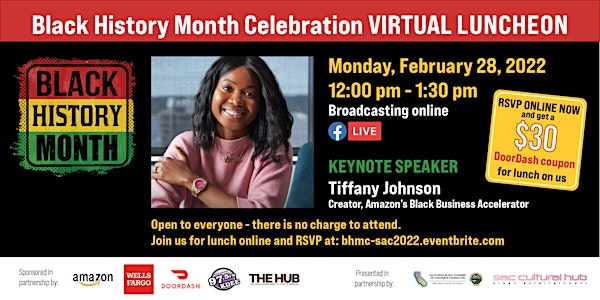 Black History Month Virtual Luncheon
SAVE THE DATE! 2022 Black History Month Virtual Luncheon presented by California Black Chamber of Commerce Foundation and Sac Cultural Hub
About this event
Join us for the 2022 Black History Month Virtual Luncheon on Mon-Feb 28th from 12:00 noon to 1:30 pm broadcasted LIVE via Facebook. Meet the Black woman behind Amazon's $150 million Black Business Accelerator - Keynote Speaker - Tiffany Johnson, Creator, Amazon's Black Business Accelerator.
If you are a business owner, entrepreneur or working a 9to5 with a side gig, you need to attend to hear Tiffany's testimony as well as how you can increase your customer traffic and increase your revenue.
RSVP now at: http://bhmc-sac2022.eventbrite.com - Each registered to attendee will receive a unique promo code coupon to place an order with DoorDash to dine with us for the virtual luncheon.
Special event presented by the California Black Chamber of Commerce Foundation and Sac Cultural Hub. For sponsorship opportunities call Angela at (916) 467-8878 or Pleshette at (916) 234-3598 or e-mail contact@sacculturalhub.com.
Black-Owned Businesses Statistics and Trends for 2021 (https://www.nationallyblackowned.com/blog/black-owned-businesses-statistics-and-trends-for-2021)
As the largest subset of People of Color (POC) small business owners in America, Black entrepreneurs make up a crucial part of our small business economy. According to the 2019 Annual Business Survey (ABS), approximately 18.3 percent (1.0 million) of all U.S. businesses are minority-owned.
The majority of Black entrepreneurs (at 77 percent) started their own independent business, as opposed to buying a franchise location or an existing small business.
More specifically, 36 percent of Black business owners decided to go into business for themselves for the reason that they want to become their own boss. Meanwhile, 24 percent do so to pursue their passion, 17 percent were inspired by a new business idea, and 17 percent were not satisfied with corporate America.
Amazon commits $150 million to empower Black Entrepreneurs - (https://www.aboutamazon.com/news/small-business/amazon-commits-150-million-to-empower-black-entrepreneurs)