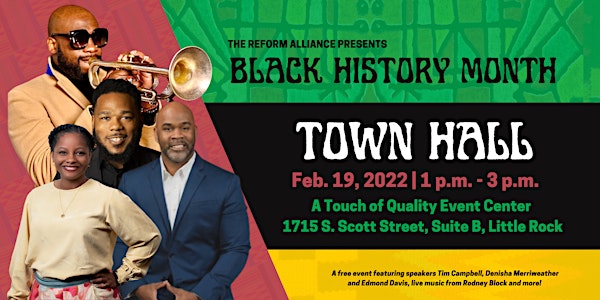 Black History Month Town Hall
In recognition of Black History Month, The Reform Alliance is hosting a town hall event in Little Rock.
When and where
Location
A Touch of Quality Event Center 1715 S. Scott Street, Suite B Little Rock, AR 72206
About this event
In recognition of Black History Month, The Reform Alliance is hosting a town hall event at A Touch of Quality Event Center in Little Rock. Edmond Davis, Tim Campbell and Denisha Merriweather will speak at the event, and Rodney Block and his band will perform.
ABOUT THE SPEAKERS
For nearly 20 years, Davis has taught history and other social sciences courses at Arkansas Baptist College (ABC), University of Arkansas at Little Rock, the University of Arkansas at Pulaski Tech and the University of Phoenix. Davis advocates for quality education, cultural competence, and improved social & emotional IQ for adolescents and young adults (AYA), in particular Black males. Davis changed the dynamics of civil responsibility with law enforcement officers, and social emotional concerns with Black males with the 'RESPOND-I-BILITY' resource.
Davis is the author of "Pioneering African America Aviators Featuring the Tuskegee Airmen of Arkansas," and co-editor of "The White Golden Bull" by Chet Grimsley. In 2019, he played a role on the NBC Primetime TV Miniseries "Bluff City Law" as a Shelby County Courthouse Deputy. In 2020, Davis became the director of the Derek Olivier Research Institute (DORI) for the Prevention of Gun Violence. In March 2021, Davis became host/producer of the newest HBCU radio show in the U.S. named "KEEPING IT 100 With DORI' on ABC's Buffalo Radio every Thursday at 6 p.m.
Tim Campbell grew up in urban, inner-city of Little Rock. He served a two-year tenure with the U.S. Peace Corps and spent a six-month practicum with the Office of International Programs and Studies at UAPB, where he served as a senior adviser to UAPB's Peace Corps Prep Program.
In 2020, Campbell served on the Governor's Task Force, reviewing policies to help mobilize the journey to change in Arkansas, and Arkansas Business recognized him as one of the Arkansas 250, the state's most influential leaders. Currently, he serves on both the Pulaski County Criminal Justice Commission and Racial and Cultural Diversity Commission for the City of Little Rock.
Denisha Merriweather is the director of public relations and content marketing at the American Federation for Children and founder of Black Minds Matter. She previously served as school choice and youth liaison to the secretary of education at the U.S. Department of Education.
Merriweather is a Florida tax-credit scholarship graduate. She has shared her story across the country and has been featured in the Wall Street Journal, PragerU, the Washington Examiner, EducationWeek and Fox News among other outlets.