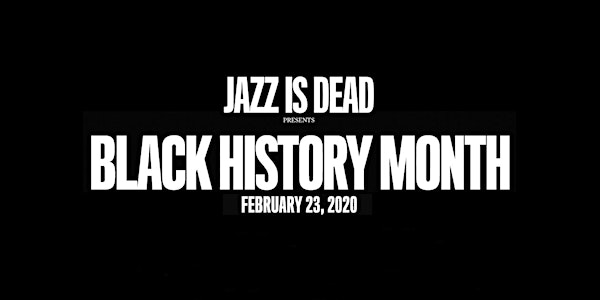 Black History Month: Lonnie Liston Smith w/ The Katalyst - 2nd Set Added!
ALL AGES
Jazz Is Dead Presents
Jazz Is Dead Presents Cosmic Funk-Expansions: Lonnie Liston Smith w/ The Katalyst + Cut Chemist, Garth Trinidad
When and where
Location
Lodge Room 104 N Avenue 56 Los Angeles, CA 90042
Performers
Headliners
Black History Month: Lonnie Liston Smith w/ The Katalyst - 2nd Set Added!
More Performers
Lonnie Liston Smith
The Katalyst
Cut Chemist
Garth Trinidad
About this event
Bio:
Lonnie Liston Smith began performing in the Baltimore area and while attending Morgan State University, he began performing with his peers, Gary Bartz, Grachan Moncur, and Mickey Bass. After college, Lonnie moved to New York City and began performing with the top vocalists, such as, Betty Carter and Joe Williams. Soon after, Lonnie joined Art Blakey and The Jazz Messengers and after The Jazz Messengers, he got a call to perform with drummer, Max Roach, which was unusual because Max rarely used a pianist in his ensemble. He then enjoyed a 2 year stay with Rahsaan Roland Kirk, and recorded 2 albums with Rahsaan entitled, "Please Don't Cry Beautiful Edith" on Verve and "Here Comes the Whistleman" on Atlantic.
Lonnie got the call from Pharaoh Sanders in 1968 and made his mark in one of the most visible ensembles of the day. Lonnie and Pharaoh created spontaneously at every moment. Lonnie, also began to experiment with electric keyboards and created a rich Cosmic sound to support Pharaoh's impassioned tenor saxophone flights. In 1973 Lonnie received another important call to join the Miles Davis ensemble. Lonnie recorded 2 LP's with Miles, "On The Corner" and "Big Fun". Lonnie said working with Miles Davis was his greatest experience and joy. Miles was a genius on stage and off stage because Miles has produced more band leaders than any other musician in the history of creative music.
In 1974, Producer, Bob Thiele, signed Lonnie to a solo recording contract. "Astral Traveling" and "Cosmic Funk" were Lonnie's first 2 LP's. However, it was his album, "Expansions" that broke Lonnie into the major leagues as a worldwide leader. The LP was a breath of fresh air in 1975 as it combined solid Jazz playing with creative crossover elements that did not dilute the music.