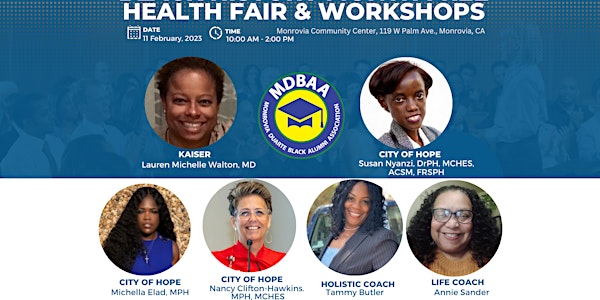 Black History Month Health Fair & Workshops
Health related workshops with topics including Holistic Living; Cancer Awareness; Heart Healthy; and Life Coaches
When and where
Location
Monrovia Community Center 119 West Palm Avenue Monrovia, CA 91016
Refund Policy
Contact the organizer to request a refund.
Eventbrite's fee is nonrefundable.
About this event
MORNING SESSION 10 A.M. – 11 A.M.
Diabetes and Lifestyle - Susan Nyanzi, DrPH, MCHES, ACSM, FRSPH
A Doctor of Public Health (DrPH) (MCHES) with nine +years of experience initiating, developing, and managing Evidence-based Chronic Disease Management interventions at the individual and community level. Her specialties: in Public Health, Cardiovascular Health, Diabetes, and Rheumatology management at the individual clinical level and community level. Project management from initiation to completion, including question generation, data analysis and interpretation, and insight generation to disseminate results at professional scientific conferences. She is currently at City of Hope in Duarte, Ca
Discover how to manage Type 2 diabetes using evidence-based strategies that can be integrated into your daily life.
Mental Health Awareness - Lauren Michelle Walton, MD
Lauren M. Walton, MD, is a Board-Certified Addiction Psychiatrist and Partner in the Southern California Permanente Medical Group (SCPMG). For over a decade, she has served as Chief of Service in the Department of Addiction Medicine at Kaiser Downey Medical Center.
Dr. Walton received her MD from Northeastern Ohio Universities College of Medicine and completed a Psychiatric Residency Program at the University of Pennsylvania in Philadelphia, PA.
A dedicated professional committed to excellence and quality in mental health care, Dr. Walton is the recipient of the 2012 SCPMG Physicians' Exceptional Contribution Award. In 2021, she received the Outstanding Outpatient Physician of the Year at Kaiser Downey Medical Center.
An active member of the community, Dr. Walton is a proud charter member of the Board of Directors for Forgiving for Living, Inc, is the Immediate Past Board President for the Greater Los Angeles and Central Coast Chapter of the American Foundation for Suicide Prevention (AFSP) and is a newly appointed Commissioner for the Long Beach Health and Human Services Board.
Hypertension in African Americans - Nancy Clifton-Hawkins, MPH, MCHES
Nancy is the Director and founder of the Department of Community Benefit at City of Hope. She represents City of Hope's efforts to understand and identify programs and initiatives designed to improve the adverse health impacts resulting from inequities. She is the creator and administrator of the Healthy Living and Kindness Grants. With over two decades of experience working in Southern California with vulnerable multi-ethnic communities, Nancy represents City of Hope with coalitions such as the Health Consortium of Greater San Gabriel Valley and Healthy San Gabriel Valley. Ms. Clifton-Hawkins holds a Master's in Public Health Education and Global Health from Loma Linda University School of Public Health. Nancy is also a Master Certified Health Education Specialist with extensive experience in delivering culturally specific and sensitive health topics to communities worldwide. Raised in Long Beach, California, she is a proud Long Beach Poly Jackrabbit. As a cancer and heart failure survivor, Nancy feels a calling to give power back to the individual to change the narrative on their health journeys.
AFTERNOON SESSION 12 P.M. – 1 P.M.
Life Coach- Annie Sanders Certified Life Coach
Annie Sanders is a Certified Christian Life Coach who helps individuals to enable and empower themselves so that they are successful in their commitment to change their lives for the better.
Before starting school for Christian Life Coaching, Annie worked for the Pomona Unified School District and the Riverside County Office of Education. The last 14 years found Annie as a Hospitality Manager at a Christian Camp and Conference Center in the San Bernardino Mountains, teaching and training. After retiring from her position, Annie spent time participating in various local women's ministries as a bible study leader and conference speaker.
Annie is a powerful force in any endeavor and uses her positive attitude and tireless energy to encourage others to work hard at whatever they do and succeed. She is inspired daily by her three married children and her seven grandchildren. Annie enjoys cooking, old movies, and repelling. Annie is available to become your Christian Life Coach and is reachable at (909) 353-9187 or at sandersannie91@gmail.com.
Healthy Living- Tammy Butler
Tammy has been in the health field for over 20 years. One day she thought there had got to be a better way to be healthy without using medication. She became ill and was put on various medications; that is why she said no, I need to change. She started researching the food she was eating and looking into the different herbs and vegetables. Once she changed the way she ate, she was taken off the medications. Her doctor was amazed! That is when she decided to get certified as a Holistic Coach.
Discover the different herbs you can put in your food to help your body. Find out about what vegetables might be affecting your arthritis. Find how simple changes in your eating and lifestyle can create a healthy lifestyle.
Cancer 101- Michella Elad, MPH
Michella Elad, MPH, is an administrative program coordinator for cancer health at City of Hope, where she works with the Community Outreach and Engagement (COE) team on cancer risk factors, environmental factors, and lifestyle factors for healthy living. Her prior graduate practicum in Dallas County focused on low-income senior diabetic patients. She offered tools and resources for home health aides on how to support their patients in living a healthy and active lifestyle via education, language literacy, and cultural competency .Michella aspires to play a vital role in improving the health of underprivileged minorities by educating and promoting awareness of the benefits of leading a healthy and active lifestyle.
1:30 P.M. – 2 P.M.
Movin to Motown with Jackie Hasty
Come dressed in your comfortable aerobics attire and shoes. Low-moderate aerobics class. Before beginning any exercise program, it is important to consult a physician about your current state of health and any problems that could arise during your selected form of exercise. Limited space must sign up in advance on Eventbrite.