Description
Black Migrations, a new 4-part Black History Month Series, emphasizes the movement of people of African descent to new destinations and subsequently to new social realities.

Forced migration of Africans to the Americas in 1619 reminds us that they came before the Mayflower (1620). 1619 to 2019 marks this quadricentennial of the creative industry of a people who were kidnapped and brought unwillingly to these shores and who, with resolute African spirit, fought and are still fighting for human dignity and equality.

During Black History Month we remember the trials and tribulations as well as the contributions of Africans and African Americans. It is our moment to embrace the West African concept of Sankofa, which teaches us that we must go back to our roots in order to move forward.

Session #1: Gospel Service and Soul Food Brunch ***SOLD OUT***
Sunday, February 3rd, 2019 10:30 AM - 1:00 PM
Location: Miami Shores Community Church, 9823 NE 4th Ave, Miami Shores, FL 33138

Join us for a kickoff celebration of Black History Month with the Miami Shores Community Church. A gospel performance by renowned singer Maryel Epps and an inspirational service from SFPoC's Tawnicia Ferguson Rowan will be followed by a soul food brunch.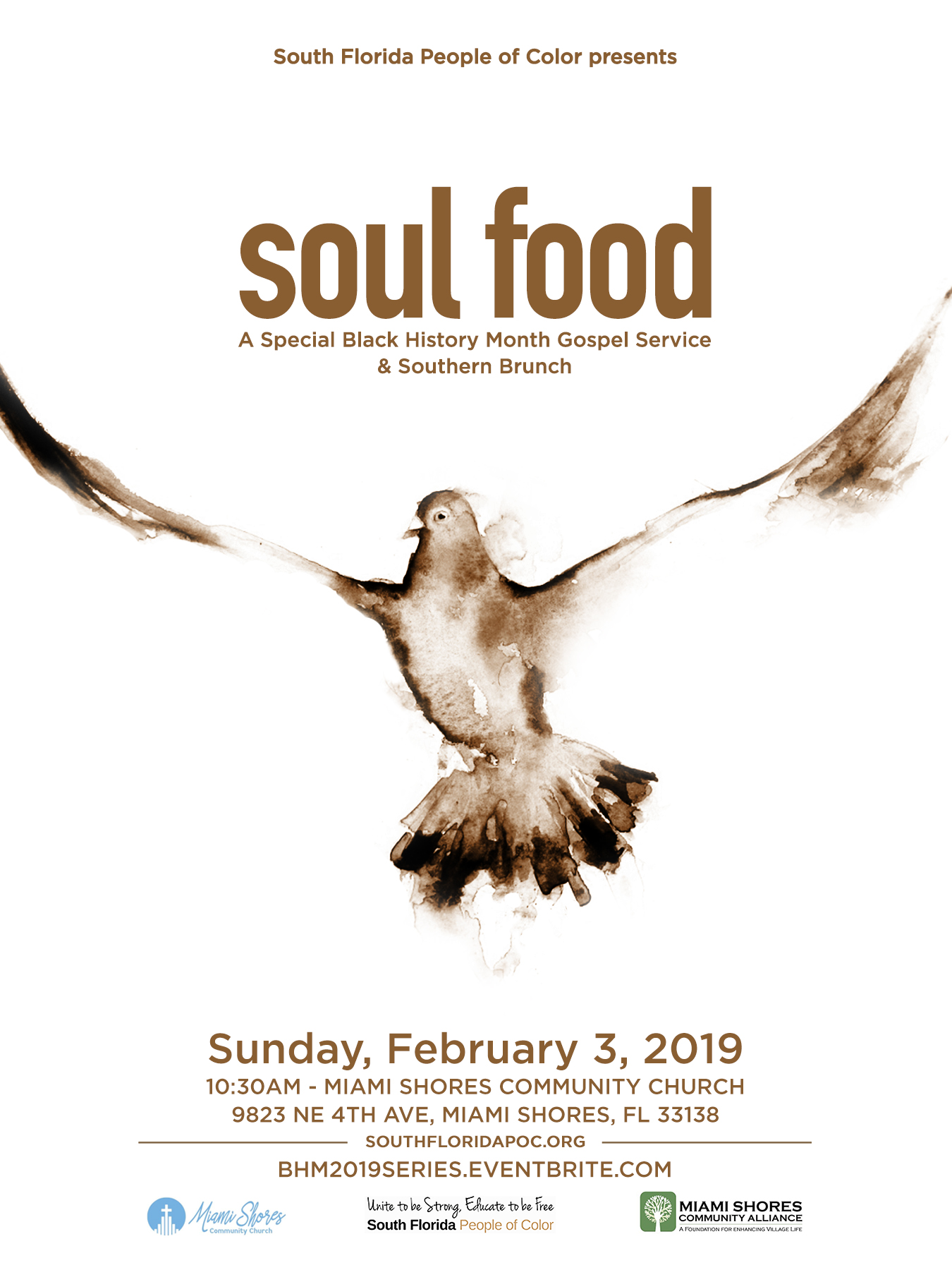 Session #2: Black Migration Exhibit and Reception ***VENUE CHANGE TO ACCOMODATE DEMAND***
Thursday, February 7th, 2019 6:00 PM
Location: NOW AT 9900 NE 2nd AVE ACROSS THE STREET SOUTH FROM Brockway Memorial Library, 10021 NE 2nd Ave, Miami Shores, FL 33138
PARKING IN THE BACK OF NEW VENUE!!!

Brockway Memorial Library will host South Florida People of Color's Black Migration Exhibit and Reception. This exhibit will feature three important aspects of Black Migration: a) Forced Migration from Africa, b) Migration patterns of Blacks in America which occurred after slavery until 1970's and c) Caribbean Migration to South Florida, particularly Miami. Haitian Spoken Word Artist Mecca aka Grimo will also perform during this exhibit and back by popular demand is our soulful saxophonist Corey Jones. Appetizers and wine will be served.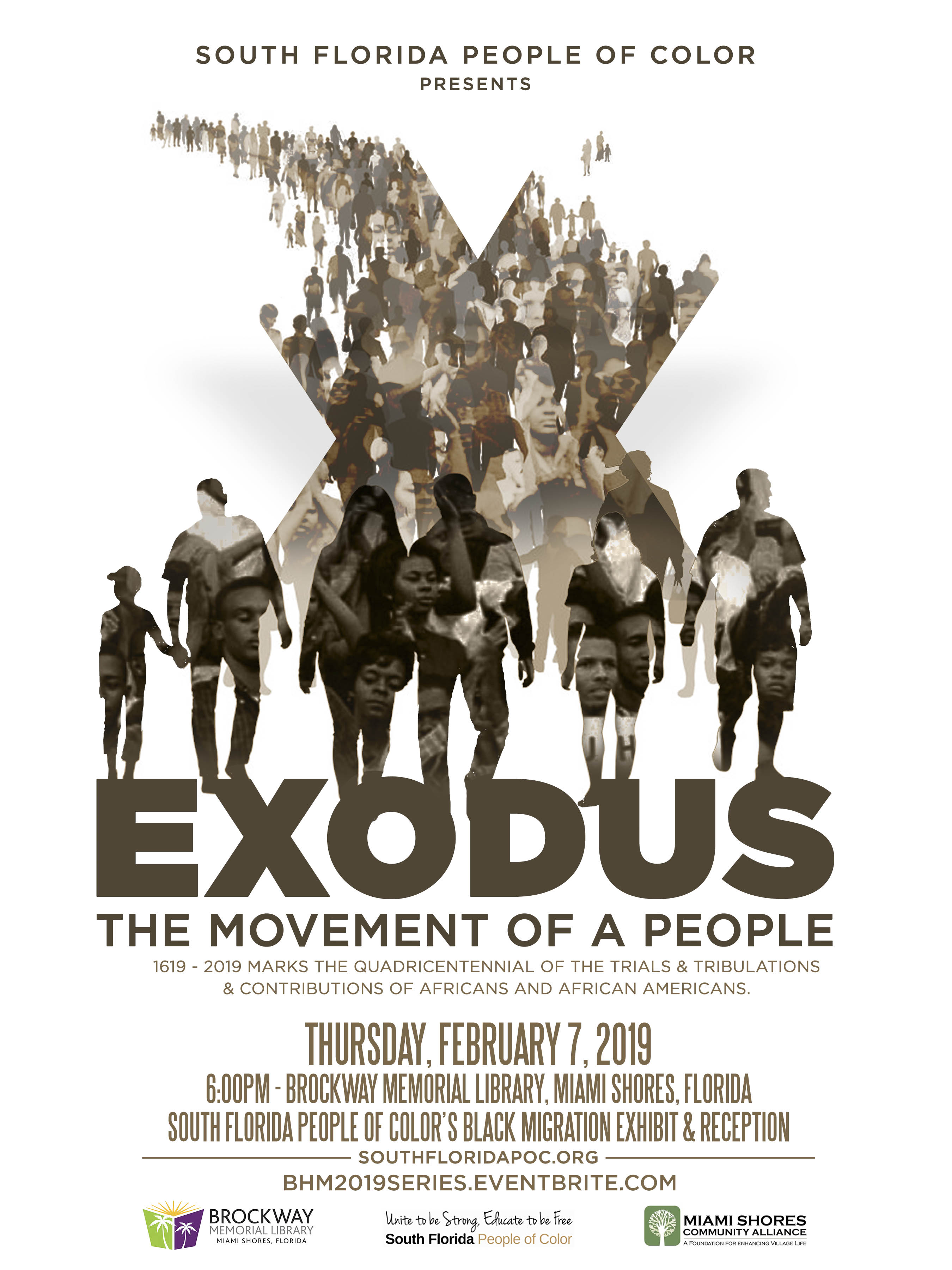 Session #3: From Black Trauma to Black Healing: Part of the "What is Black?" Series
Tuesday, February 19th, 2019 5:00 PM / Panel begins at 6:00 PM
Location: Barry University, 11300 NE 2nd Avenue, Miami Shores, FL 33161 (Andreas 112 Room)
This event will take place at Barry University and will involve a celebratory component of Black Independence and will feature a discussion around healing Blacks in the Diaspora. Dr. Joy DeGruy's Post Traumatic Slave Syndrome will be analyzed and panelists will contribute their perspectives on Emotional, Psychological and Spiritual Healing. Panelists will include Clinical Psychologist/Drive By Therapist Dr. Tasha Russell; Barry University Associate Professor of Psychology, Dr. Pamela D. Hall; Rev. Richard Clements from Barry University's Campus Ministry; and SFPoC's Expressive Arts Therapy and Consent Culture specialist, Richard M. Wright MA. This event is co-sponsored by South Florida People of Color, Barry University's Leaders and Advocates in Black Psychology and Campus Ministry.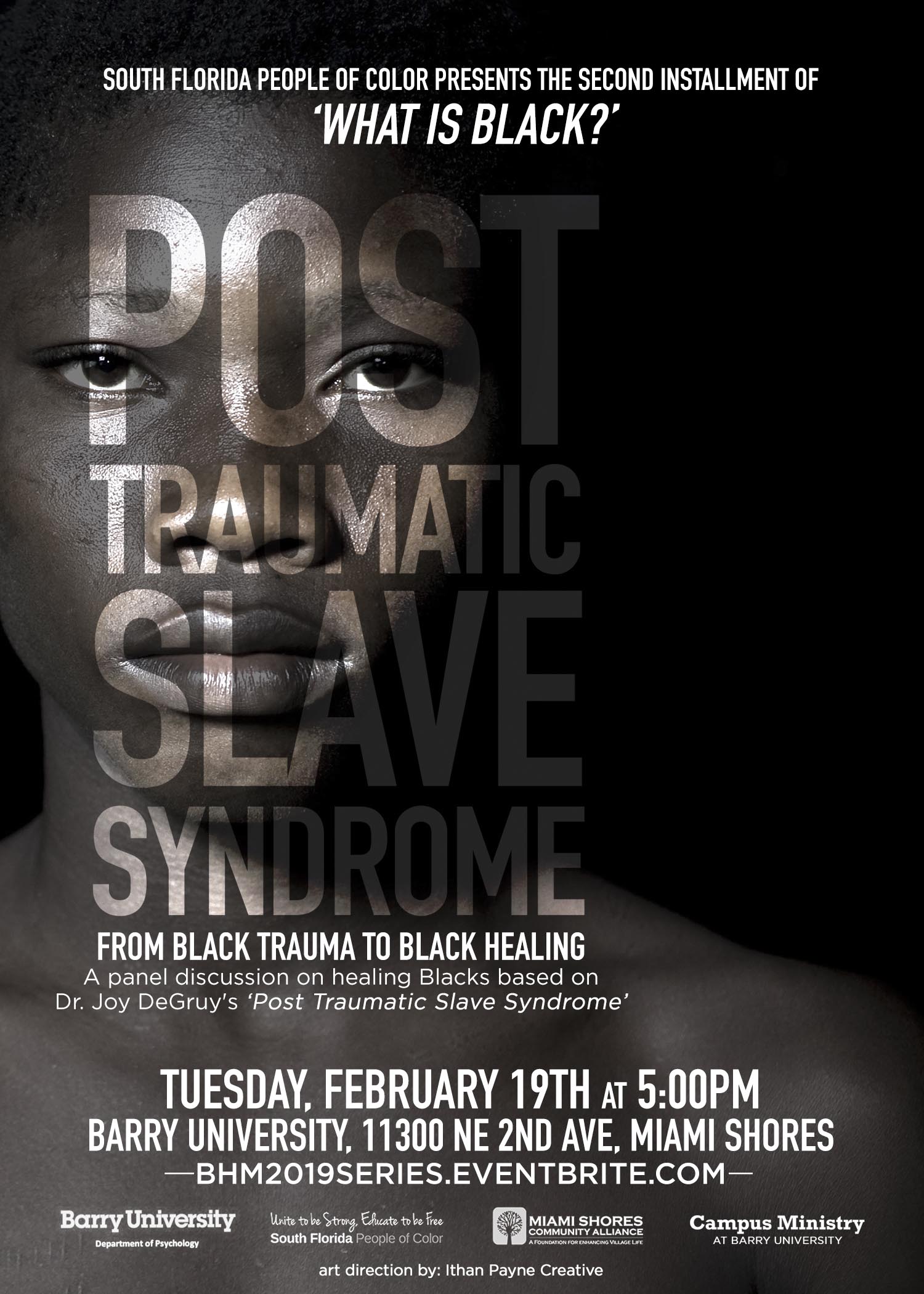 Session #4: Sankofa Screening and Talkback
Thursday, February 28th, 2019 6:00 PM
Location: Miami Theatre Center, 9806 NE 2nd Ave, Miami Shores, FL 33138


SFPoC and the Miami Theatre Center presents a special screening of Sankofa (Haile Gerima, 1993). A self-absorbed Black American fashion model on a photo shoot in Africa is spiritually transported back to a plantation in the West Indies where she experiences first-hand the physical and psychic horrors of chattel slavery, and eventually the redemptive power of community and rebellion as she becomes a member of a freedom-seeking Maroon colony. (124 mins, Rated R) SFPoC's Dr. Pamela Hall and Richard Wright, MA will lead a talkback after the conclusion of the film.
We want to thank Miami Shores Community Alliance for making this powerful Black History Month Celebration possible with their generous support.