Description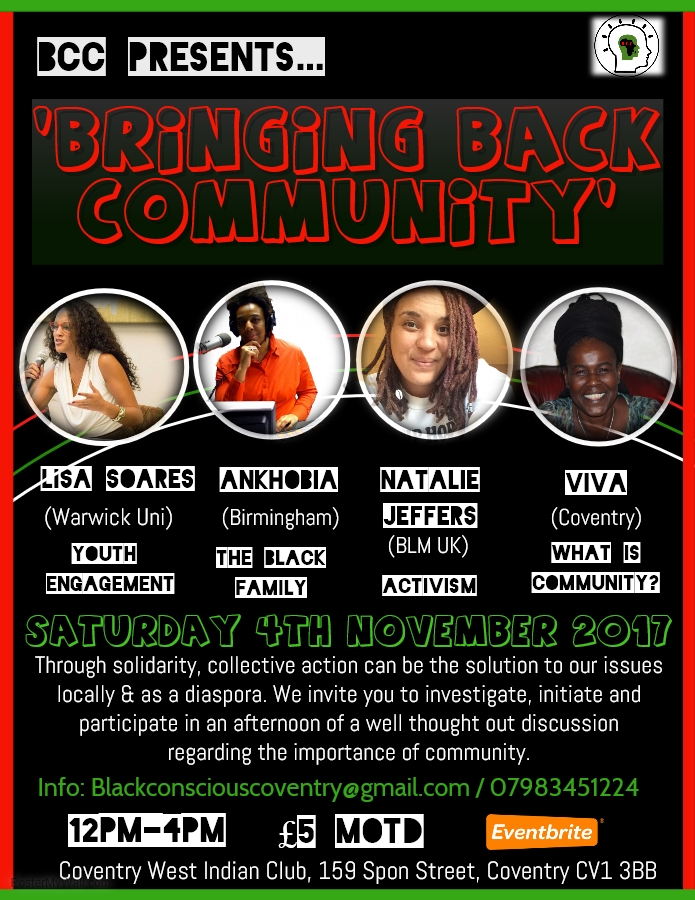 Our aim at this event is to educate our community that through solidarity, collective action can be the solution to our issues locally but also as a diaspora.
Here in Coventry we have something that is the envy of many black communities up and down the Country; Our West Indian centre - It's potential is infinite. We invite you to investigate, initiate and participate in an afternoon of a well thought out discussion regarding the importance of community participation in general and why becoming a member of the West Indian Club is of intergenerational importance.
On the line up we have:
Natalie Jeffers: An educator, activist & organiser with BLMUK - a network of radical anti-racist/anti austerity organisers, who are strategic diasporic partners to the BLM Network. Natalie is the director of Matters of the Earth - an international collective that builds strategy, practice and tools to transform. Their work creates intersectional consciousness and action, around issues concerning: anti-blackness; gender equity; LGBQTI+ rights; mental health; decoloniality; and climate change.
Anhkobia: Broadcast Journalist, who has presented her own chat show 'On A Level' on local radio, highlighting global issues and the impact of communities. She has interviewed local and international artists, members of the general public, government ministers, scholars and professionals from a variety of disciplines. Ankhobia is known for her dynamic, straightforward, honest and thought provoking approach on any subject.
As a researcher she has travelled to Africa and the Caribbean documenting folk traditions and histories on behalf of Birmingham City Council. She is also the author of a book called 'The Source: The Roots of Jamaican Music and Its Influence On British Urban Music'. She is currently working with young people sharing a radio documentary making skills. She holds an MA Media Production and BA (Hons) Business Administration and Marketing.
She realises that personal development is the road to freedom and that before you can empower communities and nations you must empower the individual. Her motto: Love yourself and your expression and you can't go wrong!
Lisa K Soares: Lisa K. Soares completed her undergraduate studies (cum laude) in Marketing and Psychology at Eastern University, USA, and graduate studies (with distinction) in Global Affairs (focusing on International Business, Economics & Development) at New York University, USA. She also holds an Investor Relations/Public Relations Certificate (CIR) from NYU. Lisa is currently a PhD Candidate in the Politics and International Studies Department at the University of Warwick, United Kingdom, and a holder of the Centre for the Study of Globalisation and Regionalisation (CSGR) Studentship.
Viva Cummings: Worked in the community development field from 1984-2004, currently semi-retired. The start of a community development career began after graduating from Warwick University, taking on the role of Women's Development Worker. Career achievements including Supporting single parent African-Caribbean young women, founding member of Vine Street Centre and founding member of Coventry Black Mental Health.