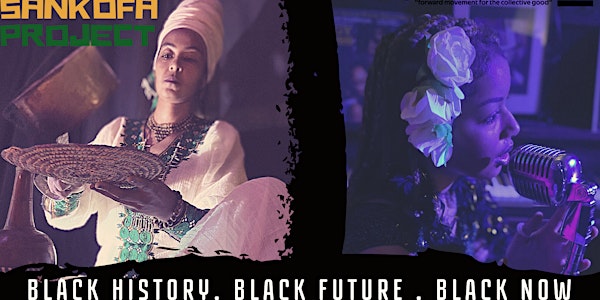 black history . black future. black now
An engaging virtual offering of the Experience Sankofa Project Living Museum honors Black History & inspires a thriving Black Future!
When and where
Date and time
Tuesday, February 28 · 12 - 1pm PST
Refund Policy
Contact the organizer to request a refund.
Eventbrite's fee is nonrefundable.
About this event
BLACK HISTORY. BLACK FUTURE . BLACK NOW
February is a month to celebrate and honor the contribution and achievements of people of African descent to World History. Oakland-based, Black-led organization, Spearitwurx, has created an experience like no other as part of their work to inspire intergenerational wellness and racial healing. On Feb 28th, join in the virtual offering of the Experience Sankofa Project "Ancestors Walk with Me" as we commemorate Black History, understand the Black Now, and inspire a Black Future.
This Virtual Offering is a fundraiser to help build a permanent home for the Experience Sankofa Project which was severely damaged in the recent floods that impacted most of California. This is the chance for you to see the virtual museum and learn more about the work we do to transform lives. We know that our world is abundant, resources are plentiful, and we trust that those who are able and willing to support this movement will do so. Please see more information on how to support at www.spearitwurx.com or IG @SpearitwurxOakland.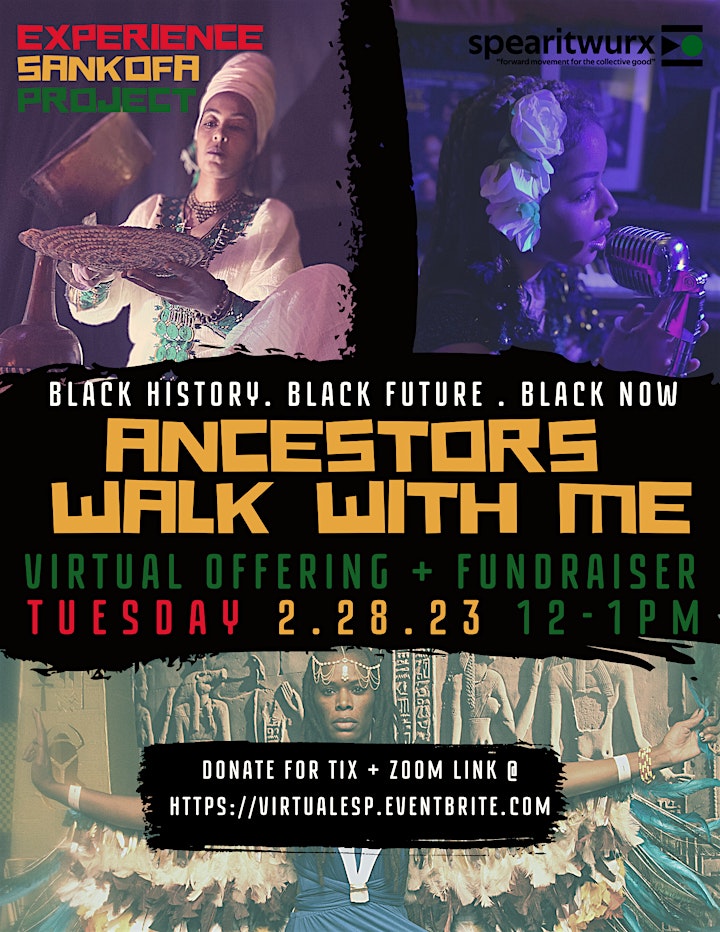 WHAT IS THE EXPERIENCE SANKOFA PROJECT?
The EXPERIENCE SANKOFA PROJECT (ESP) Living Museum is an innovative installation exhibit that combines history, live performance art, and sacred altars into an interactive timeline of African and American history. Spearitwurx curated powerful and provocative period-specific "living installations" using lights, sounds, smells, and activators (aka actors) that evoke visceral emotions as an ode to African peoples' greatness, oppression, resistance, and aspirations
Those who have has the opportunity to come to live sessions of the Experience Sankofa Project have compared our humble grassroots museum to be on par with the African American Museum in Washington DC. Reflections resound on the powerful impact of this work in helping to create space for essential dialogue around race, power, identity, history, culture, and aspirations.
Spearitwurx created the Virtual offering, "Ancestors Walk with Me" during the COVID-19 shutdown to share in the digital world the power and essence of the Experience Sankofa Project. A narrated walk takes you from the Original Peoples in the Olduvai Gorge to Timbuktu, the Transatlantic Slave trade to Black Wallstreet, the Harlem Renaissance to the Black Panthers, and ends in a Thriving Black Future. This exhibit brings history to life, opening the ways for us to collectively reflect on our power to create the world we want to live in.
WHY A FUNDRAISER?
The recent atmospheric rivers that drenched most of California had a devastating impact on the physical Experience Sankofa Project. The entire front of the Living Museum flooded and we have been forced to close. While repairs are forthcoming, our lease is expiring, and instead of enduring dilapidation, we are looking for a beautiful permanent home to rebuild Experience Sankofa Project and expand our capacity to support school field trips and larger conferences for racial healing and community wellness. This Virtual Offering is the launch of our Capital Campaign to rebuild the Sankofa Project.
Lynn Twist reminds us, "Money given to make a difference does". We have been honored by the support of good folks who believe in the work of racial healing and support our rebuilding efforts. We are looking for other organizations and/or individuals to make donations as a way to actively honor Black History Month and support Black-led cultural institutions from the ground up. Our goal is to raise $1,619,000 in 61 days. Can we count on you to support us? Please share this with those who can and elevate the work of Black Led organizations during - and after - Black History Month.
Please consider making a donations today at www.speariwturx.com/stayconnected
Sankofa is an Adinkra symbol from Ghana, West Africa that means "look back to move forward". The time is now to reflect and connect to the greatness inside of us with love, dignity, compassion, and truth.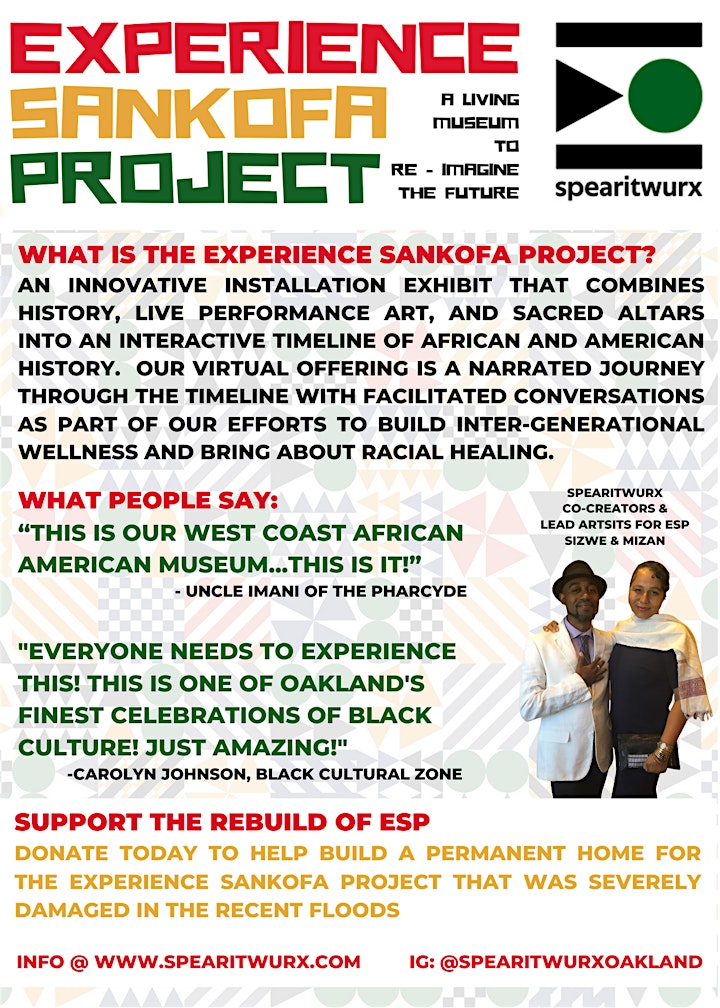 ABOUT SPEARITWURX
SPEARITWURX is an Oakland-based organization founded in 2004 that inspires Intergenerational Wellness & Racial Healing. SPEARITWURX is Co-Created by the husband & wife team, Mizan and Sizwe. Mizan Alkebulan-Abakah, MPH, CYT-500 is an Artist, Organizer, Healer & Social Scientist. Sizwe Andrews-Abakah is a Change Maker, Performing Artist, Farmer & Facilitator. We create experiences to transform lives through Cultural Events, Community Convenings, Professional Consulting, and Wellness Coaching for Families, Schools, Organizations, Businesses, and Government agencies. Our work is creative, courageous, and inspired by love.
Please see our website and social media pages www.spearitwurx.com and IG@SpearitwurxOakland for more information and to sign up for our mailing list to stay connected.
I am Because we are! We Because I am! May the Circle Be Unbroken!
About the organizer
SPEARITWURX is an Oakland-based organization that inspires inter-generational wellness.

We create experiences to transform lives through Cultural Events, Community Convenings, Professional Consulting and Wellness Coaching.

Our work is creative, courageous, and inspired by love.