This forum will recap health lessons from 2021, current health trends, and 2022 goals to move our Black community towards better health.
About this event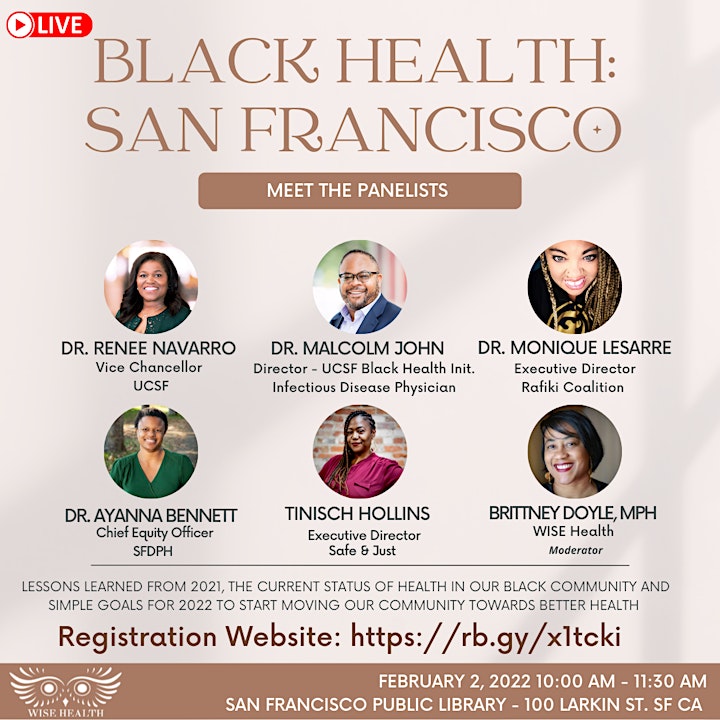 For Black History Month, WISE Health is collaborating with the San Francisco Public Library to bring you Black Health: San Francisco. This will be a hybrid event held in conjunction with the local Farmer's Market. Participants will hear from Black health Leaders discuss lessons learned from 2021, the current status of health in our Black community, and simple goals for 2022 to move our community forward to better health. Hear from:
Dr. J. Renee Navarro - Vice Chancellor / Chief Diversity Officer at UCSF speaking on medical trauma in the Black community
Dr. Malcolm John - Infectious Disease Physician, Director of BHI, Director of Health Equity - UCSF School of Medicine, will provide information on COVID -19 and HIV in the Black community
Dr. Monique LeSarre - Executive Director, Rafiki Coalition will provide information on mental and behavioral health
Dr. Ayanna Bennett - Chief Equity Officer - SFDPH will discuss Black health equity
Tinisch Hollins - Executive Director - Californians For Safety & Justice will speak on community violence and how we can heal as a community
Brittney Doyle, MPH - Founder - WISE Health - Moderator
This event is free to the public, participants will receive a $10 Farmers Market voucher to be used on-site.
February 2, 2022 | 10:00 am - 11:30 AM
San Francisco Public Library - 100 Larkin St. SF CA
Organizer of Black Health: San Francisco
WISE Health is a San Francisco based organization that develops innovative programs to improve the health and wellness of vulnerable populations, including low-income individuals, older adults, and racial/ethnic minorities. Over the last year, through successful partnerships and contracts, we have conducted and coordinated over 400 health education workshops and activities throughout the city specifically designed to promote healthy behaviors (e.g., physical activity, nutrition, sexual health) to reduce health disparities; increase social support and reduce social isolation; and recruit and educate caregivers. Our primary programs and services focus on senior citizens residing throughout District 10 (i.e., Bayview Hunters Point and Sunnydale).