Description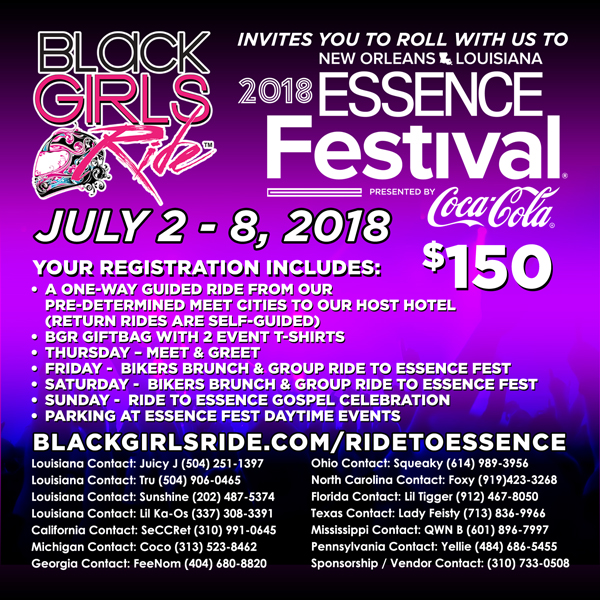 We're excited to announce our first ever Black Girls Ride to Essence Fest! If you've never been to Essence Fest, this is the perfect opportunity! Our ride to Essence Fest will begin on July 2, and we'll arrive in New Orleans on July 5 for all of the festivities. We'll host rider events to pick up new riders in cities along the way! Riders are invited to join our ride leaders from Michigan, North Carolina, Florida, and California, as we all meet in New Orleans for an epic weekend of sisterhood, empowerment and parties! All riders are invited to join us from all over the world on this ride!
Your rider registration package will include:
A One-Way guided ride from our pre-determined meet cities to our host hotel. (Return Rides are Self-Guided)
BGR Giftbag with 2 event t-shirts
Thursday - Meet & Greet
Friday Bikers Brunch & Group Ride to Essence Fest
Saturday Bikers Brunch & Group Ride to Essence Fest
Sunday Ride to Essence Gospel Celebration
Parking at Essence Fest on Friday, Saturday and Sunday
$80 EARLY BIRD REGISTRATION ENDS OCT 1, 2017.
Host Hotel: Holiday Inn Express New Orleans Airport South
110 James Drive East
Saint Rose, LA 70087
(504)466-1355
Room Rate: $134
Book your hotel room today. Ask for Black Girls Ride room block.
BGR Ride Leaders:
Overflow Hotel: Best Western Plus
189 W Airline Drive
Kenner, Louisiana 70062
(504) 360-2990
Room Rate: Starting at $ 101.43
BOOK YOUR ROOM NOW
Overflow Hotel: Hilton New Orleans
901 Airline Drive
Kenner, Louisiana, 70062
(504) 469-5000
Room Rate: Starting at $179
BOOK YOUR ROOM NOW
BGR Ride Leaders:
Louisiana Contact: Juicy J (504) 251-1397
Louisiana Contact: Tru (504) 906-0465
Louisiana Contact: Sunshine (201) 388-4192
Louisiana Contact: Lil Ka-Os (337) 308-3391
California Contact: SeCCRet (310) 991-0645
Michigan Contact: Coco (313) 523-8462
Ohio Contact: Squeaky (614) 989-3956
North Carolina Contact: Foxy (919)423-3268
Florida Contact: Lil Tigger (912) 467-8050
Texas Contact: Lady Feisty (713) 836-9966
Mississippi Contact: Qwn B (601) 896-7997
Georgia Contact: FeeNom (404) 680-8820
Vendor / Sponsorship Contact: Porsche Taylor 310) 733-0508
Tickets to Essence Fest events

Black Girls Ride Magazine is not affiliated with Essence Fest or Essence Magazine. Black Girls Ride Magazine will provide the guided motorcycle ride experience from our hosted states. Riders are responsible for their own travel accomodations and insurance. This package WILL NOT include concert tickets.
Date and Time
Location
Refund Policy