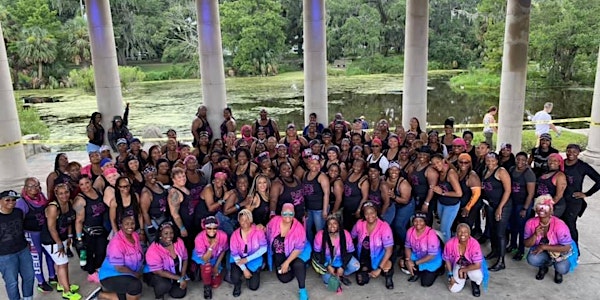 Black Girls Ride to Essence Fest 2022
Join Black Girls Ride in New Orleans for an epic weekend of sisterhood, empowerment and parties!
Date and time
June 30, 2022 · 4pm - July 3, 2022 · 1pm CDT
Location
New Orleans Convention Center 900 Convention Center Blvd New Orleans, LA 70130
About this event
We're excited to announce our 4th Annual Black Girls Ride to Essence Fest! If you've never been to Essence Fest, this is the perfect opportunity!  We'll arrive in New Orleans for all of the festivities.  We'll host rider events to pick up new riders in cities along the way!  Riders are invited to join our ride leaders from all over the country, as we all meet in New Orleans for an epic weekend of sisterhood, empowerment and parties!  All riders are invited to join us from all over the world on this ride!
Host Hotel Info will Follow Paid Registration.
Frequently Asked Questions:
Here's a few frequently asked questions about Black Girls Ride to Essence Fest:
- Who's invited? All Female Motorcycle Riders of all levels are invited to join us for this unique riding vacation! This experience is great for new to intermediate riders. We'll help you get prepared for the cross country journey!
- Can I bring my husband/significant other? You sure can! While our itinerary caters to women who ride, men are welcome to follow along. Simply purchase their registration and they are all set to join us!
- What if my guest only wants to do some of what's on the itinerary? Do they still have to pay full price? Absolutely! Our pricing is based on providing female motorcycle riders with the full experience. To ensure this, we'll only offer one package this year. 
- What if I want to trailer my bike? We strongly encourage you to ride, and enjoy the full experience of a cross country motorcycle ride. We don't have parking accommodations for trailers.
- I don't think I can get enough time off to ride. Can I fly in and rent a bike? Sure, but those accommodations are yours to make. Our goal is to provide an excellent experience once you arrive on ground.
- What if my girls want to drive instead? Can we park at the BGR lot? We hope you can understand that our lot is reserved for BGR Motorcycle Riders, and your registration includes bike parking only. Registration DOES NOT include car parking, but car parking will be available for $30 per day with your registration band.
- What's all included in registration? 
Platinum Registration ($199) Includes:
1 BGR VIP Giftbag ($80 value)
2 BGR Essence Fest T-shirts ($40 value)
Thursday - Party Bus Ride to Bourbon Street Parade & Welcome Party ($30 value)
Friday - Bikers Brunch & Police Escorted Group Ride ($50 value)
Saturday - Police Escorted Ride and More TBD ($50 value)
Sunday - TBD
PLEASE NOTE: ITINERARY IS SUBJECT TO CHANGE. DATES ARE SUBJECT TO CHANGE BASED ON THE ESSENCE FESTIVAL CALENDAR.  THIS PACKAGE DOES NOT INCLUDE TRAVEL, HOTEL ACCOMODATIONS OR ESSENCE FESTIVAL CONCERT TICKETS.
- What's the host hotel reservation info? Due to last year's overwhelming response, Registered riders will receive host hotel reservation info via their eventbrite registration email. This will ensure that our rooms aren't sold out before registered riders get a fair chance to book. 
- How can I get a discount on registration?  PURCHASE YOUR TICKET FROM JULY 5 - AUGUST 31, 2021 . Be sure to sign up for our BGR Biker Blast at blackgirlsride.com for updates and discount codes.
- What is the refund policy? There are No Refunds at anytime.  
- I have other questions. How can I reach you? I'm always available at (310) 733-0508 or drop an email to blackgirlsridemag@gmail.com.
BGR Ride Leaders:
Louisiana Contact: Juicy J (504) 251-1397
Louisiana Contact: Tru (504) 906-0465
Ohio Contact: Squeaky (614) 989-3956
North Carolina Contact: Foxy (919)423-3268
Virginia Contact: Pepsi (804) 938-5299
Texas Contact: Lady Feisty (832) 886-3455
Georgia Contact: FeeNom (404) 441-4527
New York/New Jersey: Sandra (917) 319-1466
Alabama Contact: Blacq (256) 541-6019
Vendor / Sponsorship Contact: Porsche Taylor 310) 733-0508 
Black Girls Ride Magazine is not affiliated with Essence Festival or Essence Magazine.  Riders are responsible for their own travel, accomodations and insurance.  These packages WILL NOT include Essence Festival concert tickets.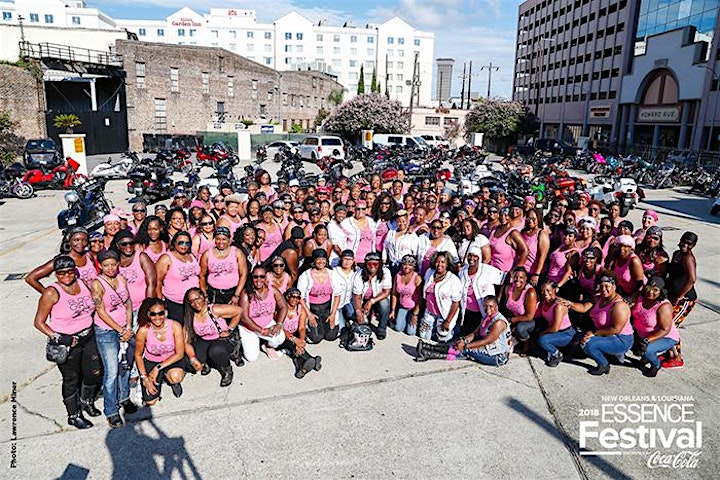 About the organizer
As a rider with a background in historical research, Porsche Taylor became curious about other women who blazed a trail in motorsports and how they evolved in the new millenium. In her research, she found a lack of representation of women of color in motorsports.  Seeking to fill this void, Porsche became the Founder and Editor-In-Chief of Black Girls Ride Magazine, an inclusive celebration of all women who live to ride, featuring riders, racers, product reviews and riding events.  Founded in 2011, Black Girls Ride now celebrates 8 years, and has expanded to include female riding workshops and events, including the Beautiful Bikers Conference.