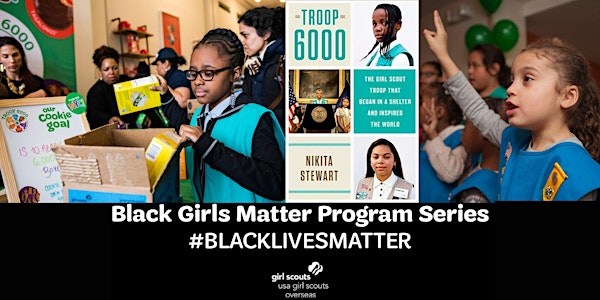 Black Girls Matter: Celebrate Juneteenth with Giselle Burgess of Troop 6000
Find your voice. Tell your story. Stand up to racism.
By USA Girl Scouts Overseas
Date and time
Saturday, June 17 · 7 - 8am PDT
About this event
Join USA Girl Scouts Overseas and Girl Scouts of Greater New York for a very special Juneteenth celebration, hosted by Giselle Burgess, Director & Visionary of GSGNY Troop 6000™. Troop 6000™ is a Girl Scout program specially designed to serve girls in the New York City Shelter System. Each week, Troop 6000™ meets in shelters across the city. Troop meetings are facilitated by trained troop leaders – women also living in the shelter system paired with community-based volunteers – and give girls the opportunity to make new friends, earn badges, and see themselves as leaders in their communities.
The book, Troop 6000: The Girl Scout Troop That Began In A Shelter And Inspired The World, tells the inspiring true story of the first Girl Scout troop founded for and by girls living in a shelter in Queens, New York, and the amazing, nationwide response that it sparked. Troop 6000 is both the intimate story of one group of girls who find pride and community with one another, and the larger story of how, when we come together, we can find support and commonality and experience joy and success, no matter how challenging life may be. We cannot wait for you to meet Giselle and learn more about Troop 6000™!
About Juneteenth
Also known as Freedom Day, Jubilee Day, Liberation Day, and Emancipation Day – Juneteenth is a holiday celebrating the emancipation of those who had been enslaved in the United States. Originating in Galveston, Texas, it is now celebrated annually on the 19th of June throughout the United States, with varying official recognition. It is commemorated on the anniversary date of the June 19, 1865 announcement by Union Army general Gordon Granger, proclaiming freedom from slavery in Texas.
About Giselle
Giselle Burgess is the Visionary and Program Manager of Troop 6000™, a Girl Scout program specially designed to serve girls in the New York City Shelter System. After becoming homeless herself and living in a shelter with her 5 children, she saw that there was a great need and benefit for a program like this to be offered to girls and women living in the shelter system as well.
Before devoting her work full time to Troop 6000™, Giselle served as a community development specialist for the Girl Scouts of Greater NY Queens service center. Giselle and the Girl Scouts of Greater NY are devoted to bringing the Girl Scouting experience to all girls, regardless of their living or economic status.
Prior to working for the Girl Scouts of Greater NY Giselle dedicated her time as a troop leader in Queens, NY, and has remained a leader for the last 12 years. She has been recognized for her dedication by her community and her local city councilman and has received a Proclamation from the city of New York for her outstanding service, achievements in her community and for devoting her life to empowering and up lifting women throughout the borough.
In addition to being the Troop 6000™ Program Manager, Giselle is a full time mother to her 4 daughters, which are all in Girl Scouting and remain a part of Troop 6000™; even after finding a home of their own and 2 sons. Giselle and her daughters continue to advocate for girls and women living in the shelter system and are determined to break the stigma of homelessness.
About The Session
During our hour together, we will celebrate Juneteenth and explore the connection between this important holiday and Girl Scouts, learn more about Troop 6000™, find support and commonality and experience joy and success with our Girl Scout sisters all around the world, and ultimately walk away inspired to take action to make our world a better place!
Who: Open to all program grade levels (Girl Scout Daisies through Ambassadors) and adult volunteers; we recommend a parent/guardian accompany Girl Scout Daises, Brownies, and Juniors.
When: 10am EDT / 4pm CEST / 11pm JST, please be sure to check what time that is in your corner of the world! Can't attend live? No worries! We will record this program and send the playback to all registered participants.
Cost: FREE thanks to generous support from our presenter, Giselle Burgess; all donations for this program will go directly to Troop 6000
Location: A confirmation email with Zoom meeting details will be sent 1-2 days prior to the event to the email address provided during registration