About this Event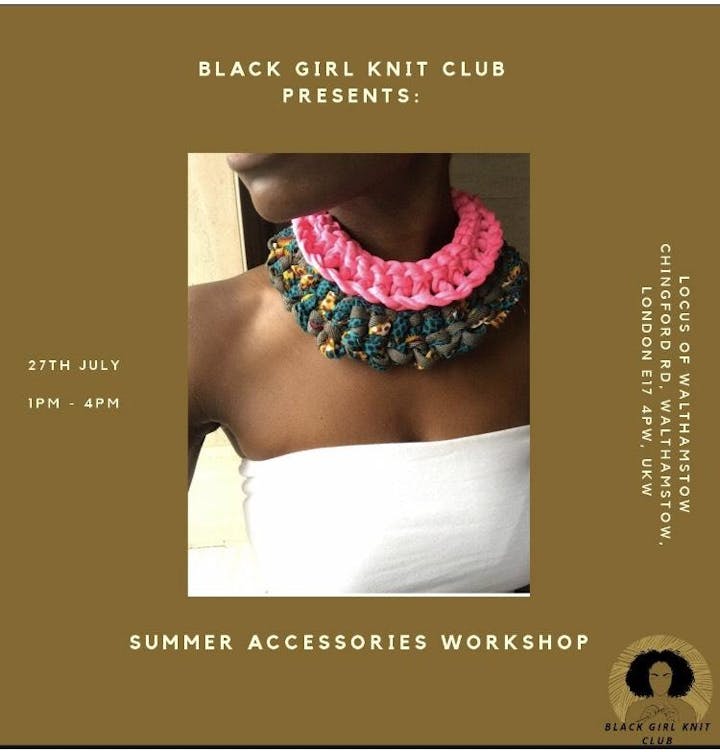 Black Girl Knit Club is a collective that aims to bring together and celebrate women of color, whilst learning a new skill. We want to gather women into a safe space to discuss stories, inspire and learn from one another.
This is the second part of our accessories workshop series where we will be knitting something that isn't overwhelming! This knitwear session is a beginners level of hand knit, you will learn how to create your own statement necklace and bracelet using our upcycled wax print cloth yarn. The perfect summer accessory!
During this workshop you will experiment with a series of different knit stitches, before creating your own jewellery to take away with you after the workshop.
The perfect workshop for the weekend and a great way to unwind and network with other women!!
JOIN US, SPACES ARE LIMITED, AS IT'S AN INTIMATE CLASS.
DO I NEED TO BRING ANYTHING?
We'll be providing all the yarn and needles for use on the day so it's not necessary to bring anything. If you have your own stash of yarn, please feel free to bring along any yarns you want.
Refreshments will be provided.
Any enquires please contact: Blackgirlknitclub@gmail.com
Instagram: @BlackGirlKnitClub Twitter: @BlackGirlKnits