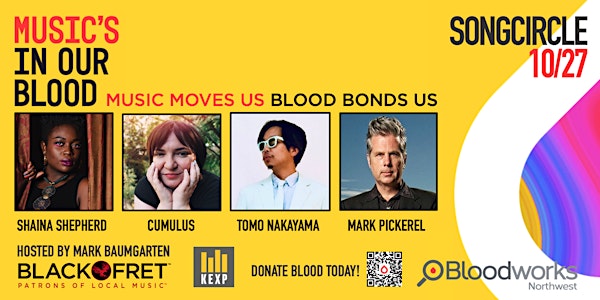 BLACK FRET & BLOODWORKS NORTHWEST PRESENT MUSIC'S IN OUR BLOOD SONGCIRCLE
MUSIC'S IN OUR BLOOD SONGCIRCLE FEATURING SHAINA SHEPHERD, CUMULUS, TOMO NAKAYAMA & MARK PICKEREL
When and where
Location
Sleight of Hand Cellars SODO 3861 1st Avenue South #G Seattle, WA 98134
About this event
MUSIC MOVES US…BLOOD BONDS US.
Black Fret & Bloodworks Northwest present a special evening of music and conversation featuring musicians Shaina Shepherd, Cumulus, Tomo Nakayama and Mark Pickerel hosted by Crosscut Managing Editor Mark Baumgarten.
The musicians will perform songs from across their catalog, discuss the Seattle music community, the ongoing blood shortage our region is currently facing, the importance of diversity in the blood supply, and how we can band together to increase blood donations and contribute to the health and vibrancy of our community.
About Bloodworks NW and Music's In Our Blood
Since the beginning of the pandemic, blood donations have decreased nearly 35%. The blood inventories at our region's hospitals are critically low. Every two seconds someone needs blood. And it takes 1,000 donors a day – from Eugene to Bellingham – to provide the hospitals the blood they need for trauma, cancer and other diseases or situations that could impact our friends, family… or even one of us. Slight of Hand Cellars SODO in partnership with Black Fret, Bloodworks Northwest and the music community – via the campaign, Music's In Our Blood – is proud to be hosting Shaina Shepherd, Cumulus, Tomo Nakayama and Mark Pickerel and moderated by Crosscut Managing Editor Mark Baumgarten for a special performance on Thursday, October 27. In an effort to educate, inspire and call to action our community to consider donating blood, this free concert is a platform for a conversation on how we can work together to ensure a healthy community. Our goal of the Music's In Our Blood campaign is 20,000 new and re-engaged blood donors by year's end. For more information about the campaign and to schedule a blood donation today go to www.bloodworksnw.org/music. Music moves us. Blood bonds us.
About Black Fret
Founded in 2013, Black Fret is a 501c3 public charity headquartered in Austin, TX whose mission is to empower musicians to create and perform new music. The organization is an innovative evolution of the age-old symphony patronage model that is instead focused on supporting popular local music. Together, Black Fret's limited membership has supported musicians with over $3 million in grants and direct payments since 2013. In return for annual dues, members enjoy a broad range of private events in a multitude of venues. Grant recipients are selected annually through a yearlong process where members, advisors and prior grant recipients nominate, attend performances by and finally vote on their favorite artists. Those who wish to become a member of Black Fret can sign up at www.blackfret.org/join. For inquiries, please email sustain@blackfret.org and for more info see www.blackfret.org.
Sponsored by KEXP