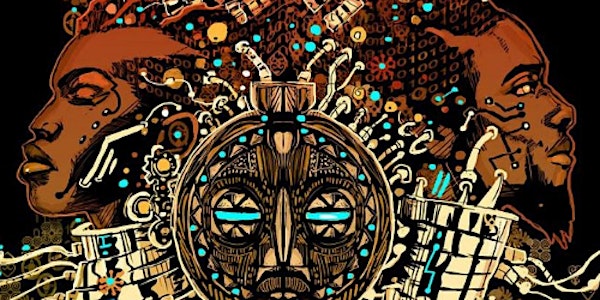 Black Feminist Futures Series: Black Women Organizing for the Future
The Schomburg Center's Black Feminist Futures series features programs highlighting the relationship between Afrofuturism & Black feminism.
About this event
VIRTUAL PROGRAM
WATCH LIVE:
Join us for Black Women Organizing for the Future, a virtual conversation on Black women's organizing through art, freedom dreaming, and collective politics to fundamentally transform the lives of all people, but especially the lives of Black women and MaGes (marginalized genders). The program features activist and artivists Ziggy ZaggerZ, Dacia Polk, Schetauna Powell, Zaika Dos Santos, and Queen Kukoyi, and will be moderated by LaWana Richmond​.
Black Feminist Futures Series
The Black Feminist Futures Series features programs highlighting the powerful and long-standing relationship between Afrofuturism and Black feminism in genres ranging from literature, film, art, fashion, and community organizing. Our programs include Dr. Kinitra Brooks, Sheree Renee Thomas, Tananarive Due, Andrea Hairston, Dacia Polk, Tanya Fields, Dr. Lawana Richmond, and many more! The series is presented by the Schomburg Center's 10th Annual Black Comic Book Festival.
SCHEDULE:
Black Woman and Theories of the Future | Saturday, February 19 at 12:00 - 1:30
Black Women Planting for the Future | Wednesday, March 9 at 12:00 - 1:30
Black Women Organizing for the Future | Thursday, March 24 at 12:00 - 1:30
VIRTUAL PROGRAM | This program will be streamed on YouTube. You must register with your email address in order to receive the link to participate. Please check your email shortly before the discussion to receive the link.
PRESS | Please send all press inquiries (photo, video, interviews, audio-recording, etc) at least 24-hours before the day of the program to Leah Drayton at leahdrayton@nypl.org.
PUBLIC NOTICE AND DISCLAIMER
This Program uses a third-party website link. By clicking on the third-party website link, you will leave NYPL's website and enter a website not operated by NYPL. We encourage you to review the privacy policies of every third-party website or service that you visit or use, including those third parties with whom you interact with through our Library services. For more information about these third-party links, please see the section of NYPL's Privacy Policy describing "Third-Party Library Services Providers" at https://www.nypl.org/help/about-nypl/legal-notices/privacy-policy.
During this Program, you will be using third-party platforms such as Zoom and YouTube, for the purpose of communication. We encourage you to review the privacy policies of every third-party website or service that you visit or use, including those third parties with whom you interact with through our Library services. This service may collect some personally identifying information about you, such as name, username, email address, & password. This service will treat the information it collects about you pursuant to its own privacy policy, which can be found here: Google Privacy Policy, Zoom Privacy Policy, YouTube Privacy Policy. For more information about these third-party links, please see the section of NYPL's Privacy Policy describing "Third-Party Library Services Providers" at https://www.nypl.org/help/about-nypl/legal-notices/privacy-policy.