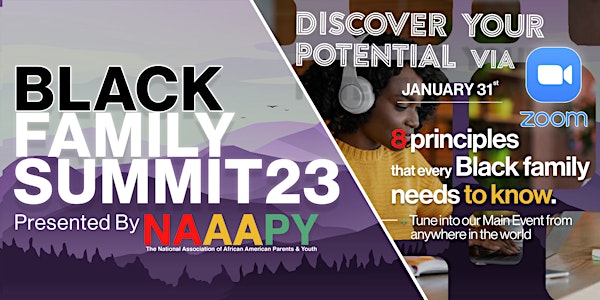 Black Family Summit 2023: 8 Principles Every Family NEEDS to Know
Join us, at our annual summit centered around 'The Smell of Success for Black Families'. Featuring our successful learning model PERFUMES.
When and where
Location
1000 Alameda St 1000 Alameda Street Los Angeles, CA 90012
Refund Policy
Contact the organizer to request a refund.
Eventbrite's fee is nonrefundable.
About this event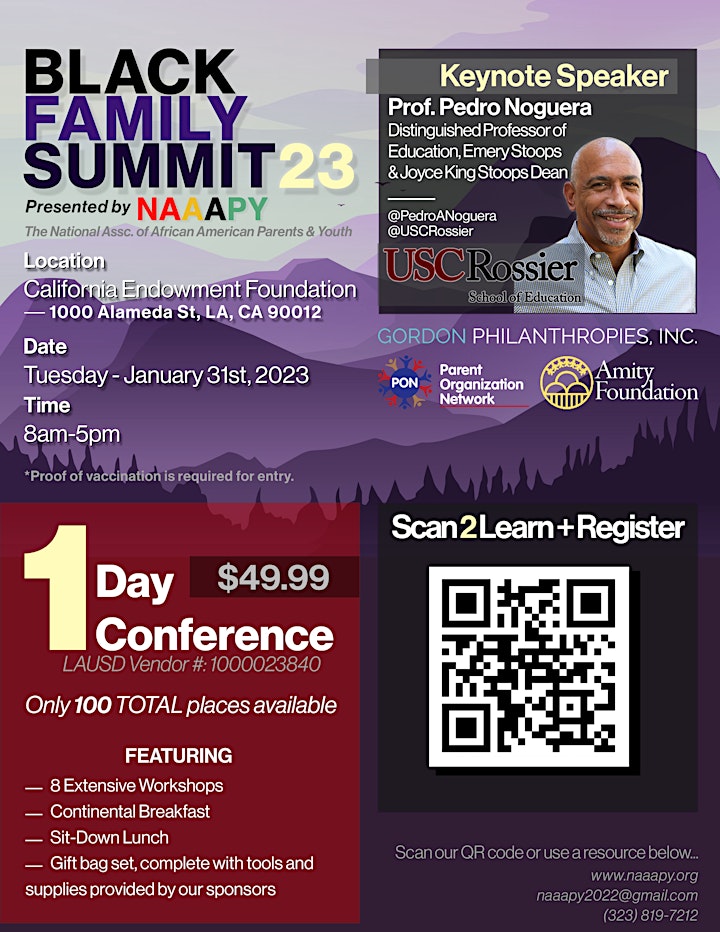 NAAAPY'S first ever community-oriented conference. Join us. Founders of NAAAPY (The National Assc. of African American Parents & Youth), launch the first Black Family Summit!
Featuring 8 workshops and 2 keynote addresses provided by distinguished figures in Los Angeles.
Each workshop will feature NAAAPY'S 8 principles designed and structured for achieving one's full potential. Through our new learning model PERFUMES. For more information on presenter's and the conference as a whole, please visit our dedicated Black Family Summit homepage.
There are only 100 places available, so please register quickly if you want to secure a place at the conference.
NOTE: ALL attendees must be vaccinated. Proof of vaccination will be checked upon entry.
The Eight Principles of our Black Family Summit (PERFUMES).
P¹ - Physical
Aims & Objectives for Workshop:
-Who is Rahsaan Bahati
-Introduce the Bahati Foundation and its mission and outreach programs
-Empowering youth on and off the bike
P² - Perfection
Aims & Objectives for Workshop:
This workshop will address the impact of fatherhood in the family and community. Participants will know and understand when and where paternal figures are needed and the outcomes associated with their presence.
E - Emotional
Aims & Objectives for Workshop:
-When parents are feeling a sense of mental and emotional wellbeing they make better choices for themselves and their children.
-The goal of this workshop is to teach parents how to become aware of and decrease emotional reactivity when interacting with their children.
-Parents will learn mindfulness exercises to cultivate calm and patience so they are making choices from intention rather than fleeting emotions.
R - Relational
The participant will learn how to identify healthy boundaries in relationships with partners, family/friends and co-worker. How to say NO without feeling guilty. They will leave with a toolbox of knowledge.
F - Financial
U - Universal
Aims & Objectives for Workshop:
In this session participants will learn practical and effective ways to seek out their students' mathematical brilliance, and use what students already know to help them meet the demands of the grade level. Through a lesson demo, participants will experience and then analyze teacher moves and gain key takeaways for immediate use with their own children. They will also have an opportunity to unpack the lesson design and learn researched practices for culturally responsive lessons, such as the one they will have experienced.
M - Mental Wellness
Aims & Objectives for Gail's Workshop:
This workshop engages attendees to reflect on the power of internal beliefs and its subsequent impact on the family system. Patterns, habits, rigidity, fears, tendencies, and traumas all have a voice. It is urgent that this voice be explored, understood, and validated prior to personal transformation. This personal transformation is the journey towards mental health and the disruption of beliefs that might maintain cultural dysfunction in the Black family. A serious encounter with the self requires courage, love, and deep concern about present and future generations. We are hopeful that our descendants will have the tools and capacity to be more resilient in adversity and that coping strategies will be conducive to spiritual and psychological wellness. Behavioral transformations within the family system begin with us. This conversation will expand our understanding of the power of internal changes and how personal evolution impacts the family unit.
E - Education
Aims & Objectives for Dr. Montgomery's Workshop:
Supporting the African American Learner, come and learn what practices you should advocate for seeing at your child school. The document 'Supporting the African American Learner' was written as a guide for educators to help with planning systems in which Black students can thrive. Come learn what this document says to educators, but more importantly learn what you should look for specifically.
S - Spiritual
Aims & Objectives for Workshop:
-Give families an overview of the SBV Effective Black Parenting curriculum.
-Demonstrate how African and biblical Proverbs impart instruction and inspiration for parenting.
-Model and teach pride in blackness to promote high self-esteem, positive cultural identity, and assurance of belonging in our families.
-Provide practical tools for effective communication, single and co-parenting, helping our children and youth avoid street pressures, alternatives to corporal punishment, and more.
-Empower families to lead with greater intentionality and consistency through the Thinking Parent's Approach.
-Individuals and families will identify existing and possible villages of care and support networks for themselves and their families.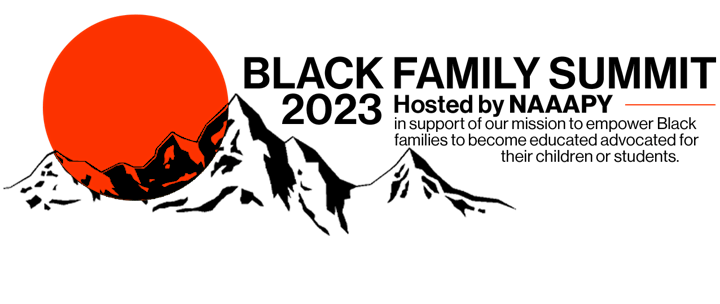 Conference Schedule:
8:00-9:00am Breakfast & Registration
9:00-9:10 Welcomes & Sponsors
HATTIE MCFRAZIER (BLACK FAMILY SUMMIT, Chair Committee)
ARACELI SIMEON (PARENT ORGANIZATION NETWORK, Executive Dir.)
SYLVIA BEANS (GORDON PHILANTHROPIES, Project Dir.)
YOLANDE BECKLES (NAAAPY, Board Pres.)
9:15 Introduction of Keynote Speaker
YOLANDE BECKLES
9:20am-9:50am Dr. Pedro Noguera
MORNING KEYNOTE
9:50am Q&A from Audience
VOLUNTEERS W/ MICROPHONES
10:00am Lift Every Voice (Black National Anthem)
SINGER TO BE ANNOUNCED
10:15am Coffee Break, Water & Cookies
10:30am Introduction to Morning Workshops
Presented by Gabriela Mitchell
The Smell of Success, 'PERFUMES'
*See brochure for Room #'s!
10:30am-11am Rashad Bahati
P¹ - Physical
11:00am-12pm LeHenry Solomon
P² - Perfection
10:30am-12pm Aiko Smith
E - Emotional
10:30am-12pm Stephanie Haynes
R - Relational
10:30am-12pm Dionne Aminata
U - Universal
12pm-1pm Musical Entertainment
1:10pm Introduction of Keynote Speaker
HATTIE MCFRAZIER
1:15pm-1:50pm Michael Browning
AFTERNOON KEYNOTE
1:50pm Q&A from Audience
VOLUNTEERS W/ MICROPHONES
2pm Introduction to Afternoon Workshops
2pm-3:30pm Carlton Porter & Josie Starling
F - Financial
2pm-3:30pm Gail White-Biggers
M - Mental Wellness
2pm-3:30pm Dr. Alicia Montgomery
E - Education
2pm-3:30pm Rev. Christy Ann Clark
S - Spiritual
3:30pm Afternoon Tea, Coffee & Cookies
4:00pm Call to Action
4:45pm Evalutaion Session
GIFT BAGS GIVEN TO ATTENDEES
HATTIE MCFRAZIER CONGRATULATES ALL ATTENDEES
5:00pm Close
LAUNCH OF BLACK FAMILY UNIVERSITY 2023 FOR BLACK HISTORY MONTH
SCAN QR CODE FOR MORE