"Black Face Black Power" A Solo Exhibition and Artist Talk by Mark West
"Black Face Black Skin" A solo exhibition and art talk by gallery owner and black face artist Mark West
About this Event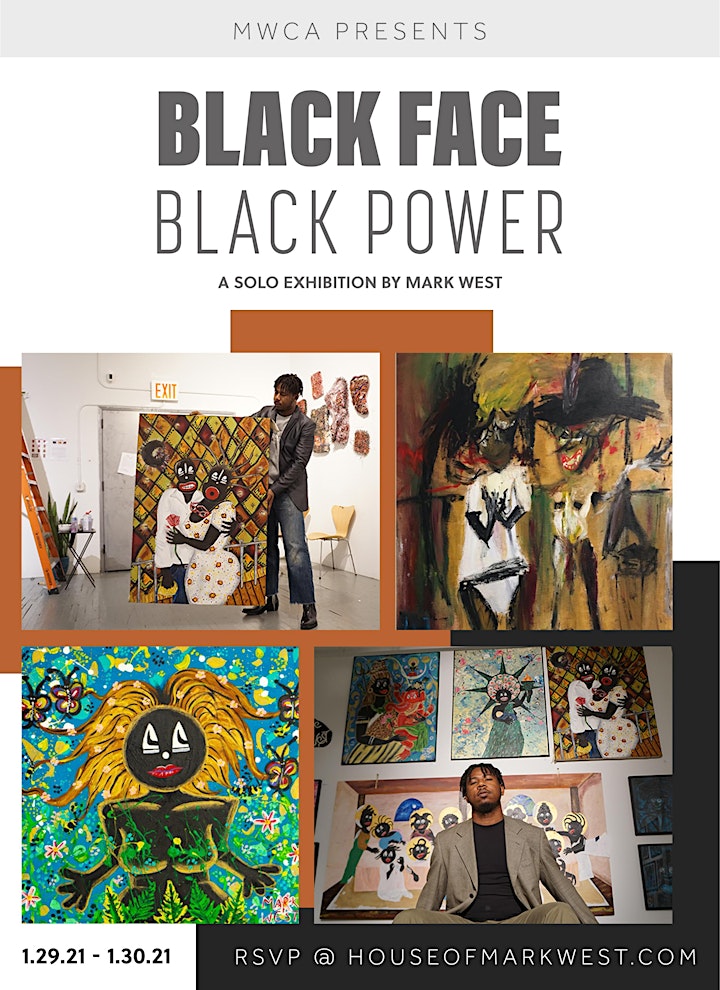 "Black Face Black Skin" A solo exhibition and art talk by gallery owner and black face artist Mark West
*including a small exhibition featuring works by Jean Michel Basquiat
Two-Day Solo Exhibition and Artist Talk
Join us for art, live music, poetry, and wine in our black-owned cultural art center.
Doors Open 3PM
Artist Talk 5:30
Performances start at 7PM
This is a free two-day event.
*Feel free to make a contribution to our non-profit cultural art center.
About Mark West
Brooklyn's 25 year-old art phenom, Mark West, is the Owner and President of Mark West Center for the Arts (MWCA). The story of West's uprising in the art industry is one to be acknowledged as he is a NYU Shanghai-trained art historian, producer and world traveler.
While in college, West studied East Asia Antiquities, Mandarin, the Humanities and Business. After studying in China, Ghana, and France, West relocated back to the states following graduation for a gap year after being accepted to a graduate program at London School of Economics to study Business and Economics. During that time he reconnected with his passion for history and the arts in NYC and began painting recreationally while working at Willkie Farr & Gallagher as a finance specialist. After receiving praise from his peers on his paintings West received inquiries on his work which gave him the confidence to start selling it on the streets of New York City.
Though West struggled to find mentorship and opportunities to exhibit his work, he took his work out 14th St Union Square in 2018. It was during those 5 months where buyers began to call West a young Jean-Michel Basquiat as he quickly sold enough of his paintings to open up his own brick-and-mortar gallery in LIC.
Since then, West expanded his art center and increased his services to the community. As the Owner and President MCWA, West has sold over 220 paintings out of his own gallery to date.
Currently West's work is on display at Mark West Center for the Arts located at 56 Bogart St., Brooklyn, NY.West has also exhibited his work at Harlem School of the Arts, The Sony Center, The Magic Johnson Theatre, Atlantic Ave Barclays Center, Orchard & Ludlow, Hall of Fame, MWCA, and many other places around NYC. Mark West and his gallery have been published in ABC News, BronxNet TV, The LDM Show, 8Ball Radio, Bleucalf Magazine, The Bronx Times and others.
About MWCA
Mark West Center for the Arts (MWCA), also known as House of Mark West is a non-profit cultural art center, gallery and creative hub for artists in the Williamsburg-Bushwick Art Hub. MWCA is black-owned and praised for catering primarily to Black, Brown, LGBTQ, disabled, and young (k-12) artists and creatives. MWCA hosts monthly art exhibitions, free grant-writing workshops, open mic competitions, art classes, and town hall meetings.
As one of the only black-owned and queer-owned galleries in NYC, their mission is providing exposure and advocacy for underrepresented artists from all backgrounds.