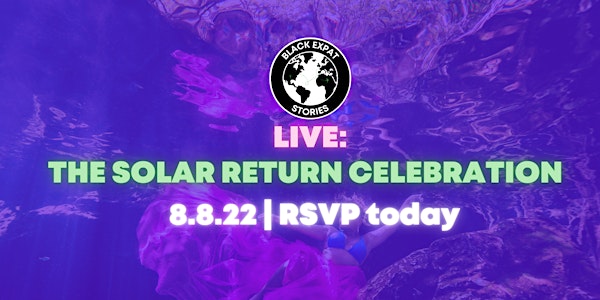 Black Expat Stories LIVE: The SOLAR RETURN CELEBRATION
Join our Editor-in-Chief for a live chapter reading, photo reveal, Q&A, and more exciting Black Expat Stories announcements!
About this event
A SPECIAL INVITE FROM OUR EDITOR-IN-CHIEF
Hey fam,
ISSA BIRTHDAY PORTY and this time, I'm coming with the gifts:
🎁 Black Expat Stories Trivia Games & Giveaways (so make sure you're subscribed and all caught up on the most recent story for your chance to win 1 of 2 gift cards!)
🎁Be one of the first to experience the highly anticipated, never-before-shared Chapter 20: The Act I Finale of my expat story. It's extra special because for the first time ever, I'll be doing live reading of my work - just for you.
🎁Then, you'll get a FIRST LOOK at the images from my very first international photoshoot - IN A CENOTE (an underwater cave). I got the opportunity to work with the incredible Francesca Reina and her team, who are some of the most brilliantly talented underwater photographers/videographers.
These images are GIVING, hunty! So, you definitely won't want to miss it. I'm dishing on all the things: the creative direction for the shoot, the prep, and more behind-the-scenes footage of the underwater cenote photoshoot.
🎁 I'll introduce you to the other Black Expat Storytellers whose journeys you're going to enjoy, plus some other exciting announcements about what's next.
🎁 And, since I've been getting tons of questions about my expat experience, join me for Q&A & Convo.
Not only will I answer your questions, I'll also share some key lessons, crazy stories, and even some pro tips from my perspective living as a Black expat over the past year.
On August 8th, the Black Expat Stories experience comes to life in a whole new way and I can't wait to (virtually) party with you! Will I see you there?
Wishing you peace, love & passport stamps,
Courtney
ABOUT BLACK EXPAT STORIES
BlackExpatStories.com is a digital publication that documents the journeys of Black expats living all over the world by showcasing the beauty in the Blaxit - one unique story at a time. Chapter-by-chapter, subscribers can expect to be moved by some of the most riveting and relatable stories about international living on the internet.
Visit BlackExpatStories.com to subscribe. Like us on Facebook to be the first to know when new chapters drop and be sure to follow our Editor-in-Chief on Instagram (@TheCourtneyBowden) or connect with her on LinkedIn.