About this Event
With so many things happening in New York City during the summer, we often forget to stop and celebrate Juneteenth - the holiday that commemorates the ending of slavery in the United States. On June 23, let's come together and honor our ancestors by putting our dollars back into the community with the Black Dollar Bar Crawl.
The rapid erasure of black owned spaces across Brooklyn and the country at large is something we can combat by circulating our dollars within black owned businesses. Not only are we supporting black owned businesses, but a portion of the proceeds will be donated to the historic Weeksville Heritage Center, who is on a mission to keep their doors open to the public.
We'll be hitting some of your favorite spots on the crawl, where you'll see some old faces and make some new friends. Sort of like a family reunion. Open to all. See you at the Black Dollar Bar Crawl.
Date: Sunday, June 23, 2019
Check-In: 2pm Sharp - PLEASE BE ON TIME!!!! :)
Crawl Time: 2pm - Until
*BLACK OWNED BARS!
*FOOD & DRINK SPECIALS!
*FREE GIFTS & PRIZE GIVEAWAYS!
*OTHER FUN SURPRISES! ;)
Stop #1 Location: Bleacher's (240 Flatbush Ave.)
Remaining Stops will be announced
Follow us on IG @BlackDollarBarCrawl for announcements and updates!!!
See you on the crawl!
*A portion of the proceeds will be donated to Weeksville Heritage Center in Brooklyn, NY*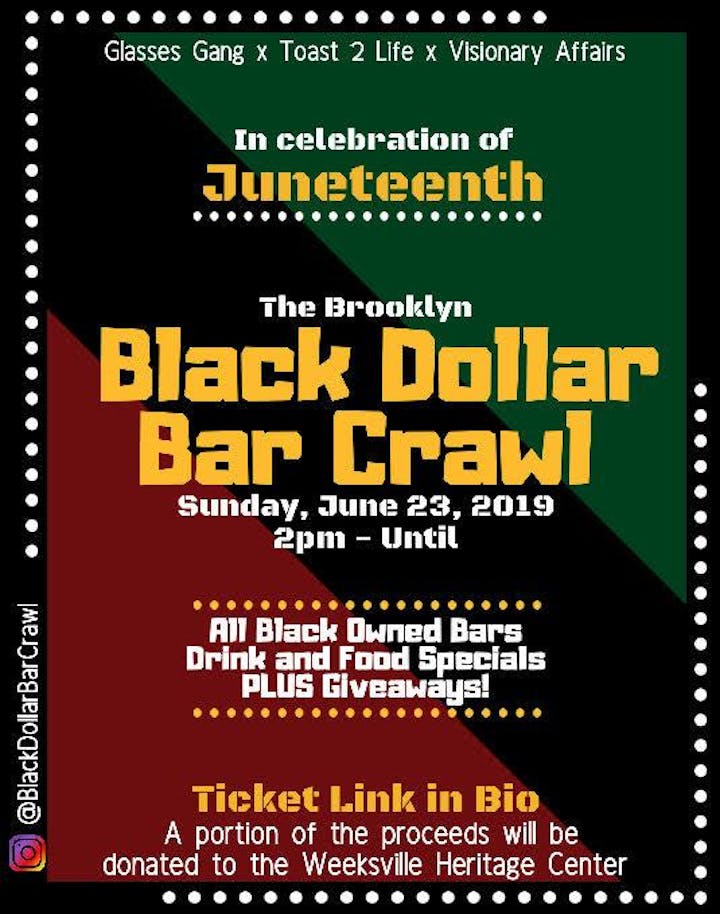 FAQs
Q: What is the Black Dollar Bar Crawl?
A: A "bar crawl" is when Partygoers go from one bar to the next stopping for drinks and/or food at each establishment. You can imagine that by the end of the evening, some of the folks were "crawling" rather than walking! In this particular case, you will have the opportunity to celebrate the Juneteenth by supporting Black Owned Bars in Brooklyn by buying black aka the "Black Dollar."
Q: What is Juneteenth?
A: Juneteenth is the oldest known celebration commemorating the ending of slavery in the United States. Dating back to 1865, it was on June 19th that the Union soldiers, led by Major General Gordon Granger, landed at Galveston, Texas with news that the war had ended and that the enslaved were now free. (Source: juneteenth.com)
Q: What is Weeksville Heritage Center?
A: Weeksville Heritage Center is a multidisciplinary museum dedicated to preserving the history of the 19th century African American community of Weeksville, Brooklyn - one of America's many free black communities."Our mission is to document, preserve and interpret the history of free African American communities in Weeksville, Brooklyn and beyond and to create and inspire innovative, contemporary uses of African American history through education, the arts, and civic engagement. Using a contemporary lens, we activate this unique history through the presentation of innovative, vanguard and experimental programs." (Source: weeksville.org)
Q: Why should I crawl with y'all?
A: Crawling with us ensures you receive free admission to all participating venues during participation hours. The Black Dollar Bar Crawl wristband also grants you access to the drink specials taking place at each of the participating venues. Take a stroll in your beautiful city and enjoy the fellowship amongst old and new friends celebrating Black culture and what it has to offer in Brooklyn by exploring the bar crawl map and taking a journey with us!
Q: Does my $25 ticket include drinks and food?
A: Your $25 ticket guarantees your spot on the crawl, a donation to Weeksville Heritage Center, and a cool gift to impress all your friends while also identifying you as a "crawler" for the duration of the event. The ticket price does not include drinks, but does give you access to food and drink specials at each stop. Lastly, your ticket makes you a part of an experience in celebration of the important moment in African American History, Juneteenth, while supporting and highlighting local black owned businesses.
Please bring extra money to purchase drinks along the crawl route! Although most of our stops (not all) will accept credit cards, cash is preferred as it moves much faster.
Q: Is tipping acceptable or required?
A: Tipping is highly encouraged, but at your discretion. However, remember supporting black owned businesses also means supporting the amazing black bartenders and servers making your amazing drinks. :)
Q: Can we bring our own booze or carry cocktails from bar to bar?
A: No! As much as we would love to let you, New York law is pretty specific on both of these points. And the bars enforce them rigidly! This means no flasks, no bar-noculars, no pocket beers for the road, and no hiding a bottle in your home girl's cleavage and then pulling it out at the next bar. No outside alcohol is permitted...period, no exceptions. No drinks may leave the bar...period, no exceptions.
Q: What should I wear?
A: A smile definitely!:) Also please wear a RED, BLACK or GREEN top. Think of the Pan African Flag Colors. Now then, be sure to wear comfortable walking shoes. Dress appropriately for the weather (if it's raining we highly recommend raincoats and/or umbrellas). Shoes and shirts are required in all cases. Tank tops and cut-offs for men are not permitted in some establishments. We are not responsible if your attire does not conform to an establishment's dress codes.
Q: Is food available on the tour?
A: Most bars will have food available for purchase. However, we highly recommend eating before to help with timing moving through all the bars. The final bar also has food, and we suggest preparing to order a meal there since timing will good by then. But, if you are starving, definitely grab some food on the journey.
Q: How does it actually work?
A: At each bar you visit, your hosts will give you information about that bar and the group games we will play. You will also have plenty of time to purchase a beer of your choosing, a cocktail, or a soft drink. You will stay in each bar approximately 1.5 hours minutes. The guide will provide you with a two-minute warning to finish your beverage, use the bathroom, etc. Then on to the next stop...
Q: How long does the tour actually last?
A: The tour will last between 6+ hours depending (as you can imagine, it takes a while to get a large group of drinks!). However, if you have to go due to emergency, please let the host and your friends know and we will make sure to send you off!
Q: Does the tour run rain or shine?
A: Yes, the crawl runs in all weather unless it's dangerous.
Q: I am running late for the tour, will you wait for me?
A: We must start the tour on time because our other guests do not want to wait. If you are running late, please let us know (you will be provided contact information upon purchasing your tickets). Please give yourself plenty of time to get to the crawl, check in and start drinking at Stop #1 (2pm)!
Q: Is there parking near the tour?
A: There will be street parking however, it is Brooklyn and we will be drinking so we suggest taking public transportation or a cab/rideshare program to the first stop and from the final stop for the day.
Q: Do I need to bring ID?
A: ABSOLUTELY! We are not responsible if you are unable to gain entry into one of the bars for failing to do so!
Q: Are refunds available if my plans change?
A: We will be sad if we hear that someone may not be able to attend the event because their plans have changed - they fall ill, due to an emergency, etc. Unfortunately, all sales are final unless the event is cancelled. However, our event tickets are transferrable! Yep. Just email BlackDollarBarCrawl@gmail.com with your Full Name and the name of the person you are giving your ticket to. We will send you a confirmation email for the swap and you all are good to go. We will accept the ticket as long as it is used once and is unique. Duplicate tickets will be rejected at registration and charged full price.Therefore, in the event that you cannot attend the Black Dollar Bar Crawl, hand the ticket over to a friend and email us - you'll be doing them a favor! Let them enjoy this bar crawl and we'll see you next time!
Date and Time
Refund Policy