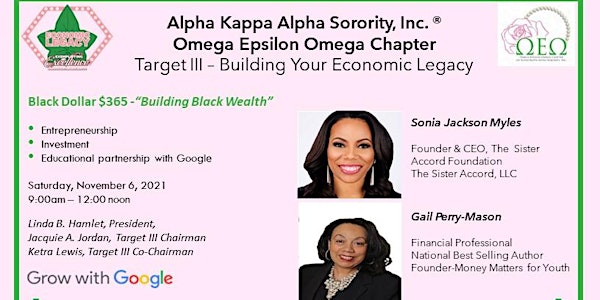 Black Dollar 365 Present: Building Black Wealth
Omega Epsilon Omega Chapter of Alpha Kappa Alpha Sorority, Inc.® is hosting a economic empowerment event featuring two dynamic speakers.
About this event
Omega Epsilon Omega Chapter of Alpha Kappa Alpha Sorority, Incorporated® is excited to present the 3rd Annual Black Dollar 365 Virtual Economic Empowerment event. The event will feature Sonia Jackson Miles, author, motivational speaker and the founder of The Sister Accord will be our keynote speaker; Gail Perry Mason, author of Girl, Make Your Money Grow will lead a discussion on investments; and lastly, we will present a training hosted through our partnership with Google called Grow with Google.
The Black Dollar 365 Business Empowerment Event is Omega Epsilon Omega's highlight of Target III, Building Your Economic Legacy. This event will promote successful African-American-owned businesses who serve our community. The program's goal is to provide education in starting a business, building wealth and establishing an economic legacy. We hope to showcase the diverse business opportunities, services, and products within our surrounding communities.
The event will be Saturday, November 6, 2021, from 9:00 a.m. to 12:00 Noon. This will be an event that you won't want to miss. Register today!