Live Q&A Session with Young Black Physicians. Clearing up concerns and myths surrounding the COVID-19 vaccines.
About this Event
The U.S. Food and Drug Administration recently granted Emergency Use Authorization (EUA) for the Pfizer and Moderna coronavirus vaccines. We know there are increasing questions about the safety and efficacy of these vaccines. In this period of uncertainty, we docs of the Young Black Physicians hear you, and intend to do our part to spread clear, factual, and direct information to the community of Detroit and abroad.
Check out our previous panel discussion on the coronavirus vaccines: https://youtu.be/BU2KOwqcZoE
And then join us on Monday, January 18th at 6:30-8pm EST for our live question and answer session.
#BlackDocs4Vax #BlackDocs4Shots #Blackdoctorsmatter #blackdoctorscovid19consortium #blackdocsgettheshots #blackdoctors . #melanindocs #blackexcellence #doctorlife #physician #medschool #medicalschool #SNMA #NMA #womeninmedicine #whitecoat #medicalfield #frontlineworkers #representationmatters #stillwearmasks #wearmask #maskup #letsdothis #vaccine #vaccinate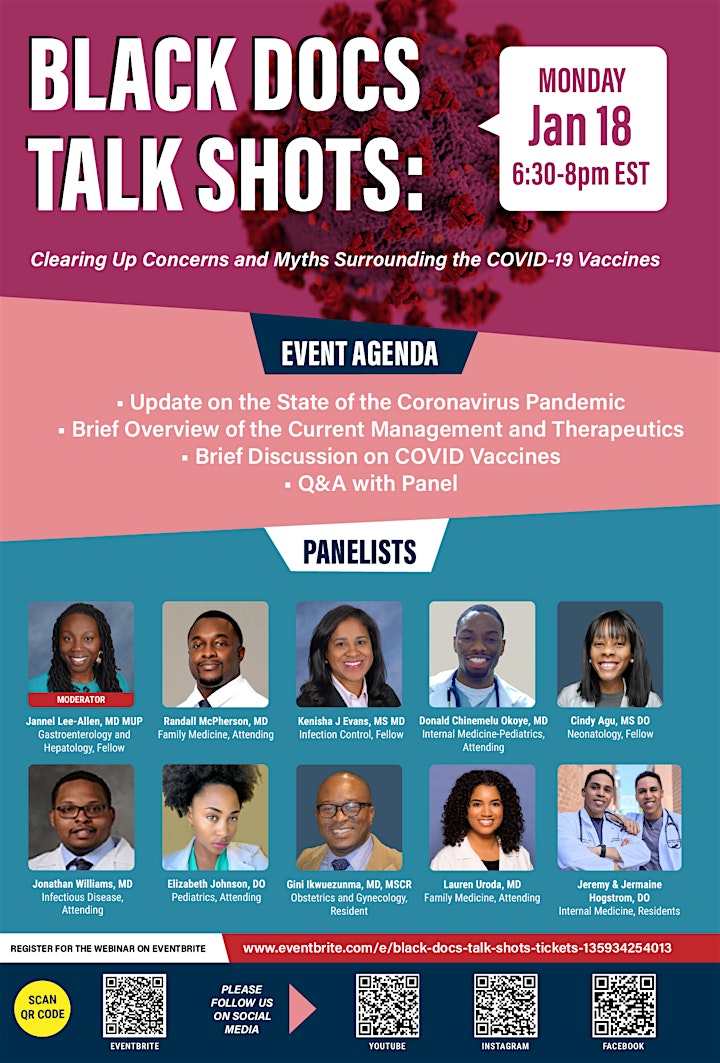 Visit us on our social media:
Youtube: https://www.youtube.com/channel/UCc3hMbFTea1zQv-wk86Yf6Q
Facebook: https://www.facebook.com/yb.physicians
Instagram: https://www.instagram.com/black_leaders_coalition/?igshid=16q3bx8uk6aqq