Location
CITY POINT BKLYN
445 Albee Square West
Brooklyn, NY 11201
United States
In honor of JUNETEENTH, DA SPOT NYC in partnership with City Point Mall will host the 2nd annual Juneteenth celebration.
About this event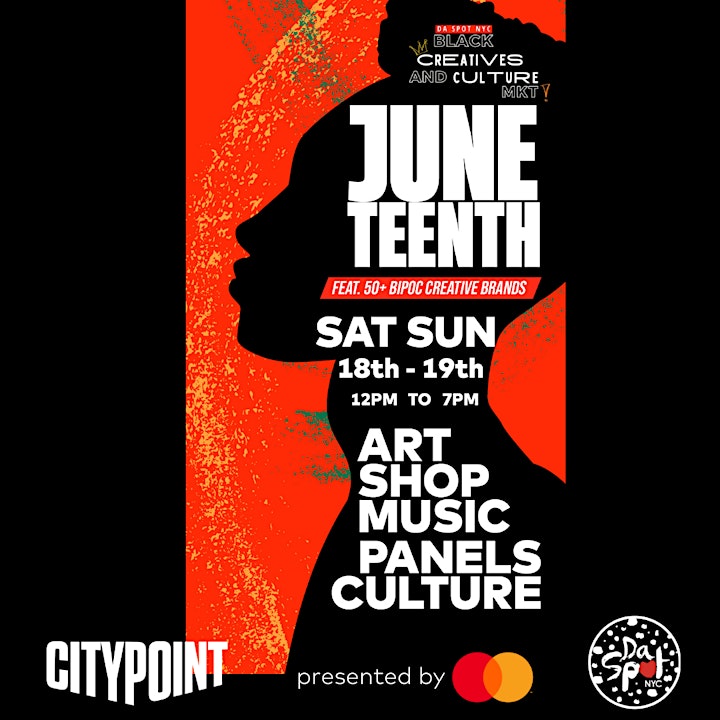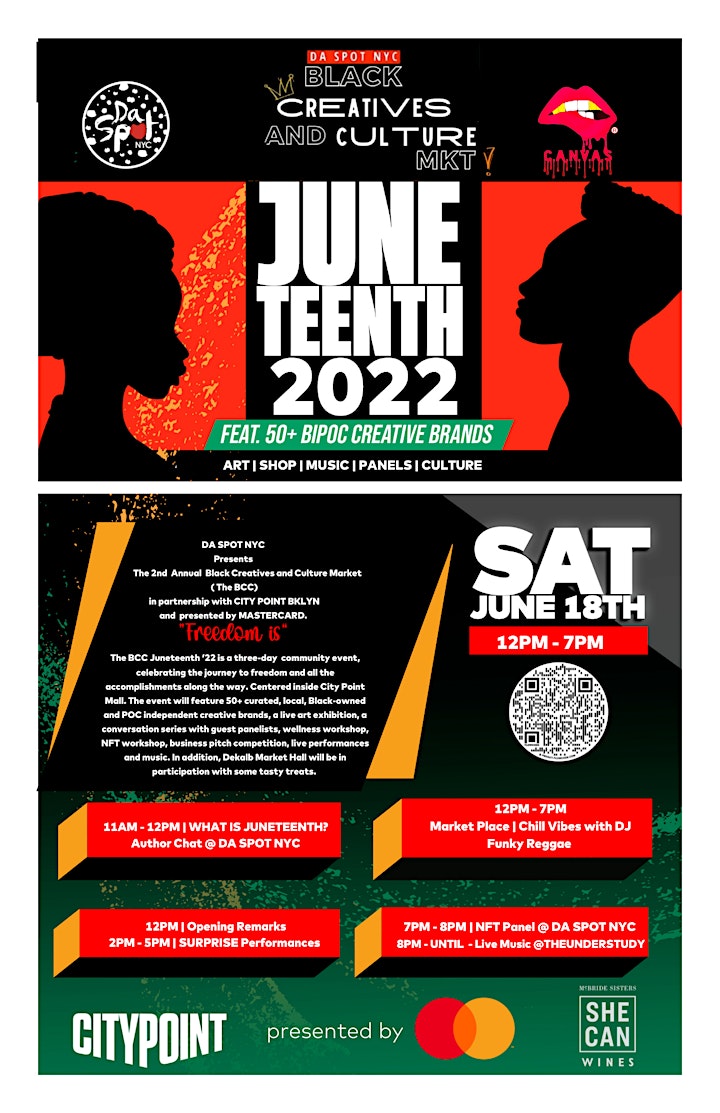 Back by popular demand and In honor of JUNETEENTH, DA SPOT NYC in partnership with City Point Mall and Downtown Brooklyn Partnership will host another Black Creatives +Culture Market to highlight the creativity of 50+ local BlPOC creatives.
EVENT DETAILS
The Black Creatives and Culture Market: Juneteenth Edition curated and hosted by DA SPOT NYC ("DA SPOT"), in partnership with City Point BKLYN , announces its roster. The free two-day festival will highlight Black excellence, spotlight local creativity, and celebrate community. It will include cultural conversations, business panels, a pitch competition, special performances, art show, marketplace, late night music stage and after party all taking place June 18 and June 19 at City Point and Brooklyn Studios in Downtown Brooklyn. This year there will also be a private press and VIP opening night reception for the art show on Friday June 17th at 7pm which highlights the weekend's theme "Freedom Is. "
ART SHOW OPENING RECEPTION NIGHT (VIP & PRESS ONLY) | JUNE 17TH: 7PM - 9PM.
Invited guests will enjoy a curated Artist talk, cocktail reception, live painting and spoken word to commence the weekend of jubilee sponsored by MCBRIDE SISTERS: SHE CAN THRIVE
b
DA MARKET I JUNE 18 & 19: 12-7PM
The Black Creatives and Culture Market will feature 65 BIPOC brands offering a range of designs and products in the fashion, beauty, wellness, and lifestyle categories. The roster of emerging Black owned businesses includes Adorned by NY, Tribe and Oak, Brown Paper Bag, Brooklyn Barn, I LEMON BK, Cecelia's House, Savon Blu, Ankara Crowns, Joy and Sorrel, Hause of Swag, Reckless Essence, eMCee Kicks and more. DJs D-Official1 and DJ Bri will be setting the vibe and energy.
DA ART SHOW |"FREEDOM IS" I JUNE 18 &19: 12 -7PM
A vibrant art show curated by Tyler Jordan owner of C.A.N.V.A.S Art GALLERY at DA SPOT NYC featuring 9 BIPOC artists that represent a range of disciplines: Mr. John Wright, Mekia Machine, Heartist, Njambi Morgan, Corrine Jimenez, Afrocentrickeyy, C.A.N.V.A.S, Snavien, and ONE.
DA SPOT NYC | JUNE 18th | Author Chat: What is Juneteenth?: 11:00 AM - 12:00PM
Author and educator, Kirsti-Jewel of the New York Times Best Sellers series "What is Juneteenth" will speak about the history of Juneteenth and her process of writing the book, with audience participation, appropriate for children and adults. Curated by McNally Jackson Books and available in shop for purchase.
DA MAIN STAGE | JUNE 18TH: SURPRISE PERFORMANCES 3:00PM - 5:00PM
Bianca's Dance Academy and members of the Divine Nine, Black Fraternities and Sororities, will grace the stage. Curated by Find Your ID NYC (FYIDNYC)
DA SPOT NYC | NFT PANEL | JUNE 18TH: 6:00PM - 7:00PM
Tyler Jordan, C.A.N.V.A.S Art Gallery and Victoria Coker, Black Webfest will lead a panel with guest speakers in the art gallery about nfts and the future of web 3.0
DA KID ZONE | JUNE 19TH: 12:00PM - 7:00PM
There will be curated activities such as coloring, book readings led by McNally Jackson, and Brer Rabbit storytelling by Alejeuan King, Curator of Make Music NY.
DA MAIN STAGE | JUNE 19TH: OPENING CEREMONY & FREEDOM MEANS TO US WORKSHOP 1:00 - 2:30pm
Nkumu Katalay, artist, orator, multi-instrumentalist and social activist, will open the day with African drumming and libations. This will be followed by an immersive workshop where participants will be led by Nadine G. of Let's Converse, a company which creates spaces for community building. A licensed Clinical Social Worker, Nadine will lead a fun, informational, interactive workshop that includes conversation about the history of Juneteenth, freedom activity, and a guided meditation.
DA MAIN STAGE | JUNE 19TH: CONNECTING THE CULTURE I JUNE 19: 3:00PM - 4:00PM.
Monique Marshall, Moderator and CEO of Black to Business, will be leading a business panel with Kenneth Ebie, Executive Director of BE NYC at NYC SBS, Paisley Demby, Business Service Director at Goldman Sachs 10KSB, Jeff Lindor, Founder of The Gentlemen's Factory, Victoria Coker, Founder of Black Web Fest and other guest panelists. They will provide resources and share their insights on business resiliency and building pathways toward economic freedom for small businesses and budding entrepreneurs.
DA BEAUTY LOUNGE | BEAUTY EXTEND TABLE TALK | JUNE 19TH: 4:00PM - 5:00PM.
Karyne Tinord, Artist and Owner of Kay de Tresses will lead an intimate conversation about the business of beauty with guest speakers Natasha Gaspard of Mane Moves Media, Carline Dargenson Owner of Instyl Hair Care Salon, Diane Bailey of Emerge Natural Beauty Industry Alliance. and more.
DA GENTLEMEN'S CORNER | SAFE SPACES FOR MEN | JUNE 19TH: 4:15PM - 5PM.
Jeff Lindor, Founder of The Gentlemen's Factory, will lead a discussion centering on creating safe spaces for men of color. The Gentleman's factory is not a Social Club, It's a Movement! Over the last 6 years, they have grown from a small duplex loft in Brooklyn,NY, to multiple locations and hundreds of members across the world. Our intergenerational community of Gentlemen of color abide by a simple message: You're Not In This Alone.
DA MAIN STAGE | JUNE 19: 5:00PM - 5:20PM
PERFORMANCE BY BROOKLYN UNITED MARCHING BAND
DA MAIN STAGE | JUNE 19TH: FIRESIDE CHAT 5:30PM - 6:00PM.
Nadine G., Moderator and owner of Let's Converse, will lead an intimate conversation with Precious Williams, professional speaker, pitch master, and founder of Perfect Pitches By Precious on the art of delivering the perfect pitch and selling your unique genius. Hear about Precious' journey of re-imagining her life and how being able to pivot helped to create pathways to Freedom.
DA MAIN STAGE | JUNE 19TH: THE BCC PRICELESS PITCH I JUNE 19: 6PM -7PM.
Hosted by Randy Braz, Founder of group economics and think tank platform Black Phoenix Management Group (BPMG), three participating vendors will be selected as finalists and have the opportunity to pitch their businesses live to guest judges Paisley Dembey, Goldman SACHS 10KSB, Precious Williams, Perfect Pitches by Precious, and Michelle Cadore, Owner of YES I AM, INC and DA SPOT NYC and audience for a chance to win up to $1500 to grow their business.
DA MUSIC STAGE I JUNE 18 & 19: 8PM-until (Understudy Bar in DEKALB MARKET HALL)
Live Music jam session curated by Fitzreynold "Noldy" Cadet owner of NOLDYMUSIC, 5 independent artists will take the stage highlighting a range of sounds from the Diaspora including R&B, soul, funk, kompa, and reggae. Featured musicians include opening acts Kliff Maati, Waylon, Jacie and Headliners: Obed Jean- Louis and Kiko Trurasta. Afterparty with DJ Fragg.
WE ARE PROUD TO ANNOUNCE OUR ADDITIONAL 2022 SPONSORS & PARTNERSHIPS
In-Kind Sponsor: McBride Sisters,
Community Partners: NYC Small Business Services (NYC SBS), Downtown Brooklyn Partnership (DBP), Goldman Sachs 10K Small Businesses, McNally's Jackson, Penguin Random House, Let's Converse, Find Your ID NYC, Gentleman's Factory, Kay De Tresses, Black to Business Perfect Pitches by Precious, Black Web Fest, Black Phoenix Management Group (BPMG), Simona Flora, NoldyMusic, Make Music NY, Brooklyn United, Bianca's Dance Academy, Alpha Phi Alpha
Food Sponsors: Likkle More Jerk, Cousins Dozens, Fat Fowl
DA SPOT NYC is a unique Brooklyn-based fashion boutique featuring 25+ independent creative brands made by people of color. DA SPOT also houses C.A.N.V.A.S Art Gallery, which features the work of local artists of color through monthly "Artportunties". In addition, DA SPOT hosts creative workshops, business panels, art shows and live performances for the community in shop monthly. DA SPOT is located in City Point Mall and open everyday. https://daspotnyc.com
City Point, a 1.8 million-square-foot retail, entertainment, residential and office complex at the epicenter of Downtown Brooklyn, is the nexus of the burgeoning borough's creative energy and entrepreneurial spirit. The mixed-use development includes 1,100 residential units, the culinary and entertainment destination DeKalb Market Hall, Alamo Drafthouse Cinema, Trader Joe's, Target, and Lululemon. Prince Street passage, its rendition of a town square, features a mix of local and national retailers, including Fellow Barber, Joybird, and McNally Jackson Books. www.citypointbrooklyn.com
For more information about Artportunities with C.A.N.V.A.S Art Gallery, contact us at info@daspotnyc.com.
**By signing up for our event, your email information will be shared with our partners.