In honor of JUNETEENTH, DA SPOT NYC in partnership with City Point Mall and Downtown Brooklyn Partnership will host an inaugural celebration
About this event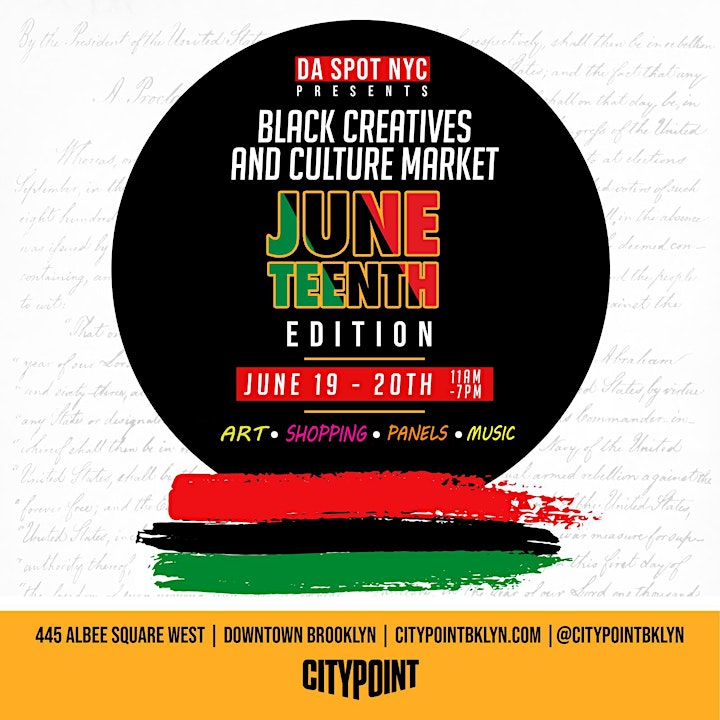 Back by popular demand and In honor of JUNETEENTH, DA SPOT NYC in partnership with City Point Mall and Downtown Brooklyn Partnership will host another Black Creatives +Culture Market to highlight the creativity of 50+ local BlPOC creatives.
EVENT DETAILS
The inaugural Black Creatives + Culture Market: Juneteenth Edition will take place on Saturday, June 19th and, Sunday, June 20th, 2021 from 11 AM to 7 PM inside City Point Mall and on Albee Square Plaza. We're turning up for the culture in Downtown Brooklyn!
DA Creative Market Presented by Mastercard:
Open from 11 AM TO 7 PM ALL WEEKEND:
Located inside City Point BKLYN and on Albee Square Plaza, this highly curated marketplace will feature 40 local, Black-owned, and POC independent creative brands in fashion, beauty, wellness, food, and lifestyle goods.
Featured vendors: Adinkra Republic, Adorned by V, Aech n Babu, ANAJAE, And And NYC, Anona de Juana, Avalah, Breukelen Polish, Breuklen Rub, Brooklyn Empire, Candid Soul, Cure My Sweet Tooth, DA SPOT NYC, Divine Wellness, Faith So Trill, Fashions by TJ, Fly By Knight, Follow My Beard, ILemonBk, Jade Chi Designs, Leeski Apparel, Kuhler NYC, Let's Converse, Locnificent, Lucinda's Looks, MasterPeace, Melanaires, Modestine Tea, Nayo's Essence. Perry Boyce, Pocket Kings BK, Pop Pins NYC. Rebel Chic, Rompzz, Royal Priesthood, The Salty Heifer Co., Savon Blu, Scentuously Me, The Amulet Fairy, Touched Organics, and Ultra Violet NYC.
DA Artist Lounge - SHOW OPENS AT 4PM ON 6/19:
We call it " Black Joy"
Enjoy a vibrant art show featuring 11-12 local BIPOC artists offering different mediums, textures, and styles. Artwork will be available for purchase.
Featured Artists: Wayne Diggs, Emmanuel Agbeble, Danie Herard, C.A.N.V.A.S, Afrocentric Keyy, Mr. John Wright, Akeem Grant, TH. Carlton, and Nandy Castillo
DA Main Stage Presented by Mastercard:
Reserve your seat for our live panel discussion and interactive workshop featuring emerging Black-owned platforms Black Phoenix Management Group (BPMG) and Let's Converse. Conversations will focus on community and wealth-building, mental health and wellness, and creative spotlights on The Gold Carpet.
CONNECTING THE CULTURE - Panel Discussion 6/19 from 2 PM to 3 PM (FREE RSVP - Seating is limited)
Join Randy Braz of Black Phoenix Management Group (BPMG) and guest panelists who will share their insights, advice, and resources for small businesses and budding entrepreneurs.
"I SEE YOU" - Interactive Workshop 6/19 from 3 PM TO 4 PM (FREE RSVP - Seating is limited)
Covid forced us into isolation and at that moment we understood both the importance of self-care as well as the necessity of community. As NYC arises from the pandemic, and we joyously celebrate black culture this Juneteenth, join Let's Converse as we create space for community building and discussion. "I See You" is an interactive workshop where you will get to share, celebrate, meet, and see all the people in the room. It includes guided meditation, conversation, affirmations, and fun! Led by Nadine Gurley of Let's Converse (@letsConverse).
"THE GOLD CARPET" with Manifeast and Host Sirena Marie 6/19 (LIVE)
This Juneteenth, the Black Creatives and Culture Market will feature the ladies of Manifeast: Kim Rickards, Valentina Hannon, and Krystle Sylvester, and host Sirena Marie who will shine the spotlight of Black Excellence on some of the 50+ BIPOC independent creative brands and artists on "The Gold Carpet".
DA Music Stage:
Enjoy two music stages ( inside City Point and performances in Underground) where our DJs will be spinning your favorite tunes in between some surprise live performances by emerging artists. Featured DJs: DJ IKONIK ONE, DJ D-OFFICIAL, DJ DOPE MAN, and DJ LOLO TOO MUCH
Saturday 6/19 Performances from 4 PM to 7 PM on Albee Square Plaza with DJ D-Official and Host President Ella
Featured Performers: Teemanay (@Teemanay), Glitterati (@glitteratieent), Uma Lou (@uma.like_thurman), Tenille Janae (@tenillejanae), Lord Simone (@thelordscorpio), Renee Neufville (@zhanerenee1), Flex Dance Group (@flexdancegroup) and Brooklyn United (@bkunitedmb).
Sunday 6/20 - Performances from 4 PM to 7 PM with Dj Lolo Too Much (@djtoomuch) on Albee Square Plaza and Host President Ella
Featured Performers - Alexis Dobynes@alexlynei, Nkumu Katalay (@nkumukatalay), SING (@itstherealsing), All About Hoox (@allabouthoox) and Teemanay (@teemanay).
DA Treat Street:
In addition, Dekalb Market Hall will be open for some tasty treats!
Be sure to support our Event vendors: Cuzins' Dozens and Likkle More Jerk
DA SPOT NYC is a unique Brooklyn-based fashion boutique featuring 25+ independent creative brands made by people of color. DA SPOT also houses C.A.N.V.A.S Art Gallery, which features the work of local artists of color through monthly "Artportunties". In addition, DA SPOT hosts creative workshops, business panels, art shows and live performances for the community in shop monthly. DA SPOT is located in City Point Mall and open everyday. https://daspotnyc.com
City Point, a 1.8 million-square-foot retail, entertainment, residential and office complex at the epicenter of Downtown Brooklyn, is the nexus of the burgeoning borough's creative energy and entrepreneurial spirit. The mixed-use development includes 1,100 residential units, the culinary and entertainment destination DeKalb Market Hall, Alamo Drafthouse Cinema, Trader Joe's, Target, and Lululemon. Prince Street passage, its rendition of a town square, features a mix of local and national retailers, including Fellow Barber, Joybird, and McNally Jackson Books. www.citypointbrooklyn.com
For more information about Artportunities with C.A.N.V.A.S Art Gallery, contact us at info@daspotnyc.com.
**By signing up for our event, your email information will be shared with our partners.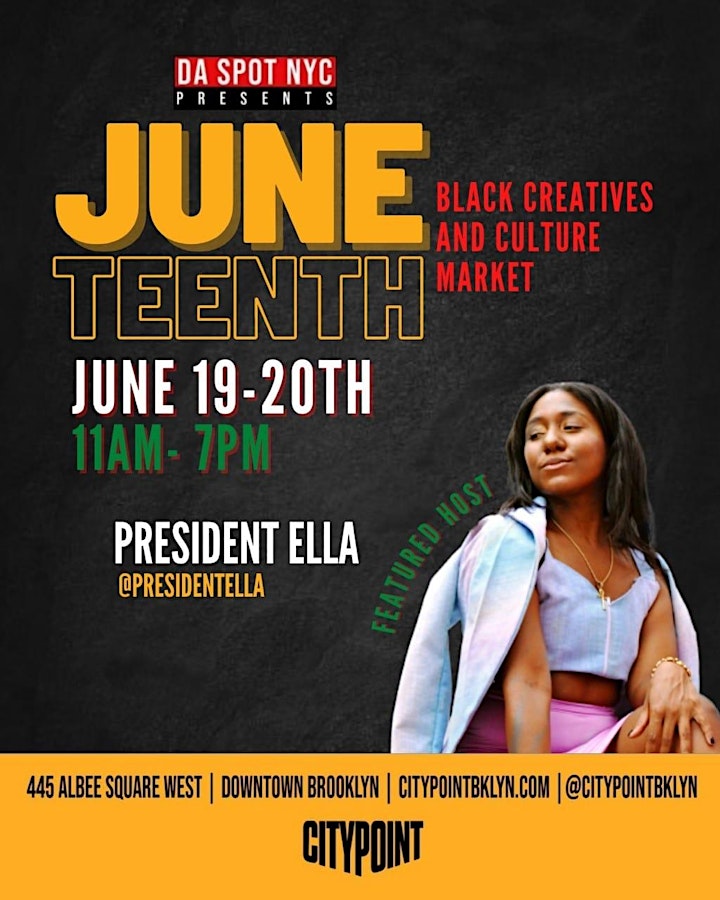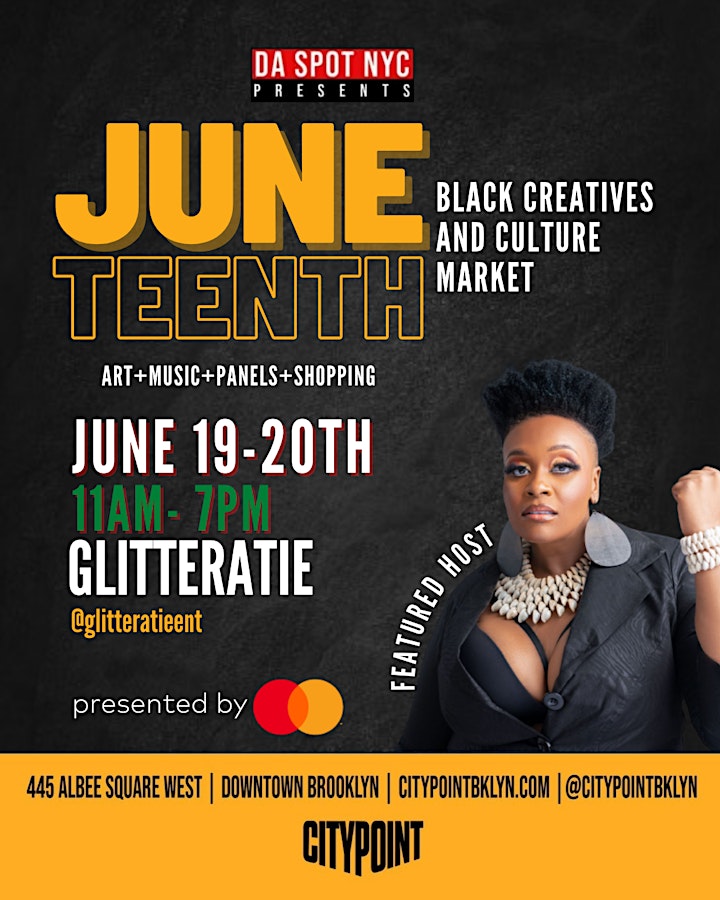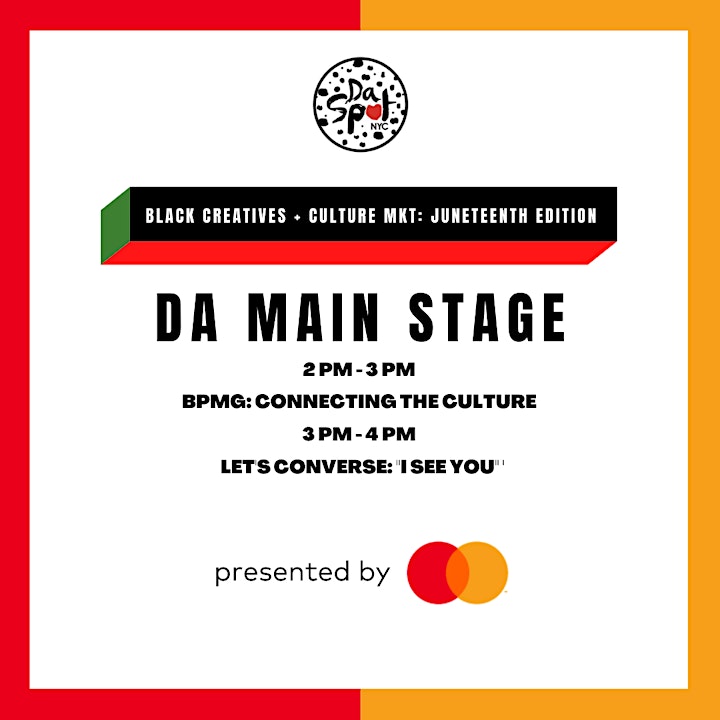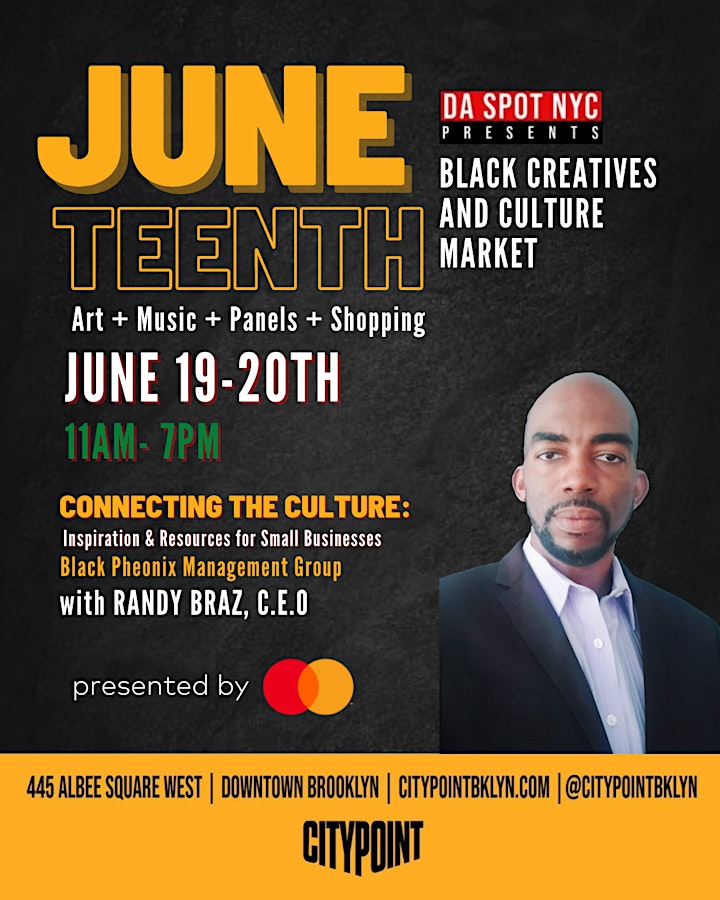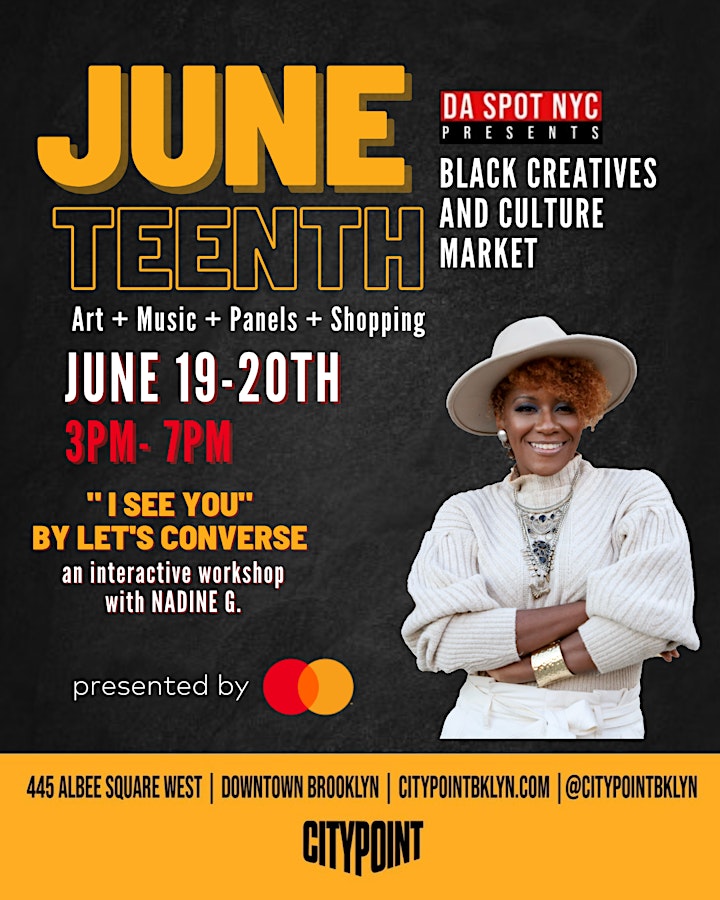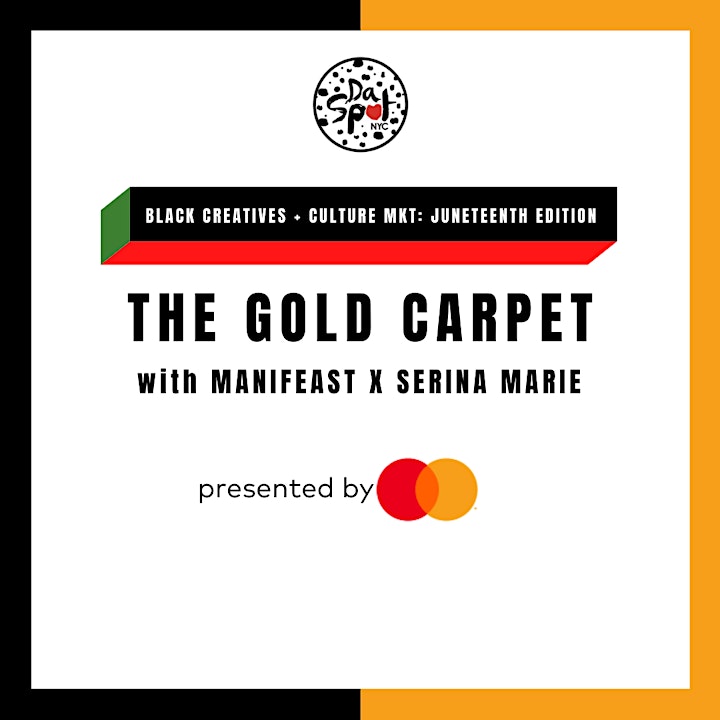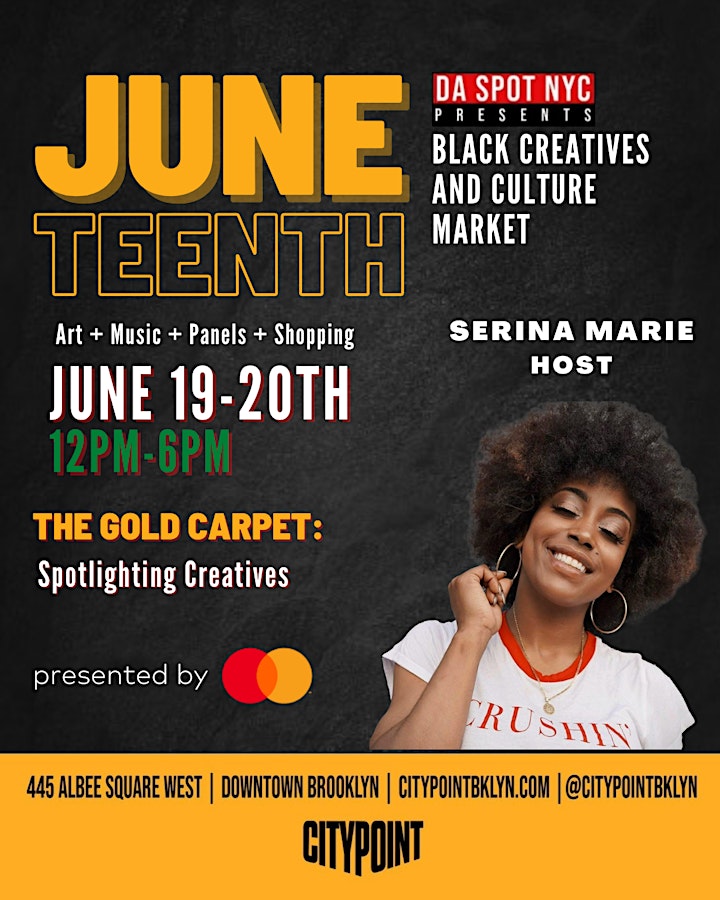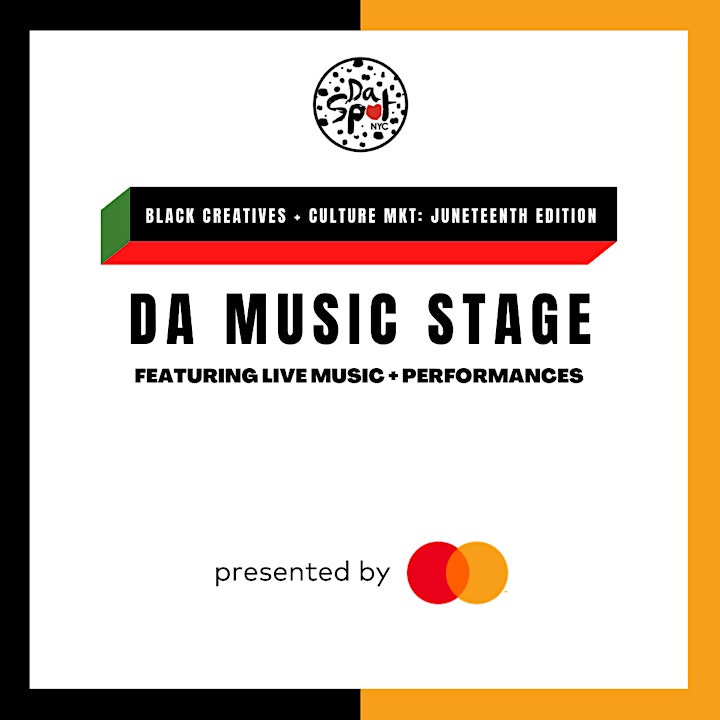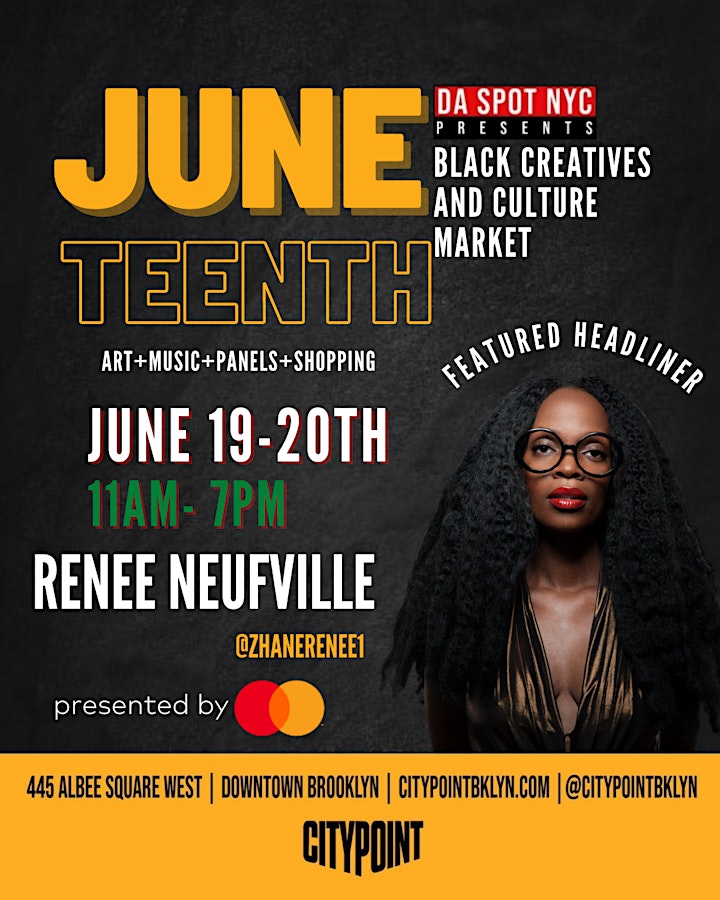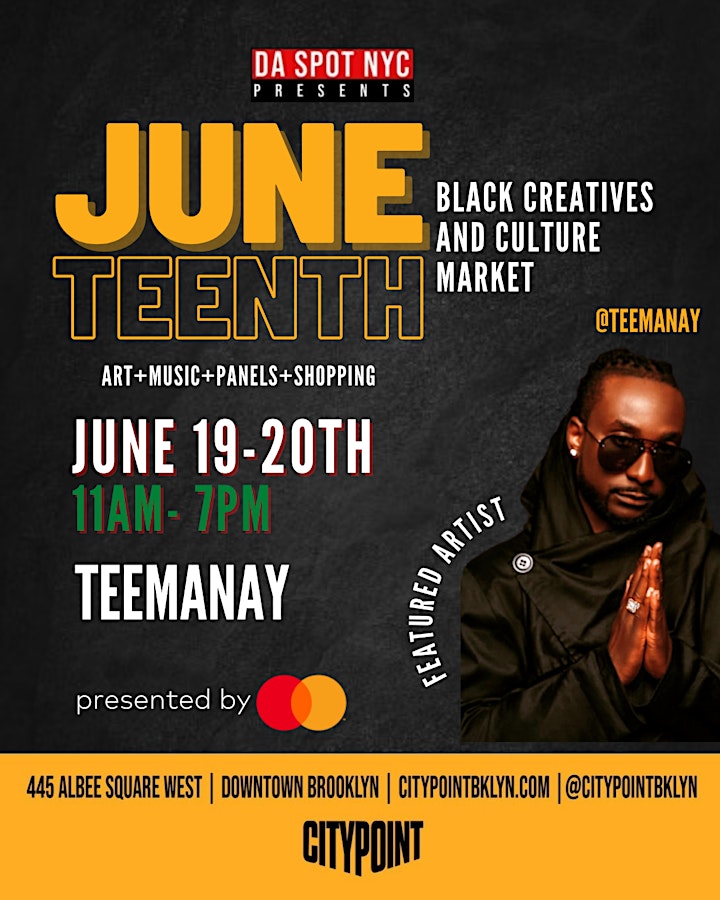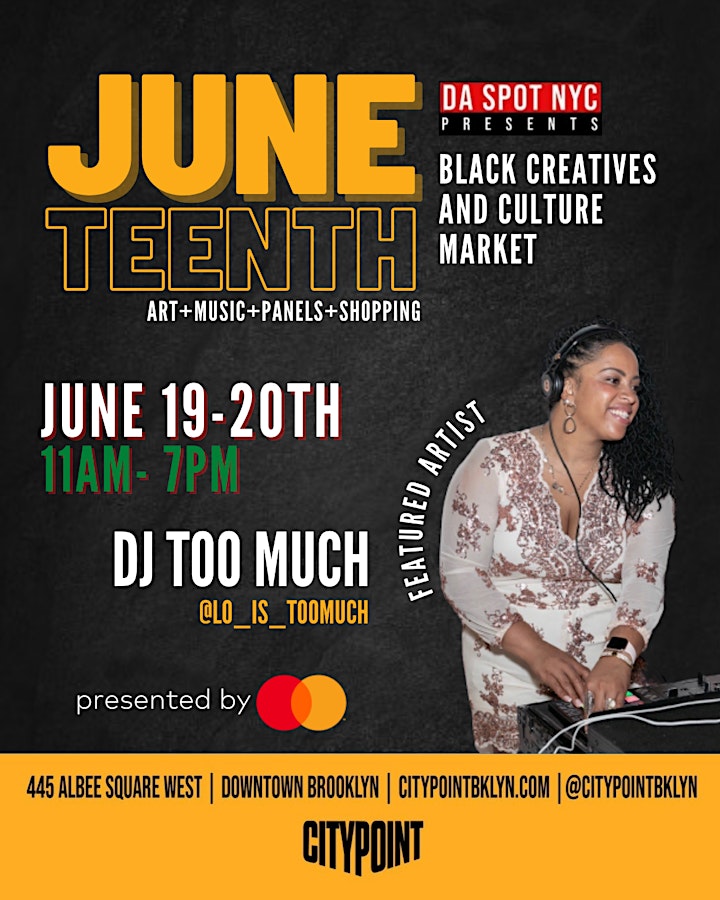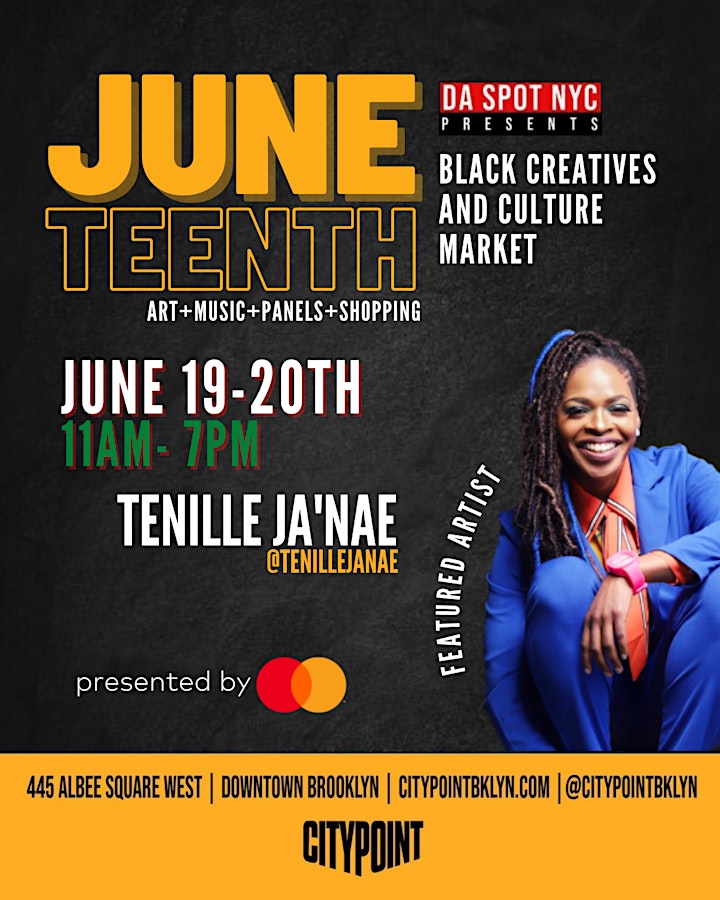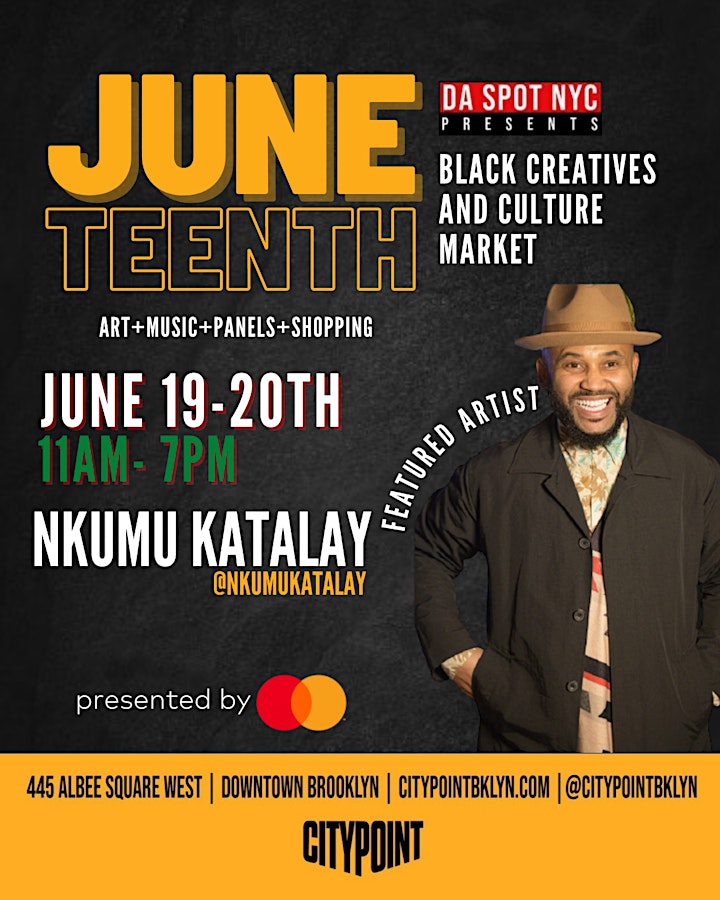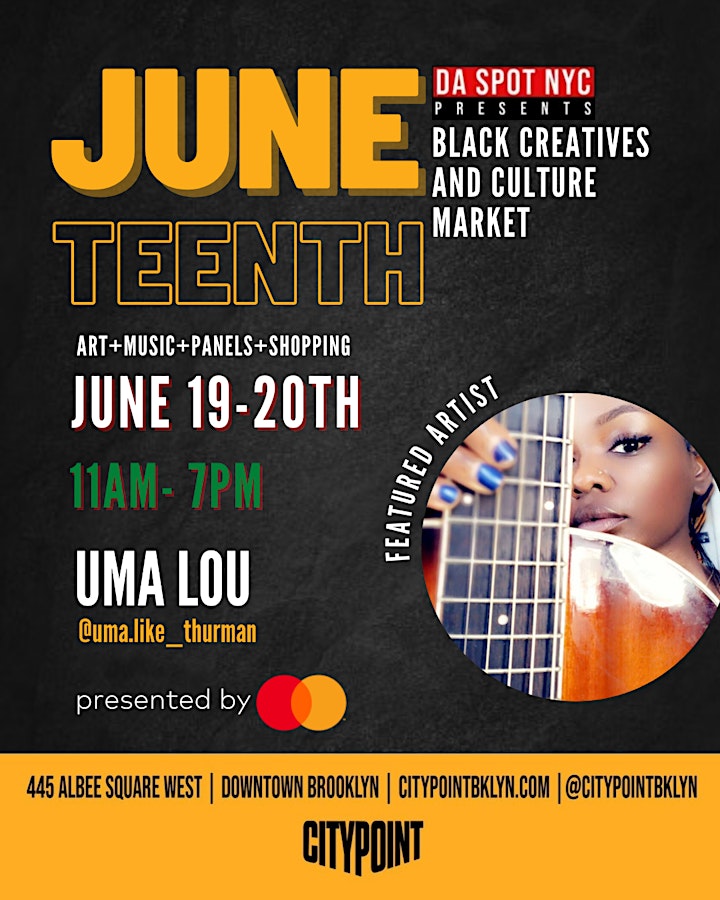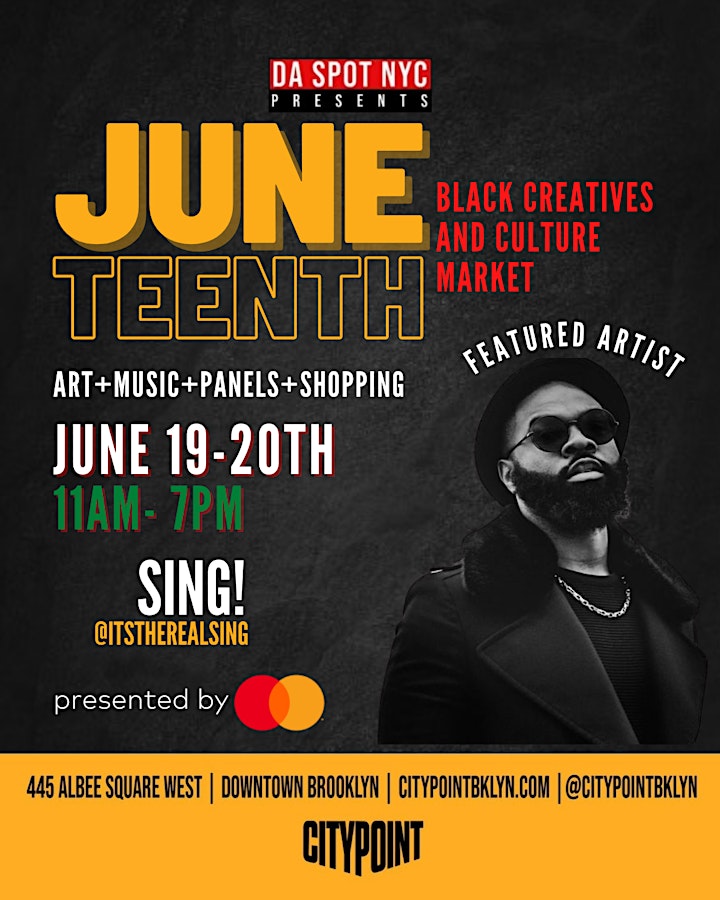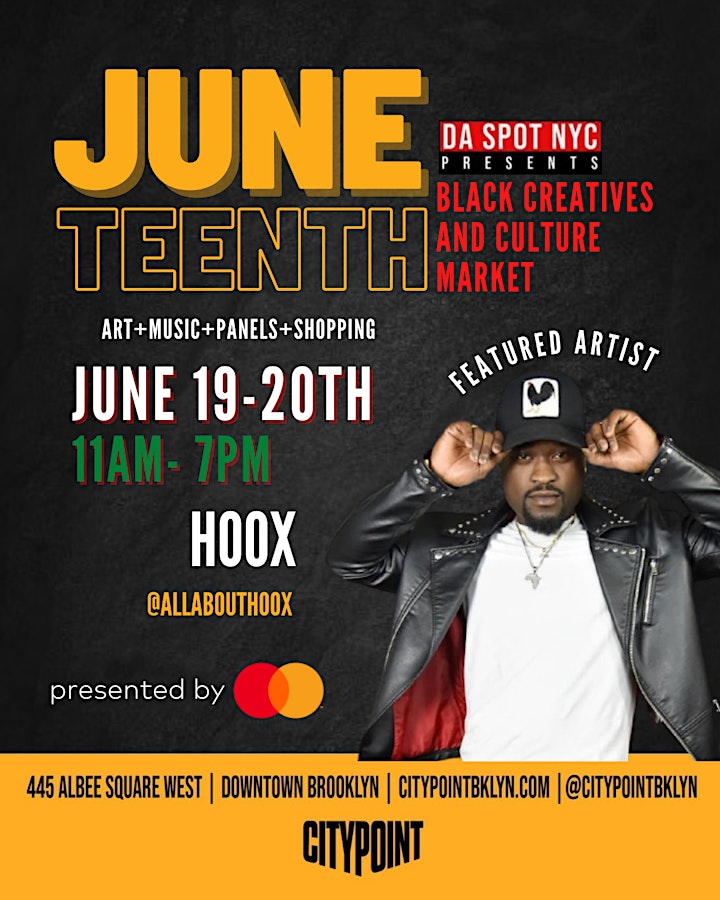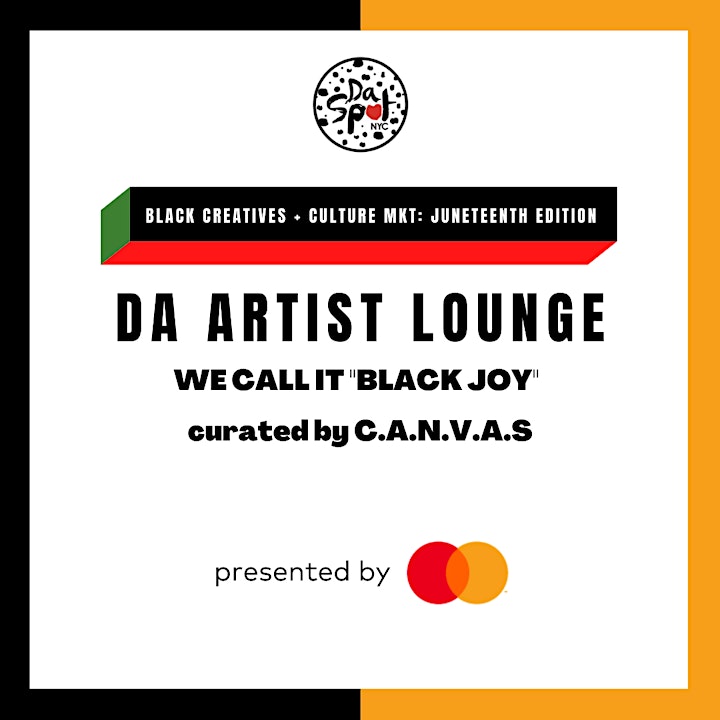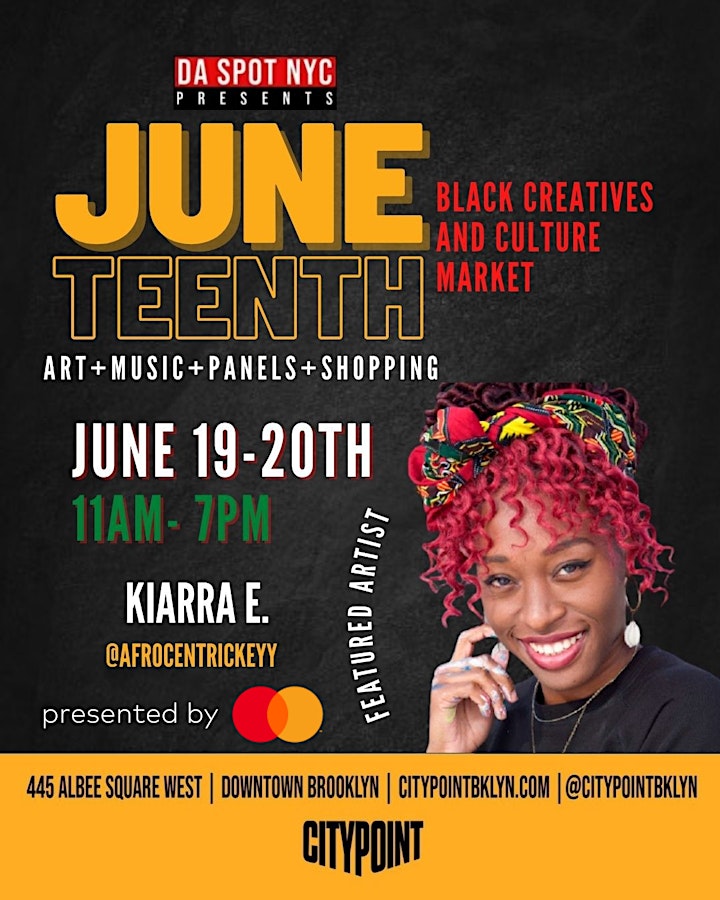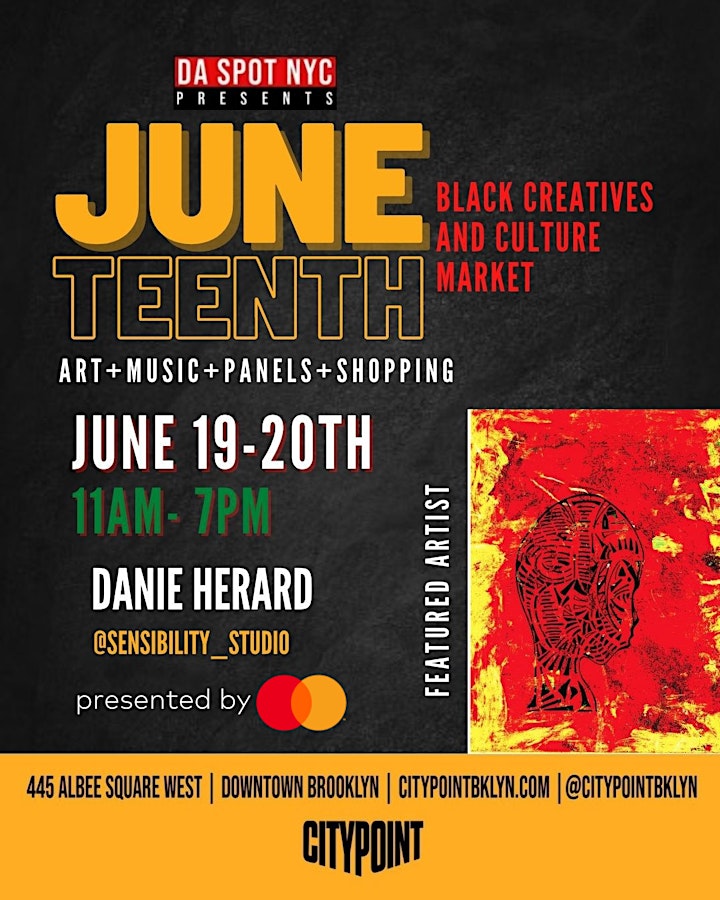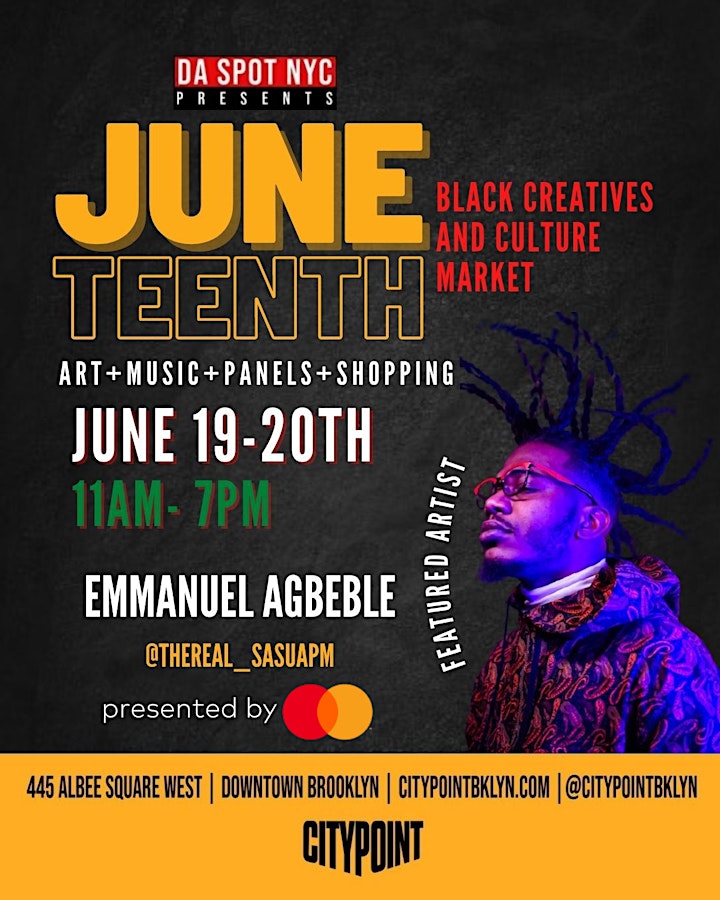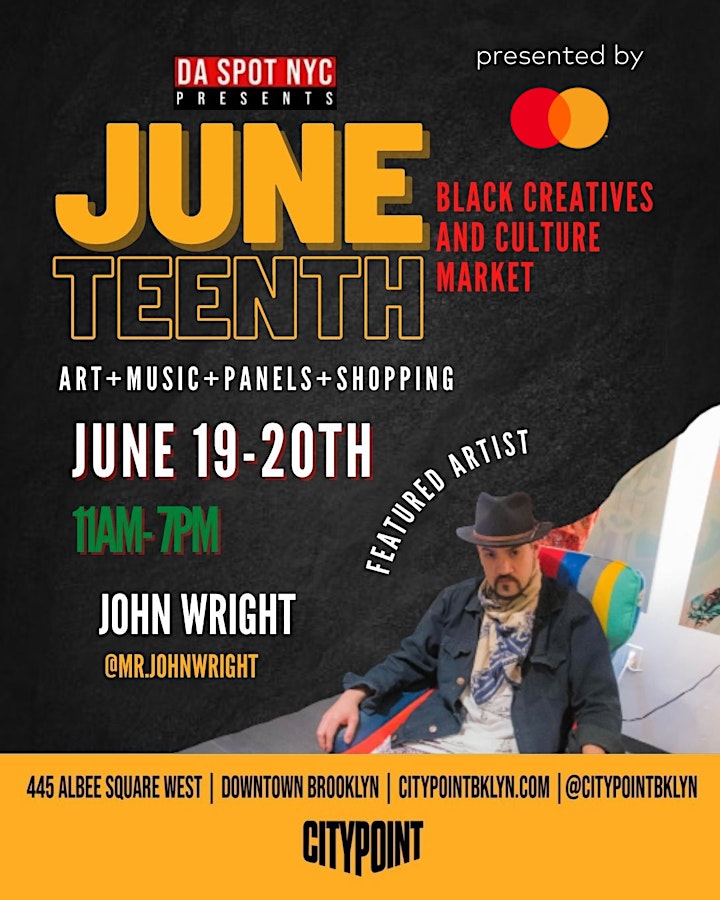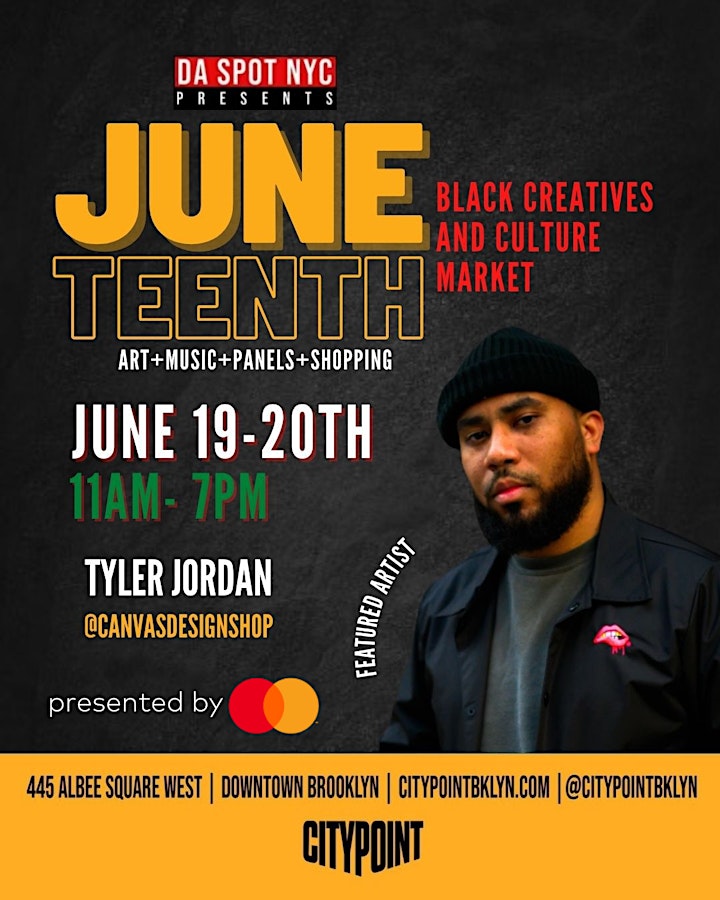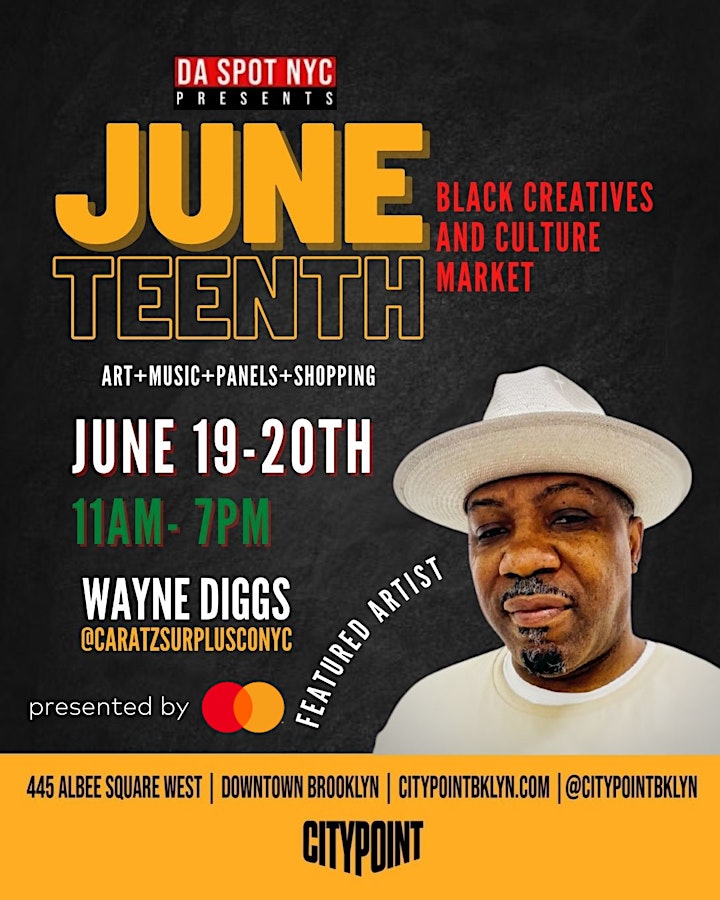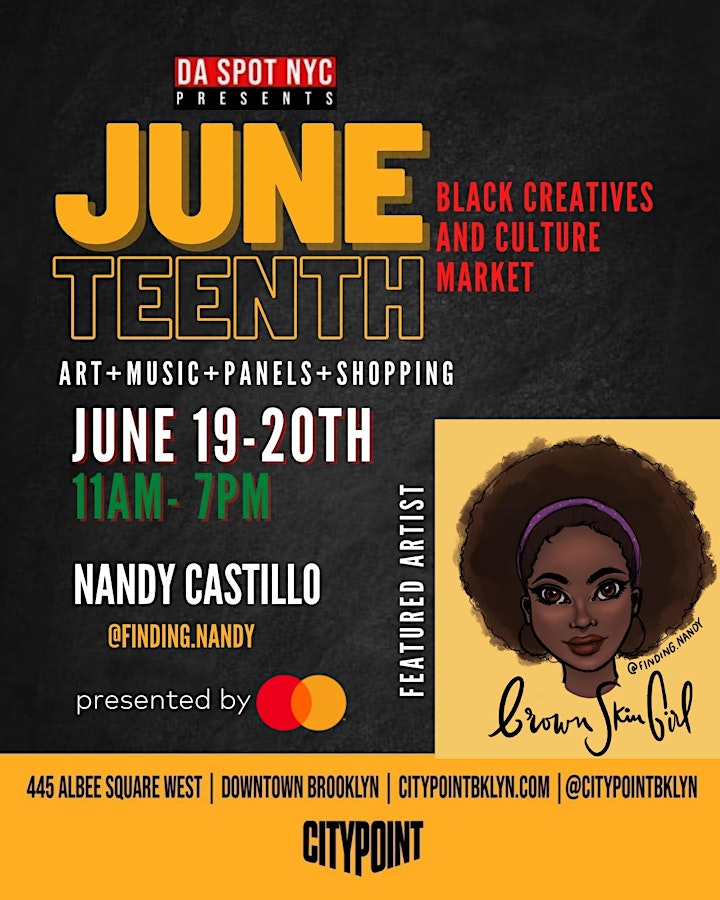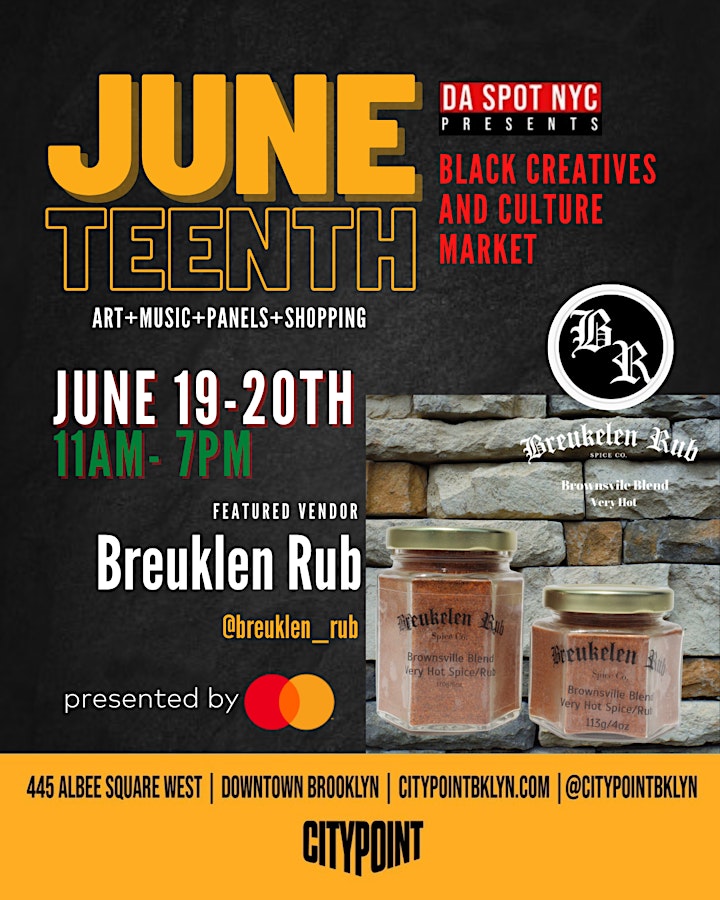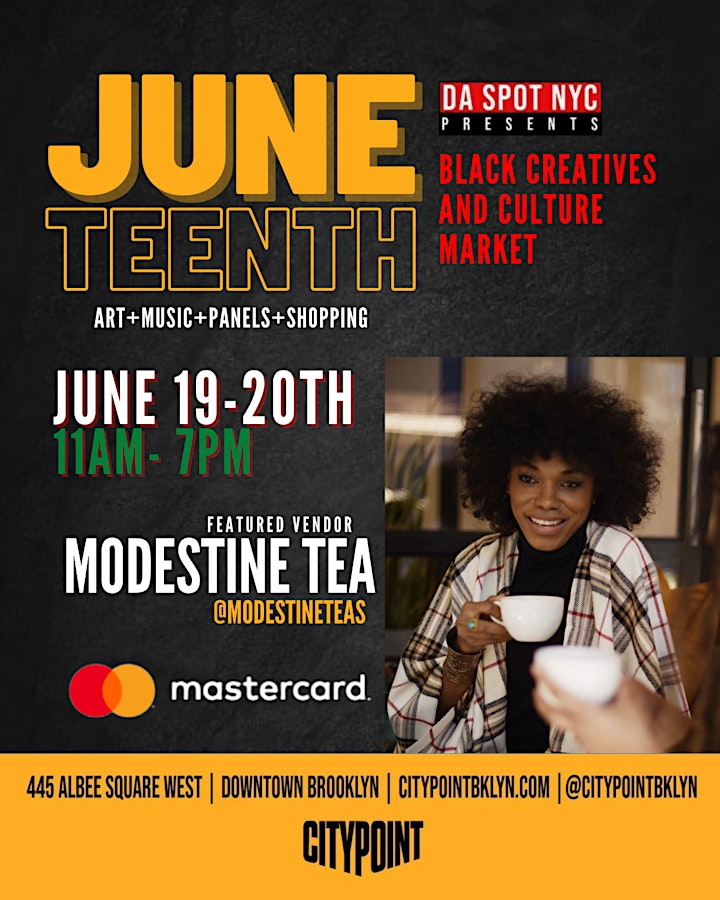 Organizer of BLACK CREATIVES + CULTURE MARKET AND ART SHOW: JUNETEENTH EDITION
LOVE. PEACE. GRIND.
Launched in May 2017, DA SPOT NYC ("DA SPOT") is a collaboration of DREAMS, VISION and GRIND brought to life. "DA SPOT" brings light to creatives by giving a platform to NYC's independent and underground designers. We're all about building each other up, showing love and we boast nothing but unique talent and good vibes.