Nowhere Comedy Club is a full comedy club experience from the comfort of your home
About this event
This event is at 6:00PM PT/9:00PM ET
The show will be approximately 75-90 minutes
Please join us for an evening of comedy as Ladies of Comedy Association hosts a fundraiser on Nowhere Comedy Club, with our proceeds being earmarked for black performers for Comedy Gives Back's back newly announced COVD-19 BIPOC Stand Up Comedian Fund sponsored by Netflix. Hosted by Franqi French (2020 Variety's 10 Comics To Watch), the show will feature Janelle James (The Comedy Lineup on Netflix), Rob Haze (The Tonight Show with Jimmy Fallon), Dewayne Perkins (2020 Variety's 10 Comics to Watch), Calise Hawkins (Totally Biased with W. Kamau Bell), and Ron G (Insecure)!
For all media requests, contact Heidi Vanderlee: heidi@positivejampr.com
ABOUT COMEDY GIVES BACK: Comedy Gives Back's mission is to create a safety net for comedians in need. "For comedians, being onstage alone is part of the job. Feeling alone offstage is unacceptable. We're here to help provide comedians with mental health, medical, and crisis support."
ABOUT LADIES OF COMEDY ASSOCIATION: Founded in 2011, L.O.C.A. is a bicoastal networking organization dedicated to advancing the careers and positions of women on the business side of comedy. With over 450 members across the U.S., our organization includes broadcast and cable network executives, agents, managers, publicists, lawyers, casting directors, producers and more.
ABOUT NOWHERE:
When COVID-19 hit, every comedian lost their ability to tour. Nowhere Comedy Club is a way around that - a full comedy club experience from the comfort of your home (assuming your home is comfortable). Watch your favorite touring acts while they can't tour. And since there's no travel costs, tickets are more affordable to fans!
RULES AND PROCEDURES:
This show is limited, so don't wait to purchase your ticket.
Your ticket gets you access to the Zoom chat. Please make sure to download the Zoom app on your phone or computer ahead of time. We encourage the audience to keep their mics on so that everyone can hear the laughter. If your mic is on, headphones are mandatory to prevent feedback. You are welcome to have your video on or off. Please be respectful: if you interrupt the performance or do anything inappropriate on video you will be locked out of the show.
Upon purchase, you will be emailed a Zoom link - DO NOT SHARE IT. Only one person can use each link, and if more than one person tries to use it, both people will be locked out of the show.
DISCLAIMER:
Nowhere Comedy Club is providing a service via the use of Zoom's platform, a platform we do not own or control. By purchasing a ticket you agree that any problems or issues caused by using Zoom's technology are not the responsibility of Nowhere Comedy Club, but if necessary can be taken up by you directly with Zoom itself.
By purchasing a ticket you are acknowledging you are aware audio and video of the show will be recorded, and you grant the comedians and Nowhere Comedy Club the irrevocable permission to utilize the footage and your likeness as contained therein, in any way, throughout the universe in perpetuity, so long as the context is not changed to alter the meaning of the original interaction, or to imply an endorsement of any kind. You are welcome to keep your camera off if you prefer not to be seen. That said, most shows will not utilize the recording for anything, as the shows are generally only seen live.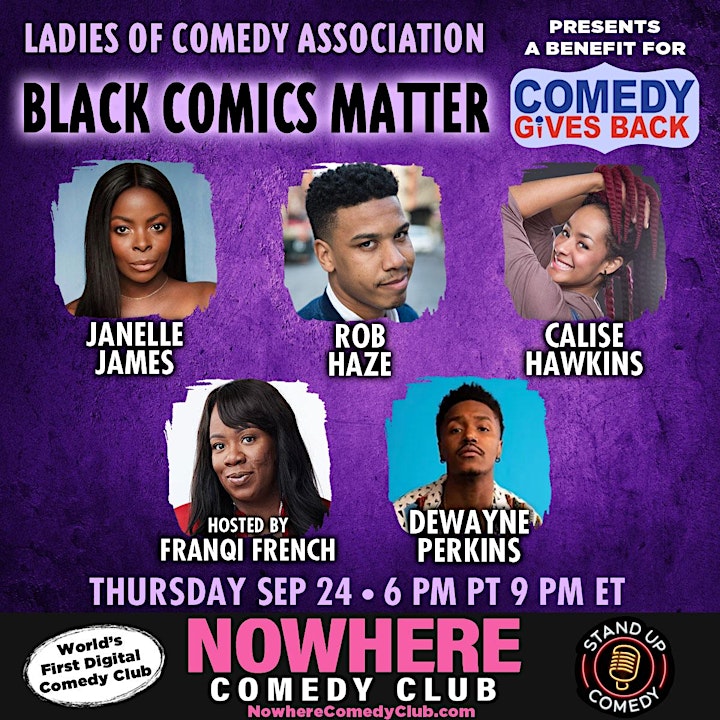 Organizer of Black Comics Matter: a Benefit for Comedy Gives Back