Black Cinema Night ATL is a monthly screening event featuring black classic movies and independent short films in the heart of Atlanta.
About this Event
We regretfully advise that Black Cinema Night ATL for Saturday 4/17 is canceled and we will pick it back up next month. Please follow the page for future date announcements. IG @black_cinema_night_atl.
We want to provide a quality and memorable experience and this decision was the best choice to ensure that.
Black Cinema Night ATL Team
Hustlerella, Inc and MOS Wanted Multimedia Group, LLC presents Black Cinema Night ATL!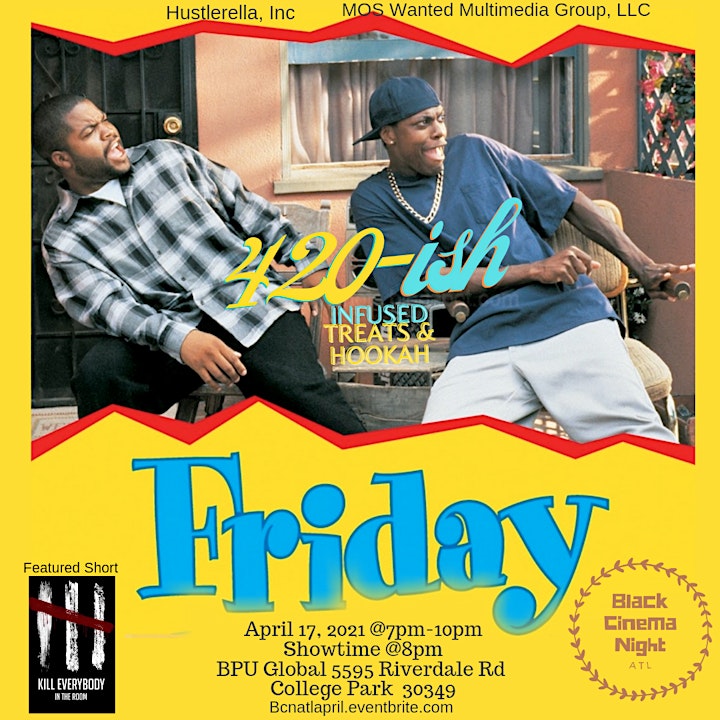 Black Cinema Night ATL is a monthly screening event curated by film and TV professionals Pink Maxwell, Amandah "Mandy" Rochelle, and Jae Brandon, featuring new and classic black movies plus shorts with black casts/leads. This month we will have special guest host @LolaMarie!
We're celebrating 420! Well kinda... Our April feature presentation is the classic 90s movie Friday, starring Ice Cube and Chris Tucker. Our short film presentation is Kill Everybody in the Room directed by Roger Greene Jr @killeverybodyintheroommovie.
We will have available for purchase a limited food menu and THC infused treats provided by BPU (Black People United Global) @blackiam_bpuglobal.
Also hookahs (regular or THC infused) available to purchase by Hookah 2 Go @hookah_2go.
Come kick back with friends and network with Atlanta's most influential creative crowd!
All tickets include 1 wine/non-alcoholic beverage and a snack. Additional snacks, beverages, and premium cocktails can be purchased at the concession stand.
ALL SALES ARE FINAL unless the event is canceled/postponed by the organizers. Temperatures will be checked at the door. A covid waiver form must be signed and a face covering must be worn at all times unless consuming food.
No marijuana smoking on the premises.
There is plenty of parking at the new location!
SEATS ARE LIMITED!
Please support and follow!
@black_cinema_night_atl
@pink_maxwell
@therealjaebrandon
@themandymaker