Description
BLACK CARPET EVENT (SUIT & EVENING GOWN AFFAIR)
Venue: D Cabaret Banquet Hall
Event Detail: 7928 Frankstown Ave, Pittsburgh, PA 15221
DOORS OPEN FROM 10:00 PM TO 4:30 AM
Presents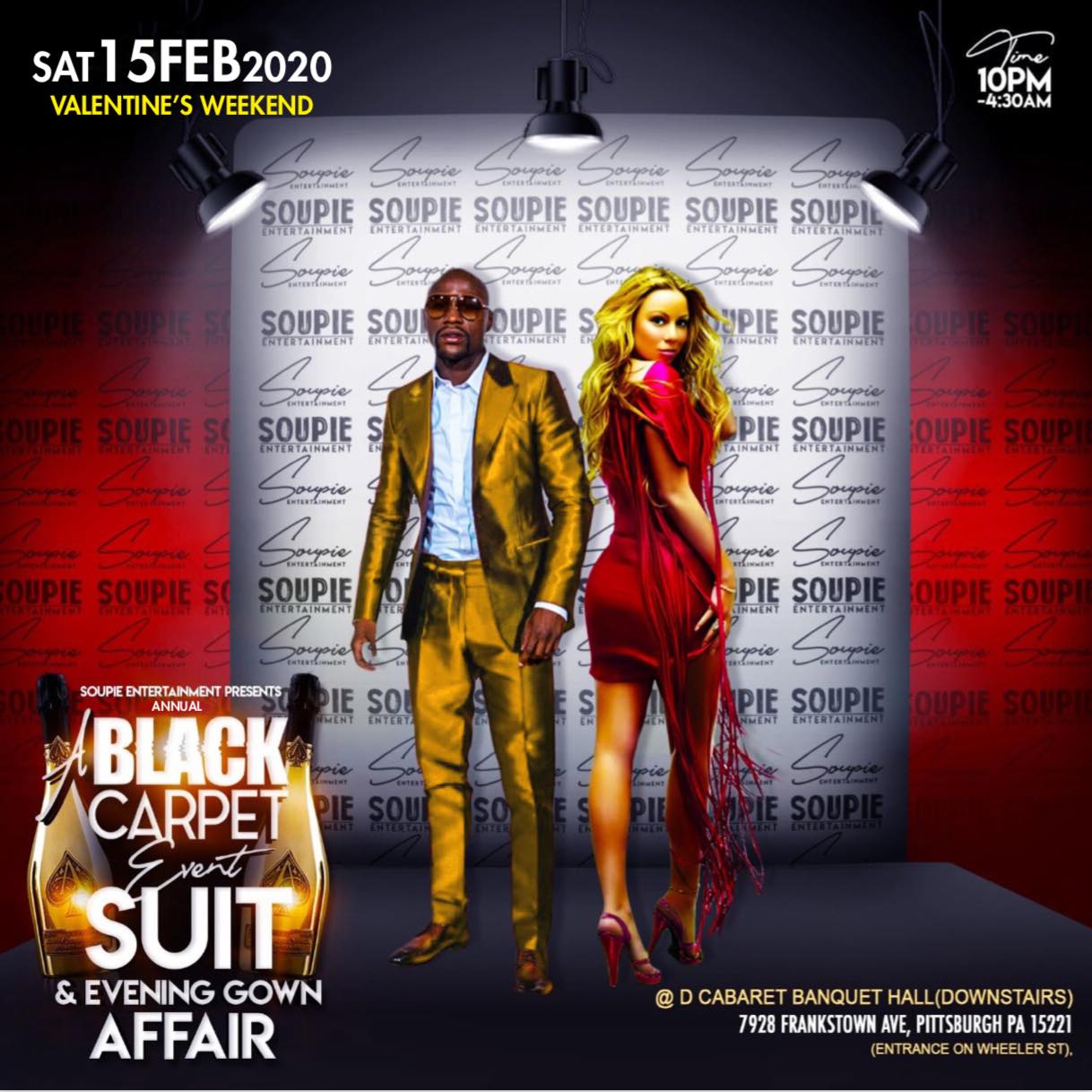 PITTSBURGH'S Biggest & Sexiest Suit & Evening Gown Affair
for the African & Caribbean Community
---
---
Tickets Will Sell Out Quick. Get Yours Early!
Today Only!
Early Bird: $20
REQUIRED FOR PURCHASE:
All guests MUST 18+
All guests MUST present a valid form of government issued photo ID to enter the event; Passport, US Drivers License or Canada Drivers License ONLY
Tickets: After completing your purchase on Eventbrite, you will receive an email confirmation with your attached PDF ticket(s). Please show your email at the door to be admitted for the event. The name on the tickets do not have to match the ID so long as the barcode is scannable. Soupie Entertainment is not responsible if ticket(s) cannot be scanned and the order is under a different name than the person presenting the ticket. (This ticket price is only available online before the event. Once the online tickets sell out, tickets will cost more at the door.)
Change names on your tickets here.
MUSIC BY:
Gangsta Shack Movement | Hype Zone Sounds Own DJ Hustler | DJ Sniper Outta Virgina Beach | Small Circle Family Outta Daytona Beach Florida | DJ Curly Outta New Horizon Sounds From Cleveland, Ohio | Wavy Bunch Sound's own DJ Flipwave + African Wolf
Hip-Hop | R&B | Kompa | Reggae | Afrobeats | Soca | Top 40
HOSTED BY:
PORTIA FOXX | FYAH RAS | BINGY NYAH (OUTTA DMV) | GLITZ & GLAM FAMILY | HOT HEAD | RODRICK aka FUDGIE KICKOUT | MONK OUTTA CLEVELAND
FOOD BY CHEF SOUPIE & CHEF RICHIE, GET YOUR TICKETS @ EVENTBRITE/SUIT&EVENING GOWN AFFAIR AND AT ALL LOCAL TICKET OUTLET IN PITTSBURGH, PA.
Physical Ticket Outlets:
Royal Caribbean Restaurant: 1568 Montier St, Pittsburgh, PA 15221
Fireside Restaurant: 796 Penn Avenue, Pittsburgh, PA 15221
Dorsey's Record Shop: 7614 Frankstown Avenue, PIttsburgh, PA 15208
L A Grocery: 511 Larimer Avenue, PIttsburgh, PA 15206
Rahma Grocery: 409 E Main St., Carnegie, PA 15106
CASH PRIZE WILL BE GIVING OUT TO THE BEST DRESS MALE AND FEMALE!
Come enjoy a Intricate replication of the Era with a Lively decorated room, amazing food, great music
and unbelieveable people while having fun in an upscale environment.
Exclusively at the Sexiest Hall in Pittsburgh, Pennsylvania
D CABARET BANQUET HALL
7928 FRANKSTOWN AVE.,
PITTSBURGH, PA 15221
*********************************************************
No Traffic Congestion | Access to Spacious Parking Lot | Beautiful People | Elegant Venue
Call / Text: (646) 307-3434 (SOUPIE)
This is An Upscale Party So Dress the part
SUIT | EVENING GOWN |