BLACK BUSINESS WOMEN ROCK! - 4th Annual Conference & Expo

Saturday, December 5, 2015 from 3:00 PM to 10:00 PM (PST)
Event Details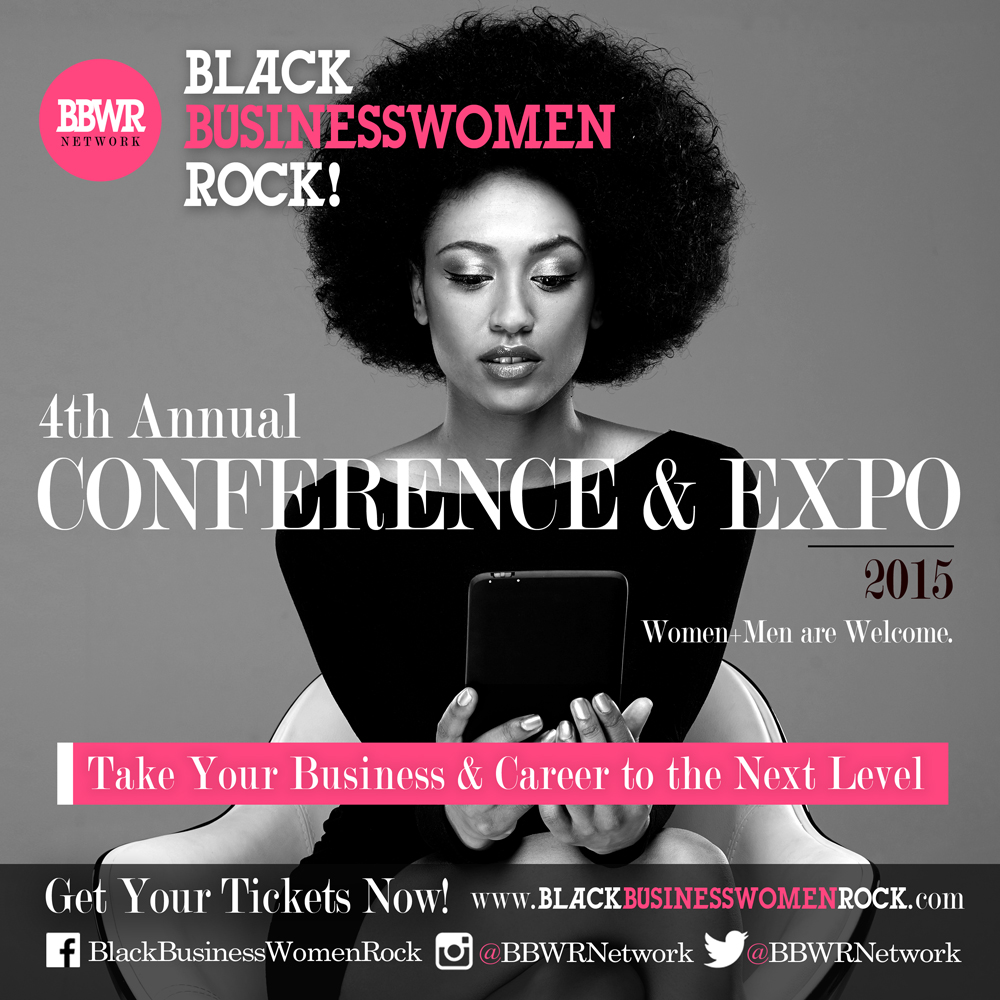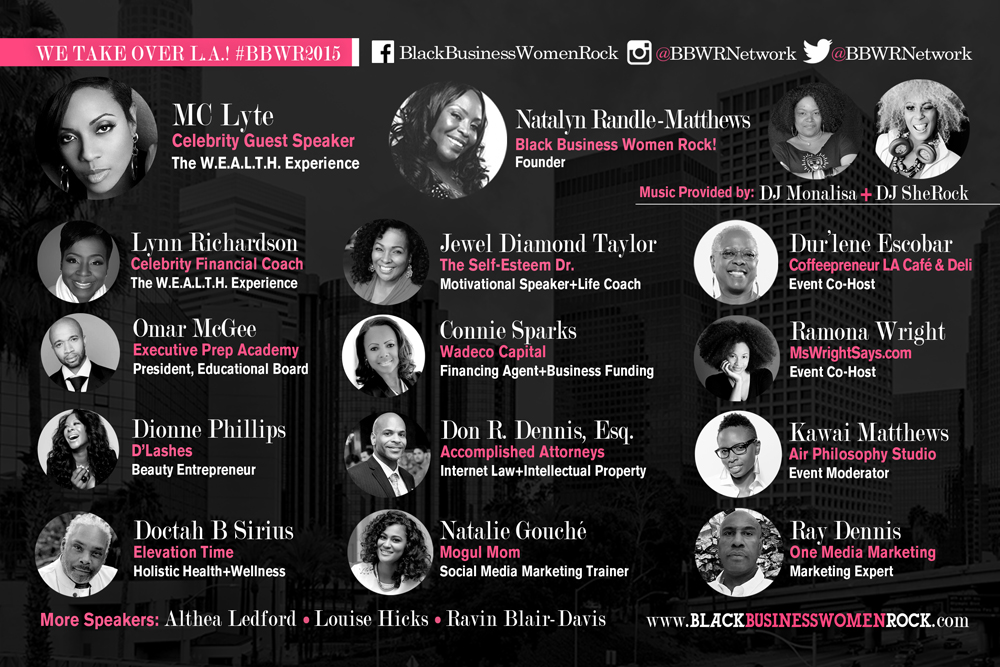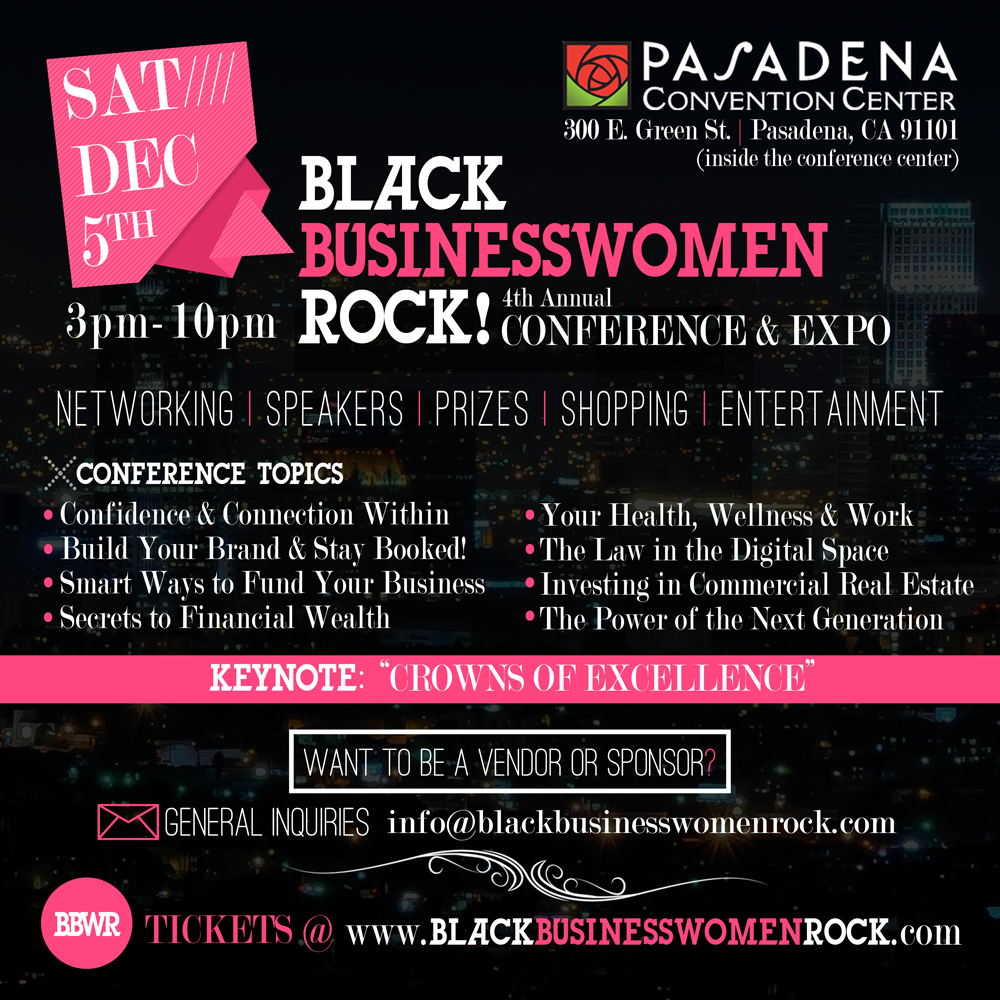 Black Business Women Rock! Returns
READ BELOW:

Conference and Expo Overview
The 4th Annual Black Business Women Rock Conference & Expo will take place on Saturday, December 5, 2015. We will, once again, bring together over 600 women to hear from keynote speakers, panel discussions and experience networking opportunities with hand-selected exhibitors. Get ready to take the next step in life personally, professionally and financially. You will learn how to launch and grow successful businesses, marketing/branding, financial education, investment opportunities, finding strategic business partners, living a healthy and balanced life and so much more. 
This experience is for established and aspiring women in business, executives, creatives, artists, entrepreneurs & anyone seeking to grow their network & their net worth!
EVENT SCHEDULE:
SATURDAY, DECEMBER 5, 2015
3pm - 10pm
A lot of people have been asking us about the schedule for #BBWR2015. We expect a packed house, so we encourage you to get there early! We have split our amazing speaker line-up into two tracks. You'll have access to Vendors/Exhibitors/DJs throughout the day.
The BBWR 2015 Program for Saturday, December 5th is as follows:

Your ticket gets you an All-Day Pass! 

Doors Open @ 3pm

---------------------------------------------
4pm-5:45pm - Speaker Track A
---------------------------------------------

Althea Ledford - Editor, E the Magazine for Today's Female Executive/Director of NAFE Los Angeles  

Louise Hicks - Radio Host, Author, Motivational Speaker     

Ray Dennis - Marketing & Online Digital Strategy

Raven Blair-Glover - Founder, Amazing Women of Power

Connie Sparks - Financing Specialist

Lisa Hamilton – Real Estate

Tiffney Cambridge - Educator, Author, VH1 TV Personality

Jewel Diamond Taylor - Keynote Speaker "Crowns of Excellence"
 
---------------------------------------------------
6:30pm-10:00pm - Speaker Track B
---------------------------------------------------

Omar McGee - Founder & President of Executive Prep Academy

Dionne Phillips - Beauty Entrepreneur & Owner of D'Lashes

Don R. Dennis - Attorney, E-Commerce & Social Media

Doctah B - Holistic Health & Wellness

Natalie Gouché - Social Media Expert & Trainer

Kawai Matthews - BBWR Marketing Director

MC Lyte - Icon/Entertainer/Entrepreneur/Author/Speaker

Lynn Richardson - Wealth & Finance Coach

Black Business Women Rock! Award Presentation

Natalyn Randle - BBWR Founder
Pasadena Convention Center
300 East Green Street
Pasadena, CA 91101
TICKET INFO:
$35 General Admission | $49 Late Registration

SPONSOR & MEDIA OPPORTUNITIES:
Email info@blackbusinesswomenrock.com for details.
Have questions about BLACK BUSINESS WOMEN ROCK! - 4th Annual Conference & Expo?
Contact BBWR Network