About this Event
The Minority Merchant Council presents Black Businesses Matter, a virtual town hall to discuss solutions on strengthening black businesses during and after the COVID-19 pandemic.
We've got an exceptional panel - Mr. James H. Bason (President and CEO of TruFund Financial Services), Mr. Eric Adams (Brooklyn Borough President), and Mr. Donovan Richards (NYC Councilmember and the soon-to-be Queens Borough President).
Plus, hear from fellow small business owners who're continuing to develop and drive business growth amidst the chaos brought on by the pandemic.
And so much more...
You'll hear about some new intiatives and public campaigns aimed at increasing opportunities for black-owned businesses in New Tork City and surrounding areas.
You don't want to miss this important conversation.
TOWN HALL can be viewed on Facebook Live @MARLSNYC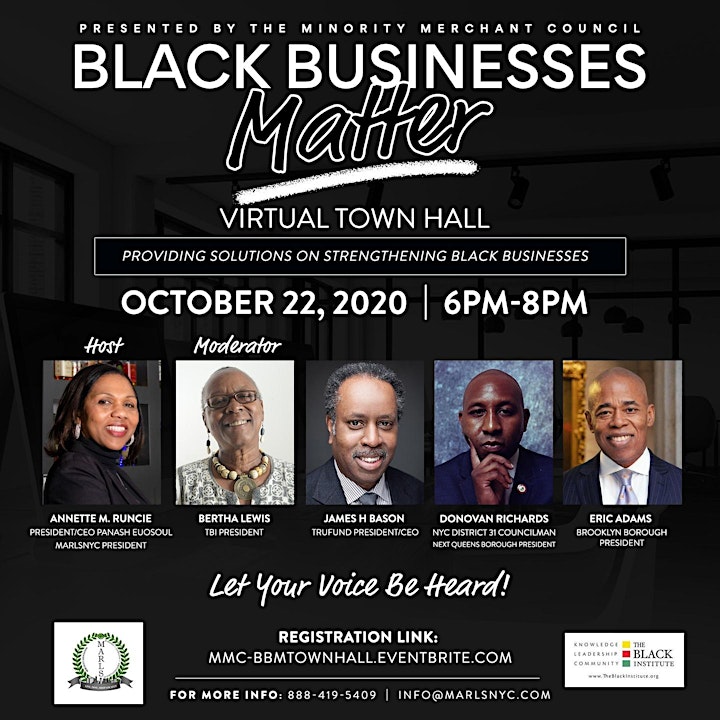 What to expect once registered
The EventBrite ticket with Zoom link will be emailed to you via Eventbrite with the order confirmation.
Click on the link provided in the email (or subsequent reminder messages) to access the town hall.
About The Minority Merchants Council
The Minority Merchants Council (MMC) is a collaborative effort between the Black Institute (TBI) and the Merchants Association of Rosedale, Laurelton, and Springfield Gardens (MARLS NYC).
Watching the financial fallout stemming from the COVID-19 pandemic and the devastating impact this was having on communities of color, especially in Brooklyn and Southeast Queens, NY, the leaders of the two organizations—Bertha Lewis(President of TBI) and Annette Runcie (President of MARLS NYC)—got together in early April 2020 to discuss ways to help businesses in their communities. Out of those talks came the idea of the two organizations joining forces to bring awareness to the systemic issues that plague minority businesses.
To learn more about the Minority Merchants Council, click here.