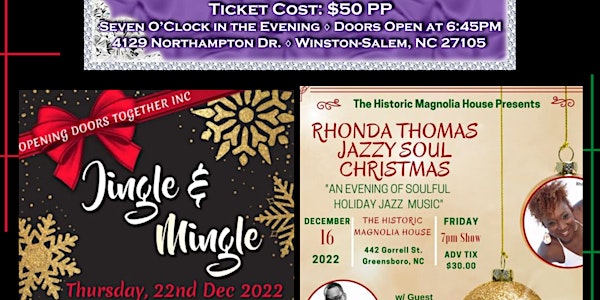 Black Business Holiday Spotlights! Please Support Members of GNCBCC!
GNCBCC presents....Holiday Fun while supporting Black Business Owners in the Triad!
When and where
Location
Galilee Missionary Baptist Church 4129 Northampton Drive Winston-Salem, NC 27105
About this event
Enjoy Elegance, Jazz, and Mingling this Holiday Season with members of the Greater NC Black Chamber of Commerce!
Save these dates: Dec. 16th at 7:00 PM, Dec. 17th at 7:00 PM, and Dec. 22nd at 8:00 PM!!
*Dec. 16th at 7:00 PM The Historic Magnolia House, 442 Gorrell Street, Greensboro, NC
An Evening of Soulful Holiday Jazz Music from Rhonda Thomas Joyful Soul Christmas with Guest Saxophonist Jeff Sparks and EMCEE Ivey Ghee! https://www.thehistoricmagnoliahouse.org/ Natalie Miller, owner of The Historic Magnolia House, sees it as her duty to share the rich history of the former Green Book hotel! Advance tickets $30.
*Dec. 17th at 7:00 PM Galilee Missionary Baptist Church, 4129 Northampton Drive, Winston-Salem, NC
Meet the Phenomenal Women while enjoying an "Evening of Elegance" GALA! An evening of an amazing celebration of Phenomenal Women and their WINS for 2022! FINISHING STRONG!!!
WINS in any area of your life...Spiritually, Personally, Physically, Professionally, Financially?
Defeated attacks? More than a Conqueror? Survived Trauma? Life-Happening Storm? Discovered your Purpose? Regained your Voice? Chose YOU? Didn't give UP? Hosted by Lady Million Marviette A. Usher Purchase your ticket for $50. https://marvietteausher.com/ Order PW Gala Tickets
*Dec. 22nd at 8:00 PM Boston's, 1011 Arnold St, Greensboro, NC
We're Jingling and Mingling once again with a purpose. This year's motto is "Help Keep Them Warm" accepting donations for our Homeless Community. Donations of gloves, socks, hats, scarves and blankets. If you're unable to attend contact me for drop-off arrangements. Smack City ft. Drip & DJ Instrumental Doors open at 8:00 PM $10 Entry with Donation and $15 Entry without Donation. Sponsored by Opening Doors Together, Inc. , Owner Nikki Barkley
O.D.T. has been providing services for the past 11 years and the mission is to provide homeless and at-risk youth the necessary services and resources they need to combat homelessness, and make a successful transition to self-sufficient living.
This is a wonderful time of the year to fellowship, network and bond! Events are selling out fast!
4 Reasons Why You Should Support Black Owned Businesses
By Shanece Grant | October 26, 2022
Small businesses and entrepreneurs have been longtime wealth builders for generations. By supporting more Black-owned companies, you can help create more opportunities for meaningful savings, property ownership, credit building, and generational wealth for black communities. If we all do our part in supporting black businesses, then we're helping with the progression of strengthening many black communities. Supporting black businesses shouldn't be a trend; it should be a lifestyle. Here are four reasons why you should shop black.
1. Builds Up Communities
2. Creates Jobs and Opportunities
3. Closes the Racial Wealth Gap
4. Empower Local Communities
The Greater North Carolina Black Chamber of Commerce serves as an advocate for the creation, growth and general welfare of African American businesses in NC. GNCBCC is focused on facilitating economic growth for the business community by providing access to business resources and opportunities that add value. Creating Change and Community!
Visit 24/7 http://ncblackchamber.com/