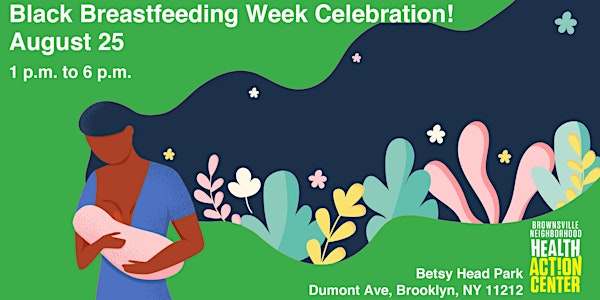 Black Breastfeeding Week Celebration - Brownsville
Join us at Betsy Head Park as we celebrate Black Breastfeeding Week 2022!
When and where
Location
Betsy Head Park Dumont Avenue Brooklyn, NY 11212
About this event
The Brownsville Neighborhood Health Action Center is excited to celebrate the 10th anniversary of Black Breastfeeding Week!
DETAILS
Date: August 25
Time: 1 p.m. to 6 p.m.
Notes

We encourage masks to be worn by all in attendance
Pictures will be taken at the event, and attendees will need to sign consent forms.

What to expect:

1 p.m. - Brownsville Baby Café Walk and Group Latch at Betsy Head Park.

Walking group around Betsy Head Park, followed by a group latch. Hosted by the Brownsville Baby Café in support of Breastfeeding.

3 p.m. - Refreshments at the Brownsville Neighborhood Health Action Center yard.
4 p.m. - Mother's Love Paint Workshop

Express your breastfeeding journey through art, no experience necessary!
Please note this workshop is first come, first serve.

5 p.m. - Workplace Rights Workshop

Learn your rights for Breastfeeding accommodations in the workplace.

5:45 p.m. - Breastfeeding Recognition

Breastfeeding achievement awards for all of our Baby Café participants.

Additional dates and locations:
BACKGROUND
Black Breastfeeding Week 2022 (#BBW22):
For the 10th year of Black Breastfeeding Week, we're celebrating the countless breastfeeding journeys for families- past, present & future. The new foundation of lactation support is built on racial equity, cultural empowerment, and community engagement. Powered by our collective resilience.
Event Leads:
Creating Breastfeeding Friendly Communities: CBFC is an initiative of the New York City Department of Health and Mental Hygiene's Center of Health Equity, designed to build/expand community-based breastfeeding partnerships and advance broad-based policy, system, and environmental changes on breastfeeding protection, promotion, support, and care management within community settings and businesses and with child care and health care providers. The initiative also seeks to reduce the racial/ethnic and community disparities in the prevalence of breastfeeding, especially exclusive breastfeeding in Neighborhood Health Action Center areas of North and Central Brooklyn, East Harlem and the South Bronx.
For more information and to request accommodation, email pdejesus@health.nyc.gov.
Interpretation services are available upon request. Please submit requests no later than 72 hours before the event to pdejesus@health.nyc.gov.
可应要求提供口译服务。请在不晚于活动开始前的 72 小时提交要求至 pdejesus@health.nyc.gov。
Se dispone de servicios de interpretación previa solicitud. Por favor, envíe su solicitud como mínimo 72 horas antes del evento a pdejesus@health.nyc.gov.
Interprétation disponible sur demande. Veuillez soumettre vos demandes au minimum 72 heures avant l'événement à pdejesus@health.nyc.gov.