Our Dollars Matter presents "BLACK BIZ FEST" on Black Friday & Sunday! Vendor Exhibit, Celebrity Guests, Live Entertainment, and much more!
About this event
BLACK BIZ FEST on BLACK FRIDAY & BLACK FRIDAY WEEKEND
November 26 & 28th
Time: 12-7p
Location: Savoy Events / 3495 West Hospital Avenue Chamblee, GA 30343
Celebrity Guests, Live Entertainment, Vendor Exhibit, Guest Speakers, and much more!
—————————————————————
Artist Showcase on Sunday November 28th Sponsored by Clique Vodka - Enjoy Complimentary Cocktails!!!!!!!!!
Building economic empowerment, while creating a platform that puts emphasis on the recirculation of the black dollar, and supporting black businesses.
Admission: FREE ONLINE ADMISSION
VIP ADMISSION: $10 (Includes: 2-Day Admission, Grab Bag, and enter in our raffle giveaways)
Media promotion, and/or strategic partnership opportunities of any size are welcome. Exclusive sponsorships, promotional debuts, brand/product placement, and additional incentives are available upon request and are negotiable. In-kind donations are accepted. For Sponsorship Opportunities, please contact info@ourdollarsmattertoo.com
VENDORS WANTED!!!!!!
Vendor Applications : https://fs9.formsite.com/sOIhLI/0f34o7wdni/index.html
Media/Talent Inquiries, please send to info@fivestarpr.net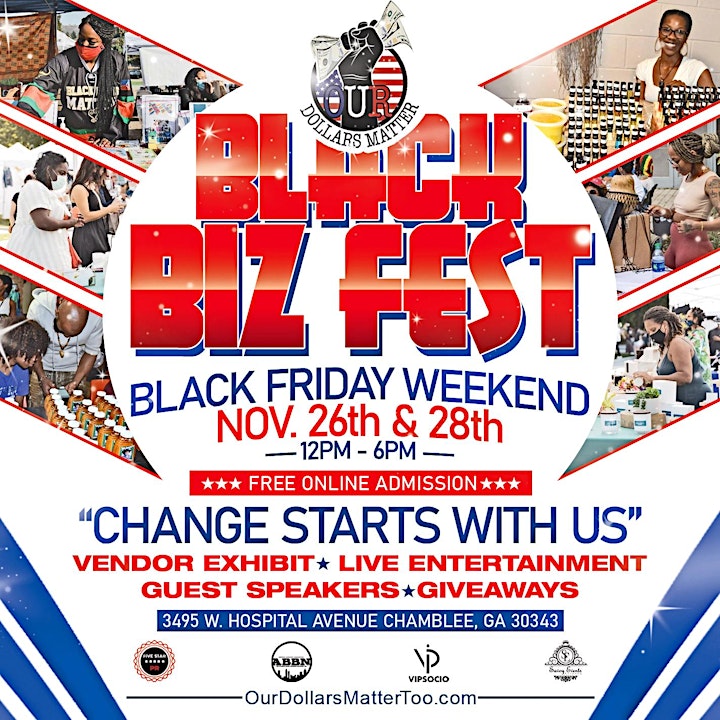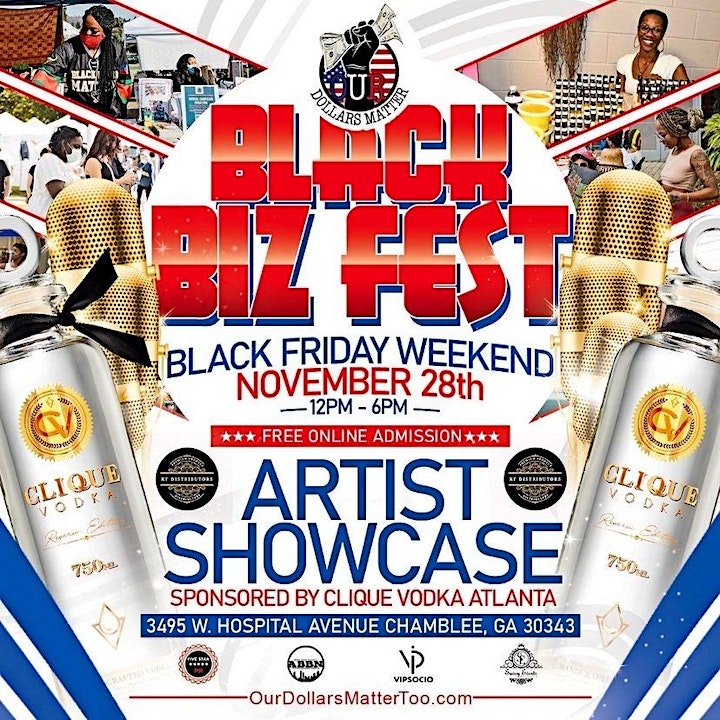 Organizer of BLACK BIZ FEST!!!!FREE ONLINE ADMISSION!!!!
Five Star PR is a global public relations / event consulting firm, based in Atlanta. Offering strategic results, that meet the needs of each individual client. Our entertainment PR agency's speciality is developing consumer activations. Working across Lifestyle, Music, Entertainment, and Fashion.