Conscious Dreams Publishing has published over 42 authors of African and Caribbean descent. Come and celebrate Black Authors on the Rise.
About this event
According to the CLPE, a mere 4% characters in children's fiction are from a Black, Asian and Minority Ethnic (BAME) background. Even more shocking only 1% of main characters in children's fiction are BAME. This is a travesty, especially in light of the fact 39% of children in the UK are from these backgrounds.
Countless conferences state that there is a lack of BAME authors, yet at Conscious Dreams Publishing, we have published over 42 authors of African and Caribbean descent over the last three years!
We have published a wide range of self-development, sci-fi, adult and children's fiction, health and wellness and educational books for adults and children and we invite you to come and celebrate our Black Authors on the Rise.
Come and enjoy author talks, workshops, entertainment, food and drink and support our children by encouraging them to read literature that features characters and stories that represent them. Come and support the authors and hear their journeys and perhaps be inspired to take pen to paper yourself!
Entrance is FREE workshops are £5 (children) £7 (adults)
Workshop ticket info below.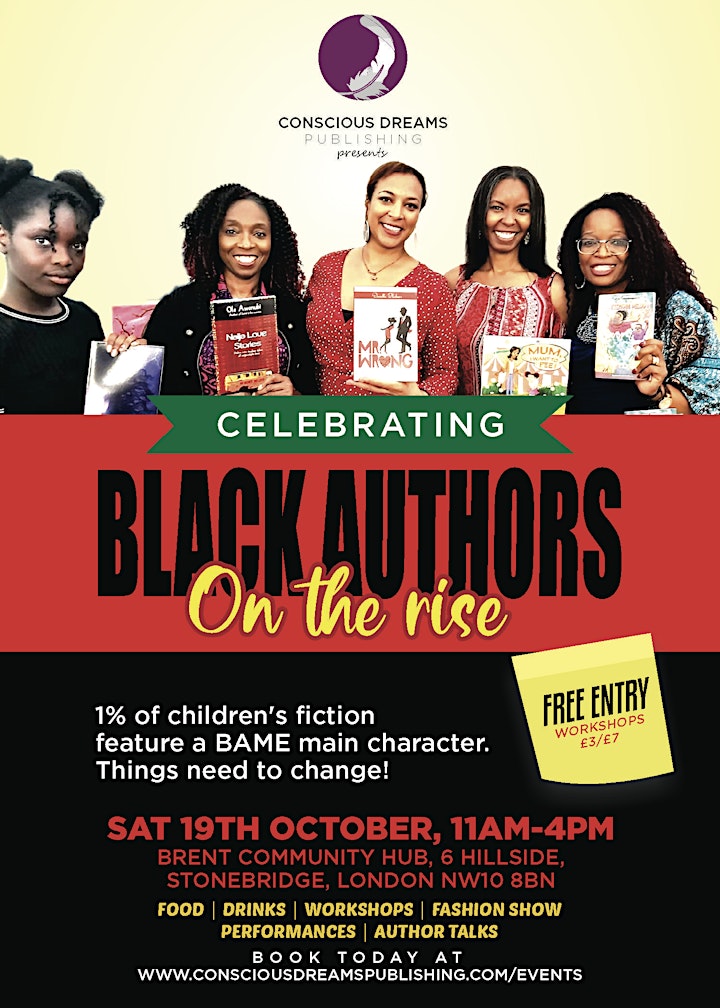 Short clip sharing my thoughts around why representation matters and how we can make a change.
For short clips and full interview visit, www.afrowomanonline.com/taking-care-of-her-business-2019-video-clips-2/
Organizer of Black Authors on the Rise: A Celebration of Black Authors
Conscious Dreams Publishing is passionate about publishing manuscripts that inspire and empower others. We provide bespoke coaching and publishing services for authors with powerful messages and stories to share with the world and are ready to start their publishing journey. Our aim is to demystify the publishing process and help you create a clear vision for your book. We provide professional services tailored to each author to ensure that your book is of a professional and high quality standard.
Publishing a book is a major achievement so it's important that you get it right. We want to hear from fiction authors who have unique and original stories to tell; ones that transform, inspire and empower. We want to read non-fiction manuscripts from authors who can offer new and fresh ways of exploring new ideas and provide information that heals and elevates.