Black Authority in the Post-Obama Era: History, Complexity & Identity
About this Event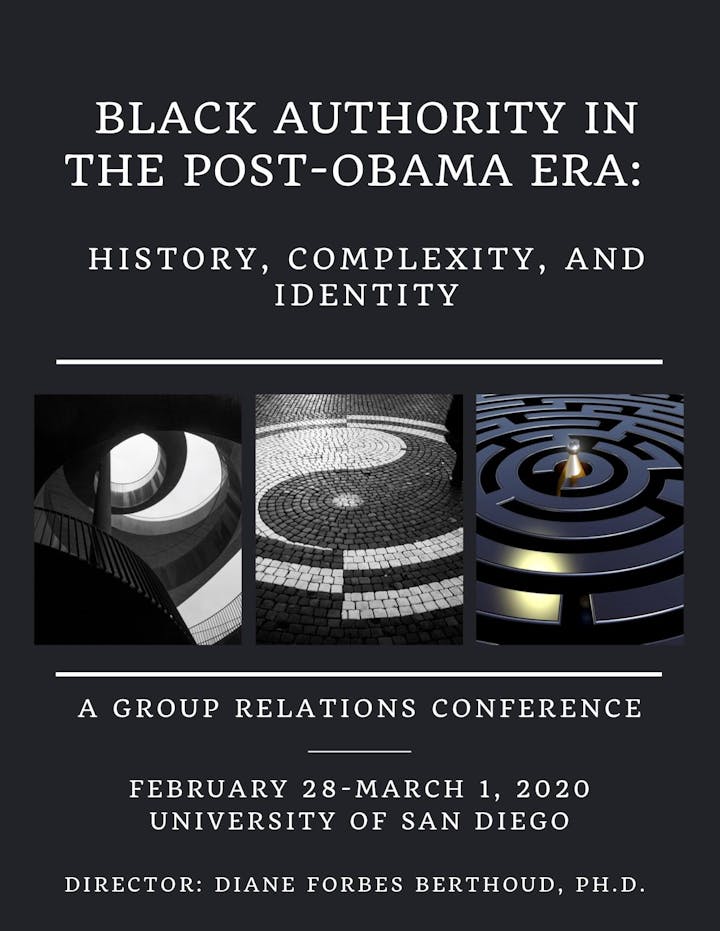 Black Authority in the post-Obama era: History, Complexity, and Identity is a three-day nonresidential conference in the Group Relations tradition that will provide opportunities for us to collectively explore, experience , and learn about Black authority. A distinct feature of this conference is that, in this temporary organization, the entire staff is Black - that is, all are of African descent.
This will be the third time in the last two decades that a Group Relations Conference of this kind will be offered to build on Group Relations practice and theory around Black Authority. In this important moment in history, we will gather to examine and advance system dynamics and transformation. Each time we have gathered to encounter and explore Black authority in a given moment in history new and emergent dynamics have become available to us.
In this third conference on Black Authority, we will study and experience intergroup dynamics, authority relations, and leadership/followership dynamics, and we will participate, observe, and reflect on the mutual and complex relationships among identities, roles, valencies, groups, organizations, in a Black-led context.
All are invited to be open to the complex and nuanced dynamics - conscious and unconscious- when Blacks lead. What we shall emerge has not yet been fully revealed or created, and what we shall learn and develop lies in our collective conscious and unconscious about Black Authority. Please join us in this important work.
Conference Directorate
Diane Forbes Berthoud, Ph.D., Director
Beverly Malone, PhD, RN, FAAN, Associate Director
Candice Crawford-Zakian, Psy.D., Director for Administration
For more information please email BlackAuthorityGRC@gmail.com

Black Authority in the Post-Obama Era: History, Complexity & Identity is sponsored by Group Relations International (GRI) and RISE San Diego.
Group Relations International - We simply work on a better world. Our focus is on group relations and community, social justice and spirituality. www.grouprelations.org
RISE San Diego - works to elevate and advance urban leadership through dialogue-based civic engagement, dynamic nonprofit partnerships, and direct training and support to increase the capacity of urban residents to effect meaningful community change. www.risesandiego.org