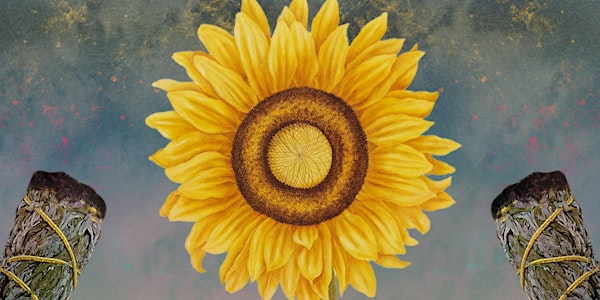 Black Artstory 2017 - The Altar: Rituals of Healing in the African Diaspora
When and where
Location
BLDG 92 at the Brooklyn Navy Yard 63 Flushing Ave. Brooklyn, NY
Description
We are proud to present the 5th Annual Black Artstory Month, THE ALTAR: RITUALS OF HEALING IN THE AFRICAN DIASPORA, February 1-28. Our month-long event series and Artwalk explores the vital role and traditions around healing, restoration, and realignment in African Diasporic communities. FREE events take place every Friday evening and include everything from dance performances, visual art and live exhibitions to film screenings and poetry readings. Featuring the work of over 30 Brooklyn-based visual artists, the Artwalk & happenings take place at venues along Myrtle Avenue including Ingersoll Community Center, Leisure Life NYC, Pillow Cafe-Lounge, Pratt Institute and the Brooklyn Navy Yard's BLDG 92 among others.

THE ALTAR: RITUALS OF HEALING IN THE AFRICAN DIASPORA recognizes arts' ability to act as a medium and conduit to expose, question and inspire when other forms of communication or action fall short. Themes of the month-long programming include: altar, memory, inheritance, transference, ritual, ancestors, tradition, lineage, sacred spaces, liberation, community and power. Exhibitions are curated by Suhaly Bautista-Carolina.
In addition to art installations at 15 venues along Myrtle Avenue in Brooklyn, the following events are taking place:
Black Artstory Closing Event, "A Seat at the Table" | art making, movement & dance
BLDG 92
2/24/17, 6-9pm
Brooklyn Navy Yard: 63 Flushing Ave, Brooklyn, NY 11205
Link to Map

Join Museum Hue and Black Artstory Month on February 24th at the Brooklyn Navy Yard's BLDG92. Remember Our Rainbow, a reminder of the importance of creating visual representations and journeying together towards self-preservation and collective work for the healing and protection of our communities. Over the past two years Museum Hue has gathered, grown, cultivated and practiced creative resistance that highlight the resilient spirit of our community and affirms that we belong. During this festive participatory public event there will be a community curated playlist, dance and movement arts, performances, and a pop up art exhibit. We want to mix and mingle with you as we walk into this new era. All are welcome for a toast to life, with the Museum Hue crew.


About Black Artstory:
Black Artstory Month is an annual series that celebrates the contributions that African Americans have made and are making within the visual and performing arts world. Coinciding with Black History Month, The Altar: Rituals of Healing in the African Diaspora will transform Myrtle Avenue into a cultural destination with window murals, art exhibits, and events featuring the work of over 30 artists. Every year the Myrtle Avenue Brooklyn Partnership brings a local curator to envision the month-long celebration, make a call for artwork, and activate the main street with public art & FREE cultural programming. This year the following small businesses and local institutions serve as venues and partners, including Wray's Seafood & Caribbean Cuisine; Leisure Life NYC; Five Spot Soul Food & Supper Club; Pillow Café-Lounge; Green in BKLYN; Gnarly Vines; Tipsy; BLDG 92 of the Brooklyn Navy Yard; Pratt Institute, and University Settlement at Ingersoll Community Center. Special guests, including: Present Futures, Museum of Impact, Dalaeja Foreman & Tiffany Johnson, and Harriet's Apothecary.