The first annual art event in Austin, TX with curated works from emerging contemporary and urban art from Black creators.
About this event
what?
Original art on display through a 2-day multi-venue experience of events, featuring musical, visual performances, vendors, lectures, live painting, and much more!
where?
Native Hostel Austin
NorthernSouthern
Dear Diary Coffee House
Cloud Tree Studios and Gallery
Tillery Kitchen and Bar
when?
Friday
June 18th VIP and Artists only event
Saturday and Sunday
June 19th and June 20th
Times
Saturday 11am-10pm, Sunday 10am-4pm
for?
For the Black and Brown community but welcoming to ALL. To everyone, show up with peace, love and respect. Our intention is to create, learn, educate and share new stories of what a new community could and will look like.
by who?
Tobar Takeover teams up with _OF COLOR to present Black Art WKND, a weekend-long exhibition and event series here in Austin, Texas.
mission
The mission of Black Arts WKND is to bring the leaders and emerging artists in contemporary and street art genres together in Austin, Texas. In an effort to explore, and discuss how we can grow our communities by opening new doors that give artists of color safe spaces to create and unite with like-minded humans; not based on race, but the skills and mindset that can make a change in the world.
artists
Moyo
Sam Barks
Dave McClinton
sadé Lawson
Steve Hatchett
Rex Sterling Hamilton
Hailey Gearo
ROSHI K
Curtis Marshman
Johari Palacio
Chris Tobar
Tumi
Tia Boyd
DeLoné Osby
Jenkins2d
Ryan Runcie
Tyson Davis
Jaoudi
Music
Riders Against the Storm @rashiphop
Dj Kay Cali @djkaycali
"Nahmido"⁠
ChiClopz
WillToThe @willtothe⁠
The Bored Enthusiast⁠ @perpetualrebel⁠
Blakchyl @Blakchyl⁠
Yanna @yannaasmusic⁠
And Eli Arbor @eliarbor⁠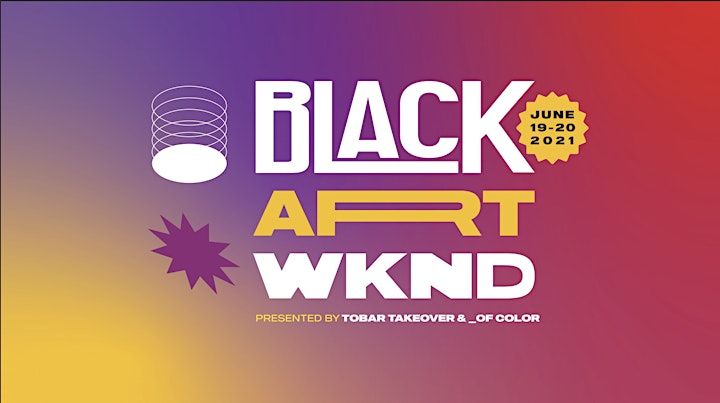 Art Experience
Saturday & Sun
The Gift @Dear Diary Coffeehouse
Futur Noir @Cloud Tree Studios (12 pm-5 pm)
BATON @Northern Southern (12 pm-5 pm)
Black Excellence @nativehostel (2pm - 10pm)
Upgrade to VIP for early showing Friday 7-10 pm (limited tickets)
Outdoors Vendor Market
(1pm-6pm) @native Hostel
Music Experience
7 pm-10 pm - Saturday Only @Native Hostel
GROUP THERAPY -Dance party
w/Riders Against the Storm & DJ KAY CALI
and after-party w/ Dj @Willtothe
Juice & Jazzy Brunch
11 am-3 pm @tillerykitchenandbar
Pre-Fix Southern-style brunch plates
Includes one free Bulleit Bourbon Whiskey cocktail
Sunrise Yoga
10 am @everybodystudios
Max 25