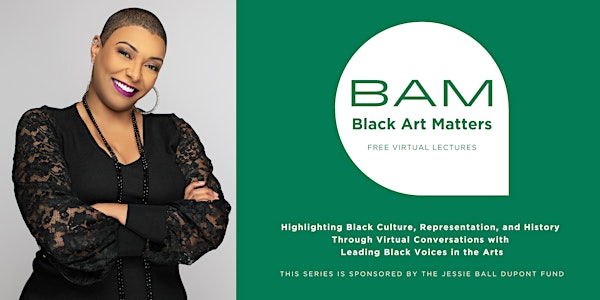 Black Art Matters (BAM) Lecture with Dr. Kelli Morgan RESCHEDULED to 8/16
Join MOCA Curator Ylva Rouse and Dr. Kelli Morgan for this month's Black Art Matters Lecture.
About this event
MOCA's Black Art Matters lecture series highlights Black culture, representation, and history through virtual conversations with leading Black voices in the arts. This month, you can be a part of the conversation with MOCA Curator Ylva Rouse and Dr. Kelli Morgan and her lecture;
Black Feminist Visuality: The Black Female Body and Representation in African American Women's Art
ABOUT KELLI MORGAN:
Dr. Kelli Morgan is a Professor of the Practice and the inaugural Director of Curatorial Studies at Tufts University. A curator, educator, and social justice activist who specializes in American art and visual culture, her scholarly commitment to the investigation of anti-blackness within those fields has demonstrated how traditional art history and museum practice work specifically to uphold white supremacy.
Besides her own curatorial experience, she mentors emerging curators and regularly trains staff at various museums to foster anti-racist approaches in collection building, exhibitions, community engagement, and fundraising. Over the past year, Dr. Morgan has become a leading and influential voice in bolstering anti-racist work in art museums. She has held curatorial positions at the Indianapolis Museum of Art at Newfields, the Birmingham Museum of Art, and the Pennsylvania Academy of the Fine Arts and teaching positions at Wayne State University, the University of Michigan, and the Tyler School of Art at Temple University
She earned her PhD in Afro-American studies and a graduate certificate in public history–museum studies from the University of Massachusetts Amherst in 2017.
This series is sponsored by The Jessie Ball duPont Fund.