Black and Gold Derby Party Scholarship Fundraiser 2018
Description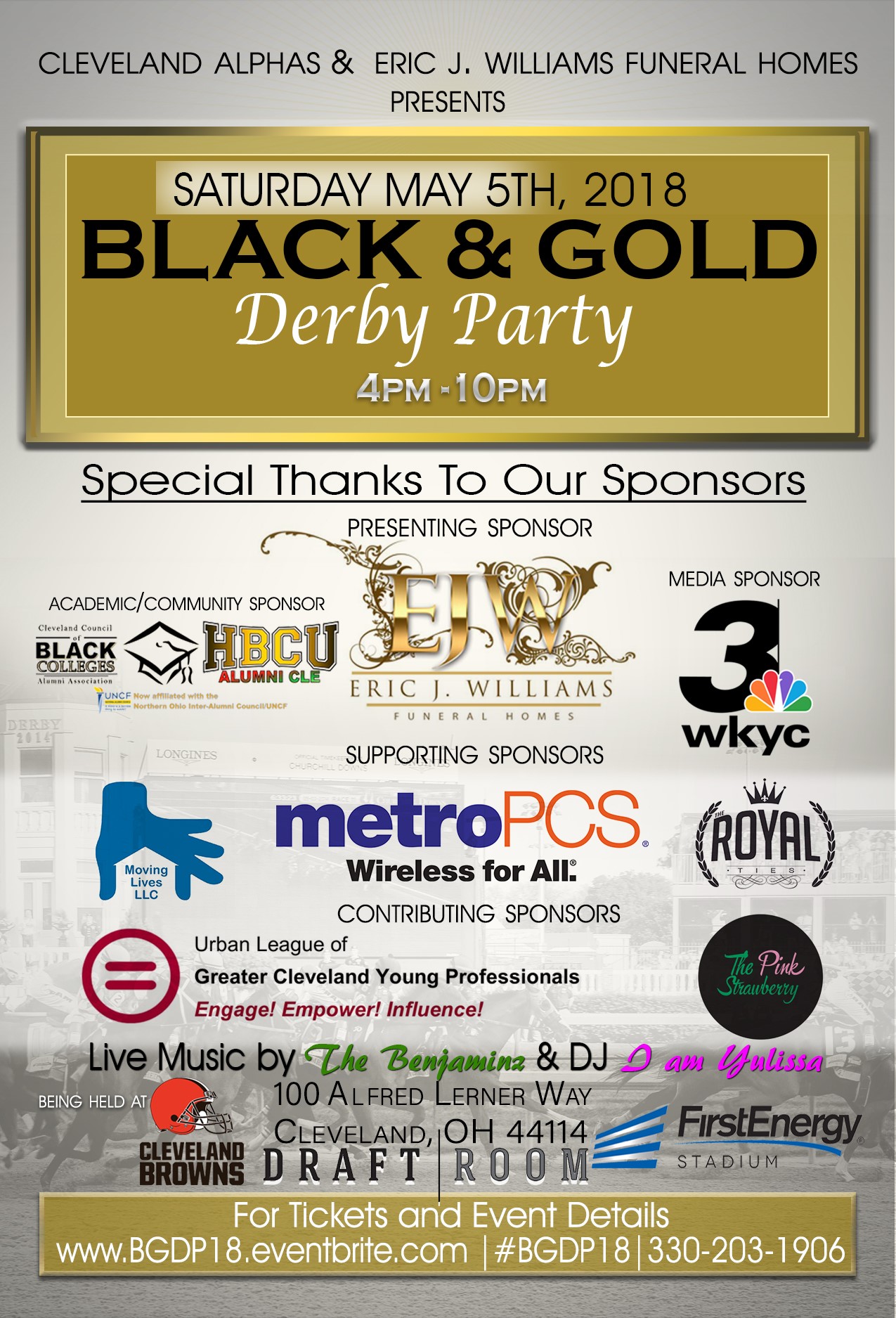 ---
UPDATES: A Pre-Derby Reception and the Return of $1.00 Bourbon
The Black and Gold Derby Party Scholarship (#BGDP18) Fundraiser Committee is proud to announce the following updates:
1)The VIP Reception: A Pre Black and Gold Derby Party Experience: Before you put on your bow ties and Derby dress, throw on a blazer and a cocktail dress as the #BGDP18 along with Millennial Pro and Mark Who? AKA The Whatknot hosts "The VIP Cocktail Reception" as a thank you to our sponsors and supporters.
This experience will take place at TURN Bar and Kitchen, located on the sixth floor of the Ritz-Carlton Hotel. (1515 W. 3rd Street) on Friday, May 4th. (7pm-10pm.) Complimentary hors-d'oeuvres and drink specials will be available. This event is FREE with RSVP to Eventbrite.
2) The Return of $1 Bourbon Celebrity Pour: What's the Kentucky Derby without bourbon? Thanks to our partners at Bulleit Bourbon, on May 5th, you'll be able to mix and mingle with your favorite Cleveland area celebrities and media personalities during #BGDP18 as they pour you a glass of bourbon for only $1.00! All proceeds generated from the Celebrity Pour goes directly to the Delta Alpha Lambda Scholarship Fund.
3) Did You See Us on TV? Scholarship Chairman, Bro. Clyde Christian, along with our Presenting Sponsor, Bro. Eric J. Williams appeared on "We the People" and discussed #BGDP18 with WKYC's own Tiffany Tarpley. Click here to view the appearance. We followed up that interview with an apearance on Donvovan Live
---
THE BLACK AND GOLD DERBY PARTY SCHOLARSHIP FUNDRAISER 2018
A DAY PARTY WITH A PURPOSE
The Cleveland Alphas cordially invites you to a celebration that brings the pageantry, tradition, and fashion of the Kentucky Derby to Cleveland while raising funds to help area youth pursue their dreams of a college education.

The Black and Gold Derby Party Scholarship Fundraiser 2018, presented by Eric J. Williams Funeral Homes (#BGDP18) will take place on Saturday, May 5, 2018, in the "Draft Room," located inside FirstEnergy Stadium, the home of the Cleveland Browns. All proceeds generated from this event support the Delta Alpha Lambda Foundation Scholarship Fund.
The Black and Gold Derby is guaranteed to be one of the preeminent events in Northeast Ohio. We are honored to have our Alpha Brother and legendary Cleveland Browns All-Pro Hanford Dixon serve as Honorary Chairman. Journalists. Tiffany Tarpley (WKYC), Janessa Webb (WEWS) and Maia Belay (FOX 8) are our Celebrity Bartenders. Live entertainment for the event will be provided by The Benjaminz and DJ IAMYULISSA.
In addition to providing opportunities for young people to attend college, the Black and Gold Derby Party Scholarship Fundraiser serves as a vehicle to promote small business and non-profit organizations in Northeast Ohio.
Our 2018 Black and Gold Derby Sponsors:
Presenting Sponsor: Eric J. Williams Funeral Homes
Academic Sponsor: Cleveland Council of Black Colleges Alumni Association
Supporting Sponsor: The Cleveland Foundation, Royal Ties, Moving Lives, LLC., Metro PCS, Colonial Life Insurance, The Whatknot Bow Tie Company. JC and Associates

Contributing Sponsor: Urban League of Cleveland Young Professionals, The Pink Strawberry
---
AN AUTHENTIC DERBY EXPERIENCE
In addition to meeting and mingling with Cleveland's best media personalities, as well as our sponsors, attendees will receive the following for their ticket purchase(s).
Watch the Kentucky Derby Live

Southern Comfort Buffet

Assorted Desserts

Digital Photo Keepsake

Black & Gold Carpet Walk

Auctions, Contests, Raffles and Online Gaming

Free Parking ( For VIP Guests)
---
WIN BIG AT THE BLACK AND GOLD DERBY:
In an effort to add to the feel and flavor of the event, attendees will have an opportunity to win big with various activities.
Be In The Winners' Circle
For those who want to play a game of chance, choose the winner of the Kentucky Derby with TwinSpires.com. Kiosks will be available during the Black and Gold Derby Party Scholarship Fundraiser to allow our guest to wager on the races. Create an account today to play. (NOTE: Play at your own risk. Twinspires.com is the official gambling site of the Kentucky Derby and not affiliated with the Black and Gold Derby Party Scholarship Fundraiser.)
Miss Black and Gold Derby 2018 Hat Contest:
All ladies in attendance will have a chance to win Miss Black and Gold Derby 2018 Hat Contest and win a surprise gift from the Black and Gold Derby Party Committee. Interested ladies may register for the contest at the event.
A Complimentary Golf Foursome: You and three of your closest friends will have an opportunity to play on one of our area's best golf courses as part of the 39th Elmer C. Collins Memorial Scholarship Golf Outing, sponsored by the Cleveland Alphas. The golf outing takes place on Saturday, July 21, 2018, at Coppertop Golf Course in Valley City, Ohio.
Wine and Spirits Raffle:
One lucky person will win a dozen bottles of wine and assorted spirits by participating in our Wine and Spirits Raffle. Raffle tickets will be sold during the event.
I'm From Cleveland Raffle:
Some lucky attendee will win gear and memorabilia will be available from our three major sports teams as part of our I'm From Cleveland Raffle. Football, basketball and baseball, we have you covered.
Personal Make-Up Artist (MUA) for the Day: One lucky lady will have their makeup professionally done in the comfort of their home by MadeupBynashontae. This a great raffle prize for a woman who needs to look her best for a major event.
Our Suprise Raffle: We can't publically say what it is or where it's from but it involves a free hotel stay, dinner, and activities.
ALL RAFFLE TICKETS ARE $1.00 EACH, 12 TICKETS FOR $10.00 or 30 for $20.00
---
GET YOUR TICKETS TODAY
Tickets are going fast! Secure your space in the place by purchasing your tickets TODAY!
$75.00 -- General Admission ticket purchase includes,"Southern Comfort" buffet, complimentary raffle ticket and unlimited professional photos, live music and a great evening.
VIP IS SOLD OUT!
---
Check this Eventbrite page or http://BlackAndGoldDerby.com for updates and more information. We are very excited about this event and look forward to seeing you at FirstEnergy Stadium on May 5th!