Event Information
Location
Ben Lomond High School & Ogden Marriott Hotel Ballroom
1080 9th Street
247 24th Street
Ogden, UT
Description
Ben Lomond High School - Class of 1987 30 Year Reunion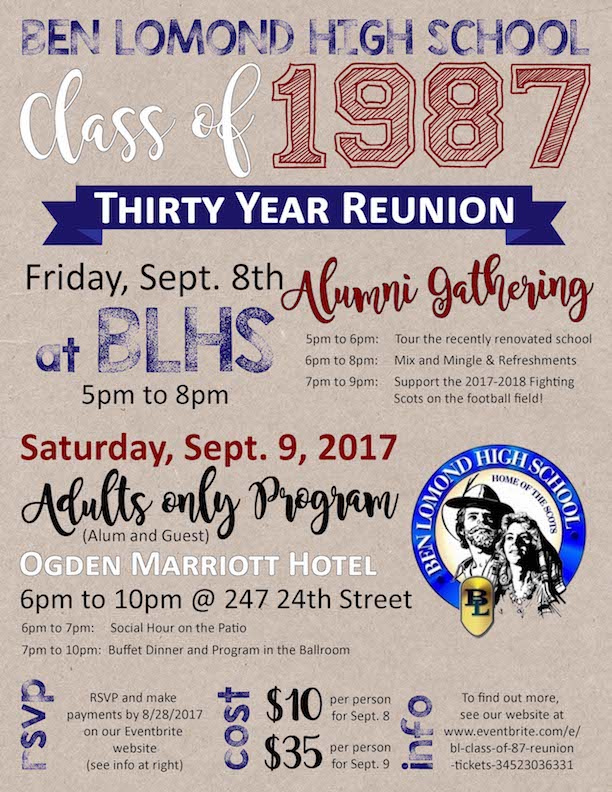 Please RSVP by way of purchasing tickets by 8/28/2017!
Sept. 8th Alumni Gathering details:
We will meet in the new BLHS commons area located at the southwest entrance of the school (near 9th Street where the school office used to be). There is some parking there and more located off of 9th Street and also west of the baseball field. Those who want to Tour the Recently Rennovated School should meet with us at 5pm. After the Tour, we will return to the commons area to Mix and Mingle and enjoy light refreshments. The 2017-2018 BLHS Fighting Scots will be playing against Juab HS at 7pm on the football field that night. If you would like to attend you will pay at the gate.
Sept. 9th Dinner details:
We have chosen the Marriott Hotel BBQ Buffet for your dining pleasure! The buffet includes Green Salad and BBQ Chicken, Baby Back Ribs, Pulled Pork with Baked Beans, Mashed Potatoes, Corn on the Cob, and a Dinner Roll. The dessert is Peach Cobbler and you will have your choice of Lemonade, Iced Tea or Coffee. As mentioned elsewhere, a Cash Bar will be available at an extra cost.
Auction:
We would like to have an auction to raise money for our Alma Mater as part of the program on Sept. 9th. If any of you would like to bring an item or multiple items to donate for our auction with a minimum starting price indication, we would really appreciate it! Items can include BLHS items, craft goods, event tickets, sports memorabilia, gift baskets, etc. Please email Leslie Ridenour Farmer for more info at lesliesown@gmail.com. On the buyer's side, remember to bring your checkbooks and cash to purchase these items! Support our School!
FAQs
What is the dress code?
Casual.
Is there lodging associated with the reunion?
Yes. Because we are having part of our event at the Ogden Courtyard Marriott Hotel, they are giving us a discounted nightly rate of $89. Just mention that you are with the Ben Lomond High School Class of 1987 Reunion. Contact: 1-801-627-1190.
What can/can't I bring to the event?
Leave your kids at home. Also, due to state law, alcohol is not allowed at the school.
Will there be a cash bar at the event?
There will be a cash bar at the Sept. 9th Dinner/Adults Only Program to be held at the Ogden Courtyard Marriott Hotel.
What is included with my ticket?
Your ticket pays for your meal, venue rental, custodial fees, decorations, and small administrative fee for tickets and Eventbrite Website.
Where can I contact the organizer with any questions?
Please email Leslie Ridenour Farmer for more info at lesliesown@gmail.com.

What about the classmates we have lost?
Please let us know about any of our classmates who have passed away since 1987 by posting it on the Ben Lomond Class of 1987 Reunion Facebook page. In their memory, we'll be displaying a yearbook picture of them on a table at the event.
Date and Time
Location
Ben Lomond High School & Ogden Marriott Hotel Ballroom
1080 9th Street
247 24th Street
Ogden, UT