Description
Get your VIP TICKETS Today for just $249. Scroll down and read all the benefits included in the VIP Ticket to the Bizniversity® Strategic Growth Summit.
An exclusive gathering of Sales and Marketing (SMarketing) leaders who are focused on the integration of marketing and sales performance to drive real, profitable growth.
Growing Your Business can be daunting and expensive, considering the investments that must be made to increase your bottom line! Maybe you need to increase your team, invest in technology, or create a new Strategic Marketing plan. By attending this summit, you will feel empowered by the tactics and tools presented to take your next step.
At the 2019 Bizniversity™ Strategic Growth Summit participants will be empowered to create a Strategic Growth Plan to help them take their business to the next level. You will have the keys, tactics, and tools necessary to help you grow your business in the following areas:
Sales

Marketing

Strategic Partnerships
Come learn business growth secrets from leaders who have proven results.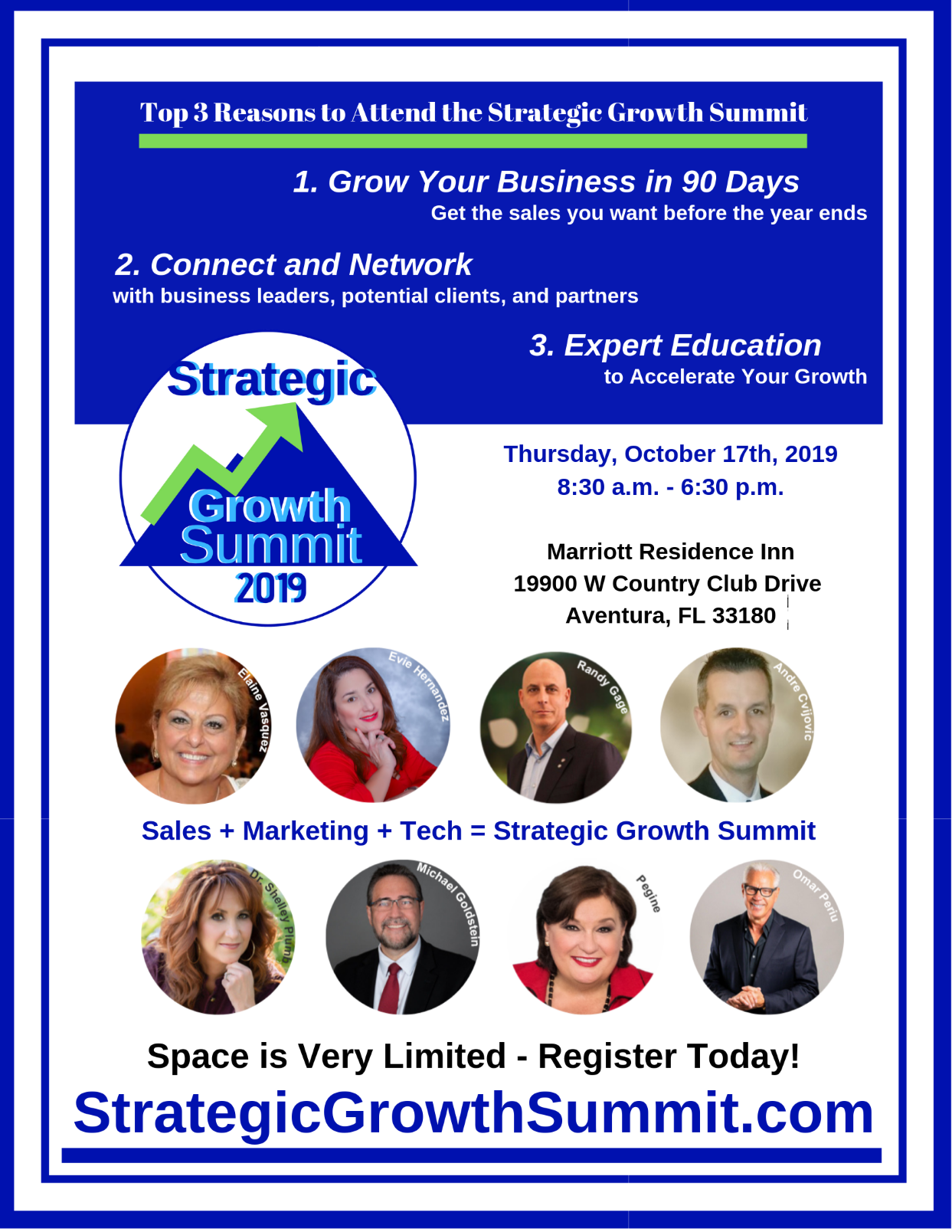 VIP TICKETS $249 Include Additional Classes Plus Lunch at the Bizniversity® Strategic Growth Summit.
1.) VIP Workshop with JB Glossinger Plus Lunch
2.) 28-Day Mindset- Marketing & Money Supercharged audio and video pack – Valued at $395.00 (While supplies last)
3.) Free VIP Membership to The Elite "Affluent Entrepreneurs Mastermind Society" for 90 Days A Marketing Mastermind Valued $444.00
4.) Free 90 Day Membership to the Synergy Partners Network - an online business networking and leads group. This is an online networking group via an online meeting platform that allows you to promote your products, services and solutions virtually. Valued at $249.00
5.) Accelerate Your List 2019 Master Class
Accelerate Your List Master Class is a complete training on how to develop a strong, responsive email list. Your email list is arguably the most important asset in your business. It is a powerful way for you to build your authority and have a positive impact on your community. Accelerate Your List Master Class is all about segmenting your list to create a powerful bond with your audience. Valued at $99.00
6.) Access to 30-60-90 Day Follow-up Webinars with speakers - these webinars will be held 30, 60, and 90 days out from the event. They will be hosted by certain speakers to reinforce their training from the Summit, and help hold you accountable as you continue to grow your business.
7.) Bonus Video-on-Demand Bizniversity® Class