2 days, 16+ business and lifestyle workshops for dynamic women 40|50+ like you plus an open bar. Yep! A bar + entertainment too.
About this event
Women 40 & 50+ are you looking for an event to relish in your professional and personal fabulousness?
Now in its fifth rendition, Biz+LifeCon continues to be the nation's leading business + lifestyle conference for women over 40 & 50. Get tips, tricks, and key information and learnings to up your game of life and business.
Presented by a pro-age line-up of unstoppable experts, tap into new tools, fresh ideas, valuable contacts, and a renewed approach to boost your professional life and personal spirit.
SAVE $20 today with promo code: UNSTOPPABLE
Your line-up or premier PRO-AGE leaders:
Work
Breakthrough Strategy Driven by Purpose | Karla Raines, The Differentiation Zone
8 Category Business Audit to Up Your Game | Barbara Brooks, SecondActWomen
Facebook Groups Tips and Tricks to Grow Community | Emily Masterson, Facebook
Creating Stellar Digital Video Content | Dianne Myles, Dope Mom Life
Energize Your Business | Scott Romano, Energize Colorado
Free Business Services offered by The City | City and County of Denver
Life
Great Sex Over 40 | Kimberly Cunningham, Cunningham Clinic
How to Prevent Caregiving from Being a Crisis | Kelly O'Connor, Calhoun Legacy LLC
Tips to Up Your Fall Style | Esther Lee Leach, Cherry Creek Magazine
3 Underrated Barriers to Your Goals | Lana Hailemariam, The Phoenix Shift
Reignite and Rock Your Body after 40 & 50+ | Adriana Morrison, Synergized Fitness LLC
and more... keep reading we have a two-day extravaganza lined up for YOU!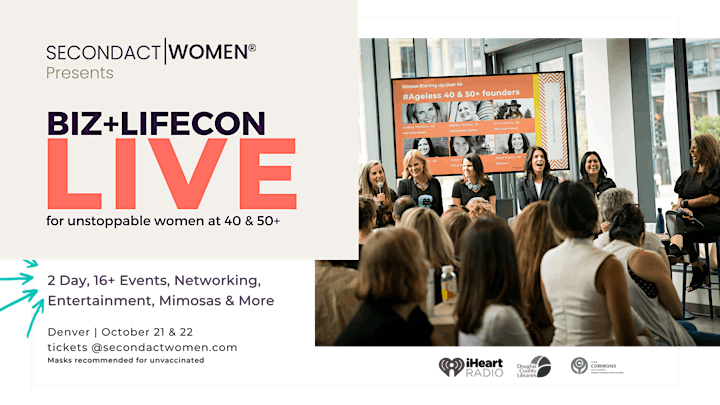 Money
How to Add an Online Store to Any Business | Angie Viehman, Clutch Businesses
Get Free Legal Advice for Your Business | Megan Chavez, Messner Reeves
5 Values-Aligned Money Moves | Jen Uhen, The Pledgettes
Navigating the Challenge of Generating Income | Kelly Dwyer, Kelly Dwyer Consulting
PLUS two panels...
of public relations experts from media to influencers to discuss Getting Media Hits for Brand You.
of women like you from every background over 40 & 50 to have Real Discussions about life, business and everything in between - with you discussing them too!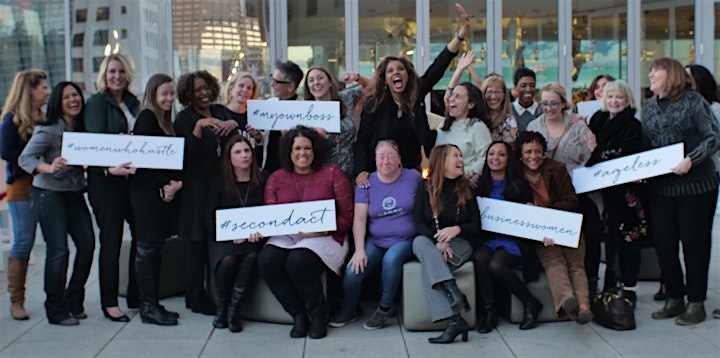 ...and More
Unlike typical conferences, we're delivering a myriad of mix & mingle experiences like...
Laughing during our comedy show with humorist Debbie Scheer, to lighten the day
Big-time connecting with your new gang you never thought you needed
Sipping mimosas, cocktails, and mocktails all-day
Y'all stay for a few days with us at the Grand Hyatt in downtown Denver! We're hosting a Biz+LifeCon After Dark fireside in our SA|W suite for hotel guests and have a room block with special Biz+LifeCon rates. Book today.
3 Event Passes to Fit Your Biz Budget
Now through August 31, save $20 with the promo code UNSTOPPABLE. Plus, five dollars from every pass is donated to Colorado charity, Sense of Security, helping breast cancer patients with funding.
Biz+LifeCon Pass
(1) One Biz+LifeCon 2-day Pass
Biz+LifeCon Digital Workbook
Biz+LifeCon Pass Plus
Biz+LifeCon Pass offerings
Biz+LifeCon Social (pre-party on Thursday, Oct 21 at 4 pm)
UNSTOPPABLE graphic t-shirt
Access to on-demand Biz+LifeCon workshops post-event
Biz+LifeCon Pass+ Membership
Biz+LifeCon Pass Plus offerings
SecondActWomen one-year Insiders membership valued at $180/year, you're receiving access to free SA|W monthly virtual and IRL development workshops, digital tools including an on-demand video library, plus meetups for women 40 & 50+.
Biz+LifeCon Pre-Social
Wednesday from 4pm to 6pm. (added fee)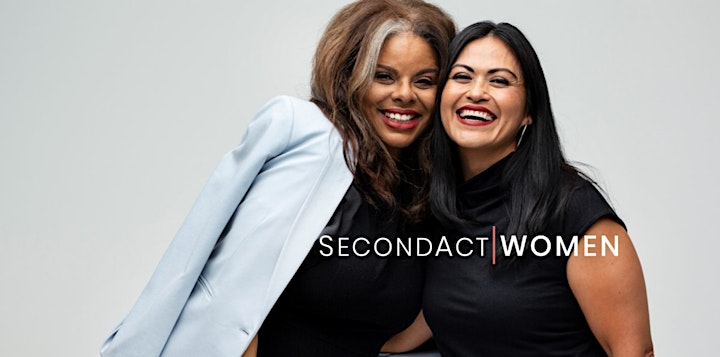 About the event hosts of SecondActWomen:
Based in Denver, Colorado, Barbara Brooks (54) and Guadalupe Hirt (48) started SecondActWomen in 2018 to help dynamic women 40 and 50+ as a pro-age global network of local communities delivering professional and personal development, connection-building, and inspirational resources to help dynamic women 40 & 50+ grow businesses, land jobs, and cultivate meaningful relationships.
Organizer of Biz+LifeCon for Female 40 & 50+
We're ReDefining Women 40 & 50+
We're a new type of membership community. SecondActWomen is a social enterprise providing live and virtual development programs, online tools, and monthly meetups to help women 40 & 50+ reimagine what's possible in businesses, career, and life...and do it!