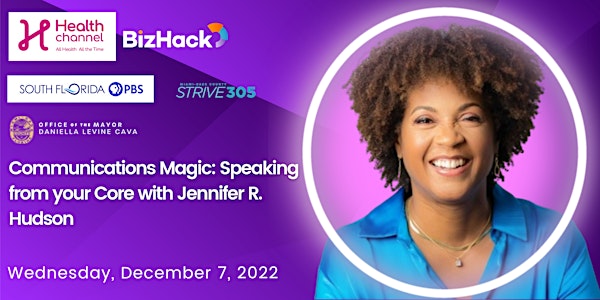 #BizHack Live Masterclass 7.4: "Communications Magic"
#BizHackLive Digital Marketing Master Class Series By BizHack Academy: "Communications Magic: Speaking from your Core" -Jennifer R Hudson
About this event
Session Description:
With a recession looming, your business must get great at communicating not only to your customers, but also to staff, prospective employees, potential business partners, and others. Jennifer R. Hudson of ThinkBeyond Public Relations will help you consider a more holistic approach to communications that incorporates best practice planning and clear messaging thatarticulates your core values and purpose to all of your key stakeholders. The results are pure magic: communications tied to your business goals that everyone can use to consistently reach and engage the people most important to you with clear, concise messaging!
During this season finale live Masterclass session on "Communications Magic: Speaking from your Core," Jennifer and host Dan Grech of BizHack, a former NPR and PBS correspondent, will explore:
How to use a communications planning framework that closes gaps and saves money
The 5 messaging questions every business must answer to communicate with clarity, consistency and credibility
How to walk the core values talk
Expert Guest
Jennifer Hudson at Think Beyond PR
*Register via Eventbrite and you will receive the link to join the Zoom webinars.
Schedule:
Wed Nov 2, 2022 - 12:30-14:00 - "Strategy the Silicon Valley Way" with TerriAnn Brown, Mike O'Donnell, Yenvy Truong, and Nadeige Sterlin of The Venture Mentoring Team
Wed Nov 9, 2022 - 12:30-14:00 - "EOS: Today's Hottest Small Business Operating System" with Liz Mershon
Wed Nov 30, 2022 - 12:30-14:00 - "How to Prepare for the Coming Recession" with Pinnacle Leadership Guide Russ Sorrells
Weds Dec 7, 2022- 12:30- 14:00 - "Communications Magic: Speaking from your Core" with Jennifer R Hudson