Description
Join BizFed LA & BizFed Central Valley for our 2nd Annual BizFed Sacramento Day! We'll tell Sacramento about our priorities & establish relationships that benefit our regional economies. Convey to CA State policymakers the diversity & power of BizFed's collective voice!
Members only
Tickets:
Early Bird Ends on 1/15/20 : $375.00
Regular Ticket After 1/15/20: $495
Registration Closes on: 2/7/20 @ 10AM
Transferable to another member to attend this event - Non-Refundable
Hotel Room Block at the Hyatt, Sacramento is Full.
Please contact the Hyatt to reserve your room at the prevailing rate for that night, 1-800-233-1234.
$10,000 Presenting Sponsor
Premium logo placement on event website, emails, signage, & agenda

Premium coverage on social media

Guaranteed spot for Legislative Director meetings on Tues. 2/11/20

4 premium seating tickets at VIP Media Briefing Dinner on Tues. 2/11/20

Speaking opportunity at the VIP Media Briefing Dinner on Tues. 2/11/20

5 tickets & VIP seating during conference on Wed. 2/12/20

Speaking opportunity during conference on Wed. 2/12/20

Presentation of the "BizFed Sacramento Day Champion" Award at Reception on Wed 2/12/20

Verbal recognition at Reception on Wed. 2/12/20

1 seat on Planning Committee
$4,500 Convening Sponsor
Advanced logo placement on event website, emails, signage, & agenda

Advanced coverage on social media

3 advanced seating tickets to VIP Media Briefing Dinner on Tues. 2/11/20

3 tickets & VIP seating during conference on Wed. 2/12/20

Verbal Recognition at Reception on Wed. 2/12/20

1 Seat on Planning Committee
$2,000 Grassroots Sponsor
Logo placement on event website, emails, signage, & agenda

Coverage in social media
2 tickets to VIP Media Briefing Dinner on Tues. 2/11/20
2 tickets & VIP seating during conference on Wed. 2/12/20

1 Seat on Planning Committee
---
Schedule of Events:
Tuesday 2/11/20
Legislative Director meetings
10 am - 4:30pm
State Capitol
VIP Media Briefing Dinner, Sponsors Only
Presenters: Scott Lay, The Nooner; Dan Walters, CalMatters; Frank Pine, SoCal News Group & Bay Area News Group
Tues. 2/11/20
6:00pm
Location: WSPA
1415 L Street
Suite 900
Sacramento, CA 95814

Wednesday 2/12/20
Conference featuring Policymakers Panels
9:00am - 4:30pm Policymakers Panels
State Capitol
5:00pm - 7:00pm Reception
Location: CMTA
1121 L St
#700
Sacramento, CA 95814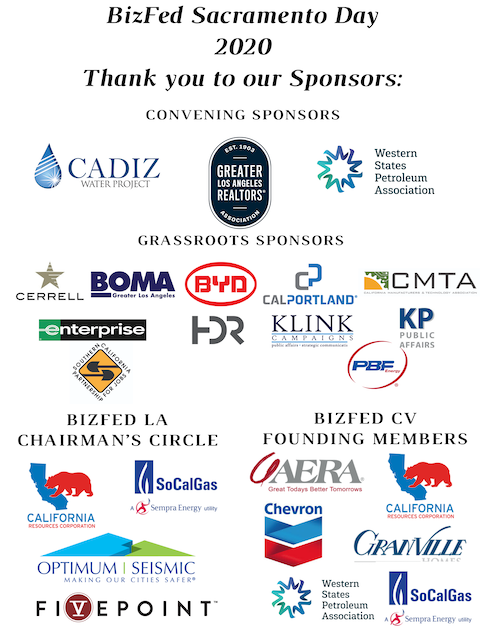 Organizer of BizFed Sacramento Day, 2020