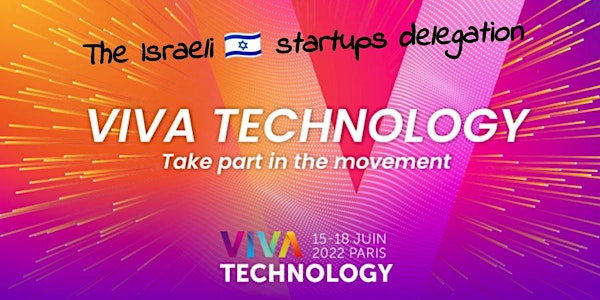 Biz Roadshow @ VivaTech Paris, for Israeli startups & investors
Location
Paris Expo Porte de Versailles
1 Place de la Porte de Versailles
75015 Paris
France
Are you an Israeli startupper or investor? VivaTech is the European biggest rendez-vous for startups and leaders, and we can help you there!
About this event
*call to participate*
Free your agenda to be with us at VivaTech Paris, a gathering of the world's brightest minds, talents, and products taking place in Paris - and we organize the Israeli startups delegation for the 5th time! We can connect you to the biggest FR/EU corporations, facilitate B2B meetings and invite you at some Israel-France events and more...
140,000+ visitors, 20+ Innovation Labs from global brands and thousands of investors. This is why we'll facilitate meetings with: Air Liquide, AXA, Bouygues, BNP Paribas, Dassault Systems, EDF, Engie, JC Decaux, La Poste, L'Oreal, LVMH, Michelin, Mobilize (by Renault), Orange, RATP, Sanofi, SNCF, Region Ile de France (Paris), Region Sud (Marseille, Nice...), TotalEnergies and more to come.
How to apply to this "48h Biz Roadshow"?
Startups >> https://bit.ly/IL-VivaTech-22 by Thu 2/06 at 18:00
Investors >> https://bit.ly/Viva-IL-Investors-22 by Wednesday 1/06 at 18:00
Why this "Biz Accelerator Roadshow" is free if selected?
We believe in the unique opportunity to build lasting business relationships between Israel and France. So we put together the best of perks by the Chamber of Commerce, Embassy of Israel, French Tech Tel Aviv, VivaTech and more partners to come. And it's a pro-bono escorting by Chutzpah Lab by Challengy, hope you'll like it.
The Biz Accelerator Roadshow is free, but of course flight and accommodation are paid by the participants. Hint: in the past, some of our participants have been hand-picked by our partners to cover the travel and hotel expenses - we never promise this, they just decide.
After RSVP in this call to participate, you will be invited to join our specific WhatsApp group that will help during this Biz Accelerator Roadshow preparation (and more at VivaTech time)
Need more information to decide?
- Look at the VivaTech Founding/Gold/Silver partners https://vivatechnology.com/partners, we're confident you'll find there some of your key leads and partners.
- Look at the list of their GREAT speakers to be inspired, and maybe more: https://vivatechnology.com/speakers
- Check-out our last webinar in replay (featuring: the VivaTech Head of Ecosystems, French Tech Tel Aviv, Embassy of Israel in Paris, Oren Ezer's testimonial - CEO at the soonicorn Electreon and more) - we'll update the participants if we do another webinar closer to the delegation date.
Founding Partners: Israel Embassy in Paris, Chutzpah Lab, France Israel Chamber of Commerce, Israel France Chamber of Commerce and French Tech Tel Aviv.
Ecosystem Partners: Axis Innovation, Bersay, CCFI, Cukierman Investment Fund, ECUJE, ESCP Business School, EY Israel, Futura Mobility, KPMG Israel, Merage Institute, Sarona Partners, Technion France, Tel Aviv Global.